Keyword research is at the heart of every successful SEO campaign.
Finding the right keywords to target your site allows you to overtake your competitors and appear on top of search results.
But SEOs are becoming savvier with new tricks and techniques up their sleeves. As a result, your methods and tools may not cut it anymore, resulting in lower rankings and fewer conversions down the line!
In this case, you need to rethink your keyword research approach and find ways to improve it.
One of these ways is the wildcard search.
This post discusses what wildcard searches are, how they help in your SEO efforts, and tools you can use to leverage this particular search operator.
What are Wildcards in Google Search?
A Google wildcard search is one of the many advanced search operators used in partial searches. Its goal is to help you refine your search t
Usually, if you type "what is healthy" on Google, the search engine will predict your search query by providing you with suggestions via its autocomplete feature.

What it does is try and finish your query starting with the last word you typed on the search bar.
But using wildcard characters adds a new dimension to your search query.
One of the most popular wildcard searches to use in a search query is an asterisk (*), which Google treats as a placeholder for one or more words.
So, if we put it after "what," it turns the query into "what * is healthy."

Google will provide you with new suggestions that feature terms replacing the asterisk. This case shows you search terms asking which dishes are healthy.
How to Use the Wildcard Operator for Keyword Research
Google search operators like the asterisk operator are designed to help users type in the query for their question.
But SEOs like yourself will benefit the most from the wildcard search, particularly with keyword research.
The wildcard search expands your keyword research to unearth ideas and suggestions that most keyword tools don't provide.
Sure, these tools tell you how many people are searching for the keyword every month or how easy or difficult ranking for a search term on top of search results is.
But they won't be able to return the kind of related terms wildcard search brings.
This is important since SEOs will be using the same popular tools that everyone in the industry is using. That means they'll produce the same content targeting the same set of keywords.
So, expect either higher competition or oversaturation for these keywords.
Using the wildcard operator in your keyword research lets you take the road less traveled and help your website stand out from the pack.
Below are ways you can do this:
Narrowing Down Keyword Ideas
Continuing with the example used above, the "what * is healthy" search query produced three keyword ideas that replaced the asterisk with a word or two:
what fast food is healthy
what popcorn is healthy
what sushi is healthy
Copy one among the three terms and paste it on Google search to narrow down the terms that will appear on autocomplete:

Doing so allows you to drill down into related keyword suggestions of the search term you found from your initial wildcard search.
Using the terms you'll find here, you can either group them into a topic cluster or optimize for all of them to create a massive guide about the topic (assuming that their search intent is the same).
Searching for Local Keywords
If you want your local business to generate more leads or sales from search engines, you must find and optimize geo-targeting keywords.
Wildcard search can help aid in the process of finding other locations you can create pages or reoptimize existing ones on your site.
For example, if you're optimizing a locksmith website in West Yorkshire, you search Google for "locksmith * west yorkshire." The autocomplete should do the rest for you.

There are four suggestions in which cities replaced the asterisk:
locksmith bradford west yorkshire
locksmith shipley west yorkshire
locksmith halifax west yorkshire
locksmiths normanton west yorkshire
Decide whether you should create pages for these geo-targeting keywords. For instance, if you don't operate in Bradford, you may want to skip keywords that mention this city.
You can also add an asterisk at the beginning of the search query.
By typing "* locksmith * west yorkshire," you let Google find the type of locksmith that people are searching for.

Since "auto locksmith west yorkshire" and "car locksmith west yorkshire" are the same, you can optimize for both terms in a single page.
Complementing Your Current Keyword Research Process
While most keyword research tools don't support wildcard searches just yet, that doesn't make them useless at all.
In fact, it makes them even more powerful!
Dive deeper into the keywords you found using the wildcard operator by researching them using your keyword tool.
If you're using SEMrush, copy and paste the keyword onto Keyword Research > Keyword Overview to see data about the term.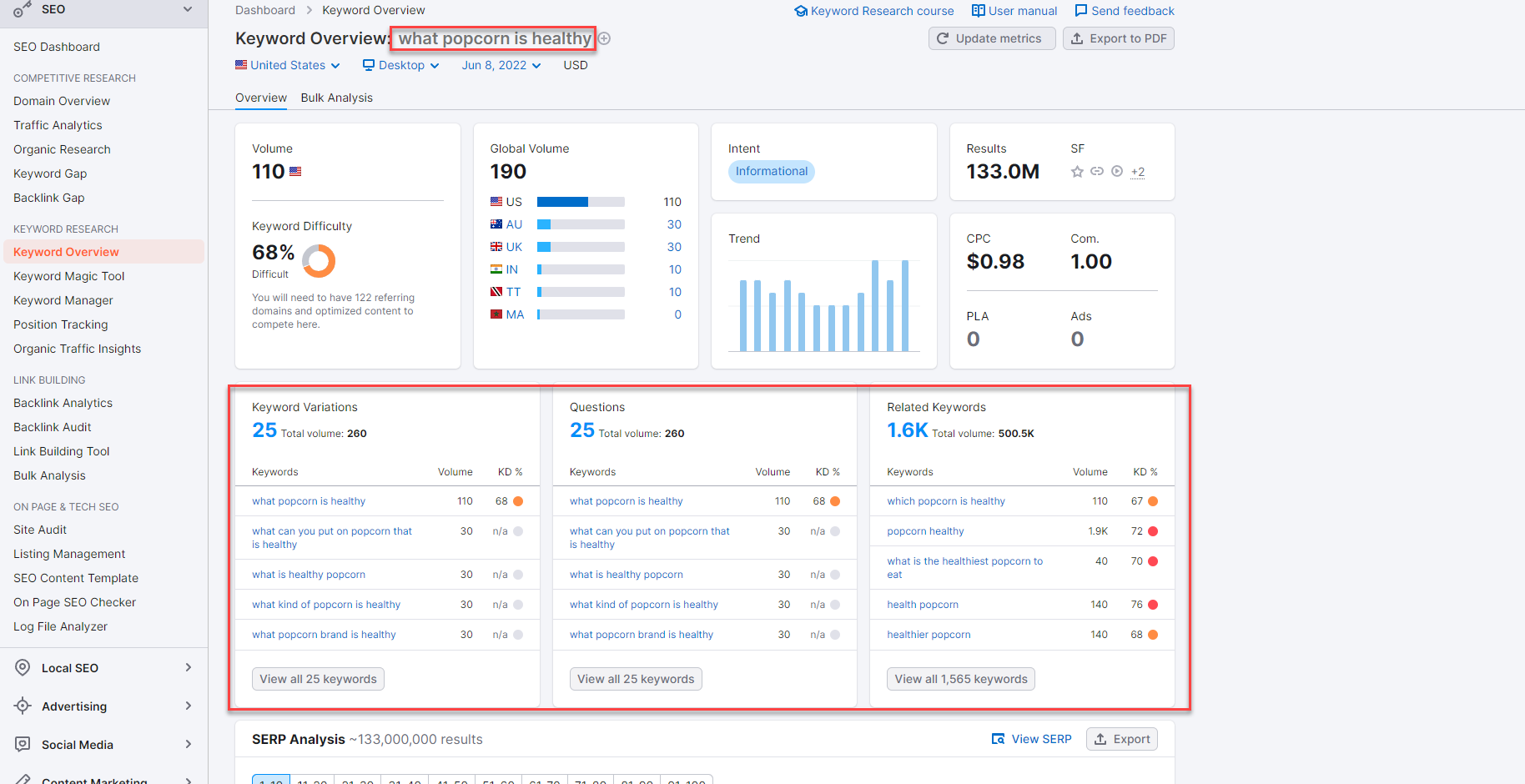 From here, you can see how many people are searching for the term every month (Volume) and the ease or difficulty of ranking for the term (Keyword Difficulty).
Even better, you can uncover more keywords using SEMrush's Keyword Variations, Questions, and Related Keywords features. From here, you can compare the metrics of each keyword and identify which ones to optimize on your website first.
Two Keyword Research Tools That Allow You to Use Wildcard Searches
As mentioned, wildcard search the way that was shown above using Google is not possible yet on the most popular keyword tools.
However, two tools in the market allows you to research tons of keywords using the wildcard operator.
Using either of the two below will fill in the gaps and help speed up your keyword research.
#1 – Keyword Chef
Keyword Chef is a relatively new keyword tool that many site owners have been buzzing about.
It helps you identify keywords based on intent to develop better topic clusters with optimal commercial and informational articles in each.
Keyword Chef also analyzes the SERPs for all your keywords in real time.
From here, it can identify easy-to-rank-for keywords based on the number of user-generated content pages that appear on the first page for the term.
More importantly, the tool has become well-regarded for its wildcard search feature.
By using a wildcard search like "does * fart" (pardon for the search query), Keyword Chef will extract the keywords for you (more than Google will ever give you).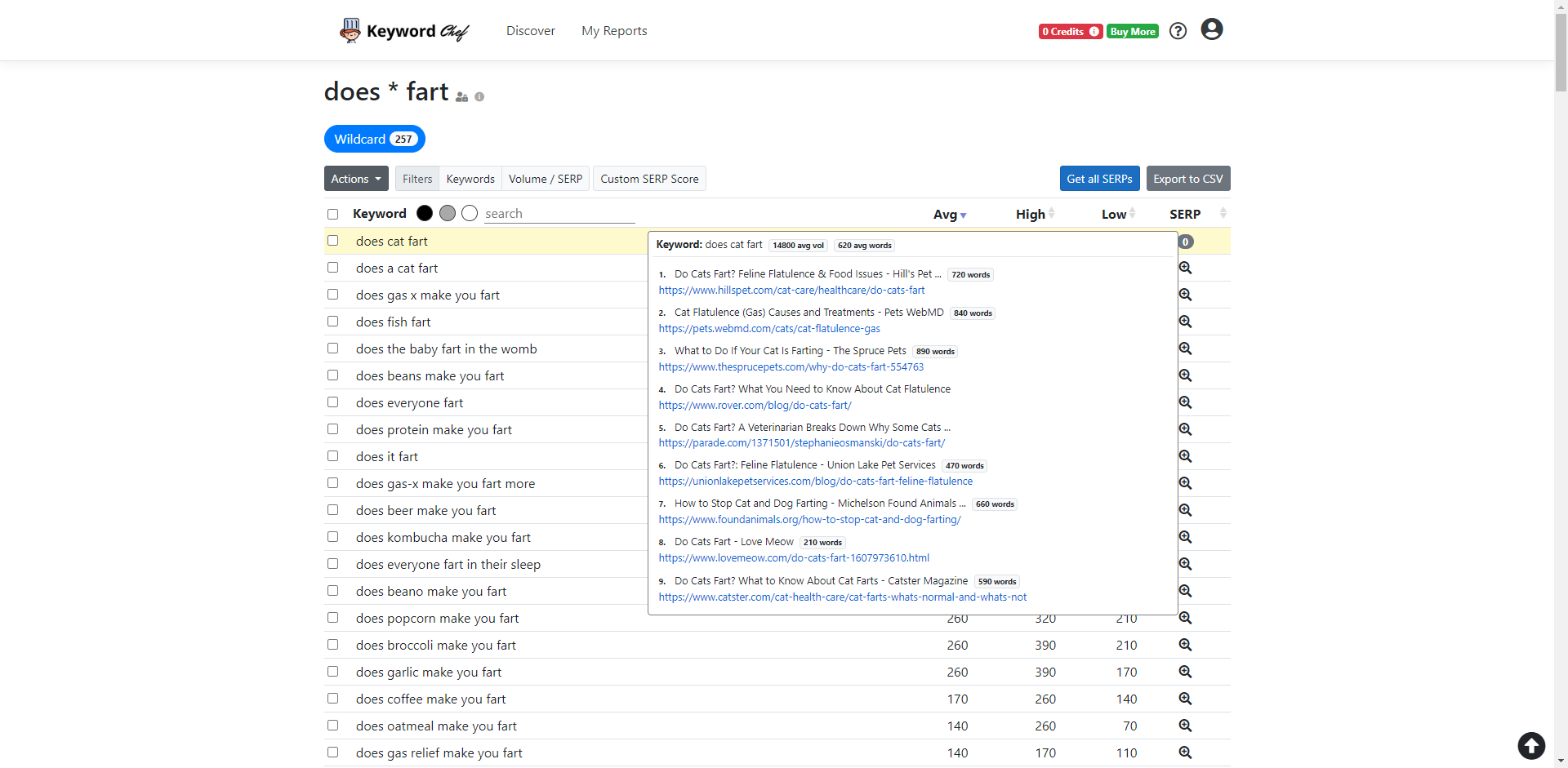 You can then analyze the SERPs of each keyword to see how easy it is to rank for the term.
In the example above, "does cat fart" has a score of 0. That means the first page of SERPs doesn't show any UGC websites like forums, Quora, free blogs, and others.
You want to optimize for keywords with at least three UGC sites, which gives your website a better chance of outranking them (assuming you write great content).
#2 – LowFruits
While not as popular as Keyword Chef, LowFruits is getting there as a keyword research tool to watch out for.
It does the same thing Keyword Chef does: produce keyword ideas off your topic using wildcard search and analyze the SERPs for each keyword.
Below are the keywords results for "is * healthy:"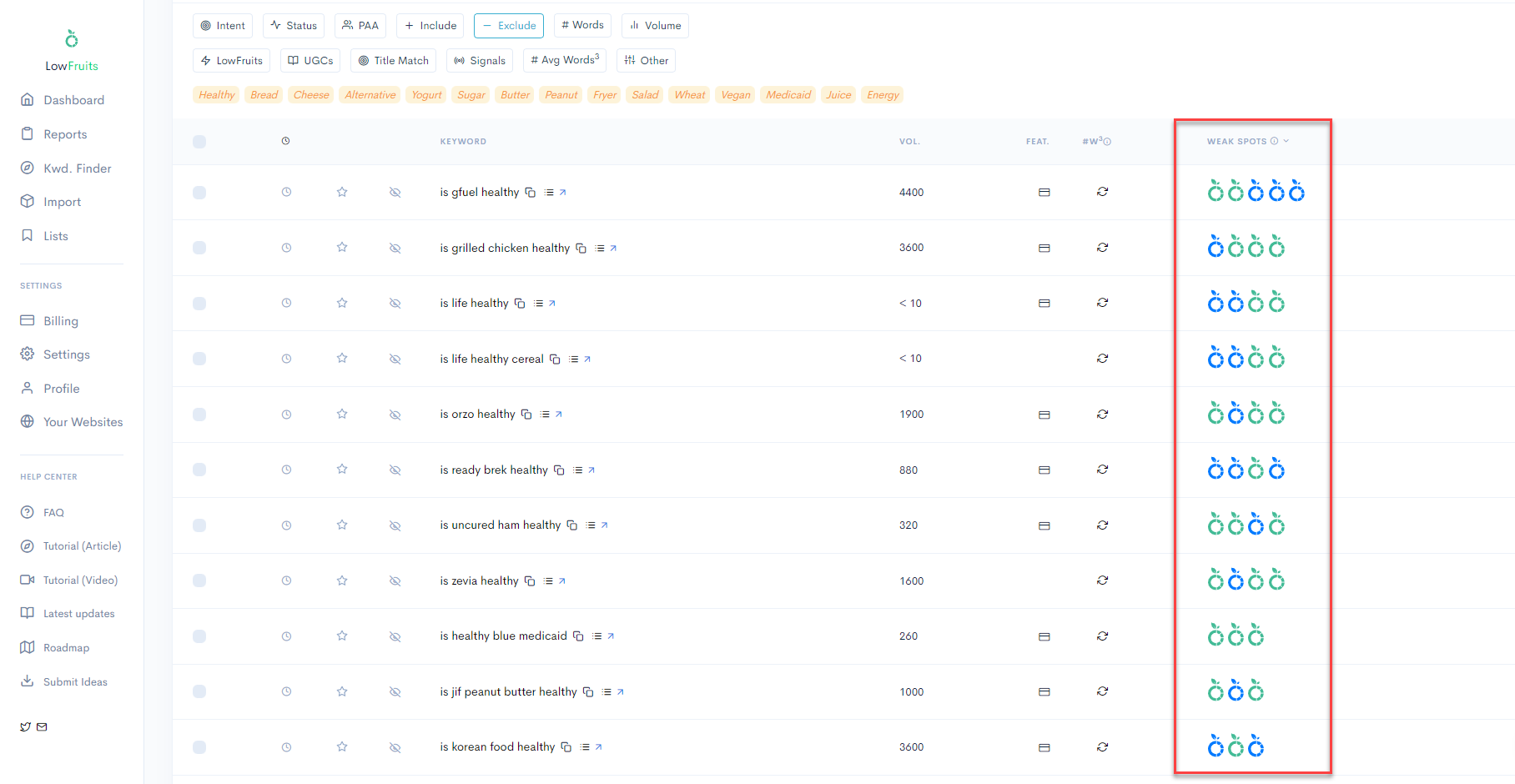 What makes LowFruits potentially better than Keyword Chef is the Weak Spots feature.
Unlike Keyword Chef's SERP Analysis, Weak Spots also determines if a site has a Domain Authority (DA) of 20 or below.
From here, you can easily find keywords with low-ranking sites and forum/UGC/web 2.0 sites ranking on the first page of Google.
Conclusion
As you can see, the asterisk operator is unlike the basic search operators you know.
It's handy for casual users to find queries that will provide them with the pages they're looking for.
But for SEOs, it adds a new layer to their keyword research for finding suggestions that popular keyword tools won't show you.
Hopefully, this post has given you ideas on using wildcard searches to beef up your SEO campaigns and generate more organic traffic in the long run.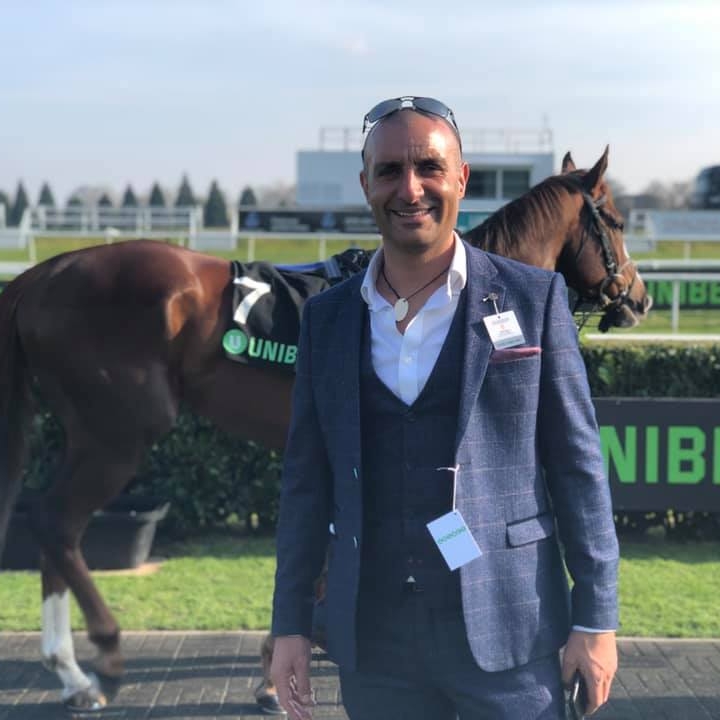 Digital Nomad
I'm a full-blown Search Engine Optimization specialist earning the majority of my income from SEO-focused endeavours, including affiliate marketing, lead generation, as well as SEO services. Love travelling the world networking while working on my laptop. Life is a perception of your own reality. You have no excuses and should be making memories every single day.
Recommended Story For You :