The most common question asked through my contact form is "How Do I Recover from a Google Core Update"?
Website owners suffer an organic SEO ranking drop and are panicking to recover the traffic they once had.
Google make significant changes to the search algorithms and systems several times a year. The Google Algorithm Updates are referred to as a Google Core Update. The changes to the search algorithms are designed to provide more relevant and authoritative content to searchers. 
If your google ranking dropped dramatically it is a very stressful time and with the Google Rank Transition, it might be a case of being patient until the dust settles.
In our guide on What Should I Do After a Google Algorithm Update or Google Organic Traffic Drop, we run through the science behind the algorithms and the best practices to do following huge fluctuations in Google SERP positions.
What Are The First Steps After a Google Algorithm Update?
Before you jump into a decision and start doing anything, wait for a few weeks or so once the updates are finished.
Many times google monitors and reverse the changes in the updates and there is a chance of getting the site recovered without doing anything.
If your website doesn't get recovered, then the first steps are:
Put your site in Ahref, Google Search Console or SEO Testing to monitor the change in SERP positions for your keywords
Prepare a list of all the web pages that lost traffic and SERP rankings
Create a list of all the keywords you have lost or had a sudden drop in SERP rankings
Search the main keyword of each page and see which website has acquired better SERP rankings
Create lists of all the winners and losers in the Core Google Update
You now have collected all the core data on what is winning from the update and what potentially is missing from your sites.
Analysis of Google Organic Traffic Drops
Make a full list of all the differences and mistakes you can find, these will be used for improvements and evaluation.
Once you have followed the first steps to gather all the information needed to create tactical decisions you now analyse the following:
See what the winning web pages cover that your page doesn't?
See what elements are you missing?
See do they outbound link to stuff you don't?
See which links and Schema you're missing?
Missing 'People Also Ask' queries or 'Related Queries' from Google SERPs
Checking content via NLP and identifying missing entities
Content gap analysis – create more supporting blogs for main keywords
Media Rich – add more relevant images or videos
The analysis of all the winners and losers is a key feature in improving your processes and systems in March 2023.
Google Search Console
Google search console is a great tool to utilise when a new Google algorithm update happens. You'll be able to see when the update hit your site and how bad it's affected you. In addition, Google released a lot of useful tools for the search console, which includes:
Technical SEO Issues – like broken links & pages.
Page Speed – showing how long it takes a user to load your content
Search Demand – how many people are searching your website
There are a lot more tools which you can use to help you gather information on how bad the new algorithm updates have affected you, as well as showing you how to improve. You should always retrieve data from the search console as it's owned and provided by Google themselves, so it's really accurate.
Potential Problems Why Your Google Ranking Dropped Dramatically
Here are many reasons why your google ranking dropped dramatically in March 2023.
Competition Got Better
At times your site can drop in traffic and rankings even when you feel the content or links are great.
Why? Because your competition got better.
Reverse engineering your competition is important because if they are building more content and backlinks they your systems there is high chances they will overtake you in the SERP positions.
Low-Quality Pages
If the Google Core Update is content-related like Google Panda Update then the algorithms will identify low-quality pages on your website.
If the website is above the Google Core Update threshold for low-quality web pages they may demote those pages as well as your entire site rankings.
Recovering from a Panda Update or content-related changes you need to go through your site content to delete low-quality pages that can harm your entire website rankings.
Carrying out a full content audit should be done monthly in removing thin content web pages or looking to improve the worst-performing pieces of content.
Lacking Topical Authority
Optimising single web page content is only half the battle and if you create an article that is perfectly optimised in SurferSEO or MarketMuse then it does not mean you will automatically get top position SERP rankings.
Your website needs to be an authority on the topic and have multiple pages covering the wider sub-topics users might want to read about.
If you are not willing to cover the topic in its entirety you will struggle to maintain higher positions in the search results pages.
Avoid creating low quality content and don't focus on a small number of specific keywords. Branch out and target related keywords and create a content silo. You can use SEO tools like Surfer SEO to find what pages you're missing and what content you can create.
In addition, if you have a blog, then create a new blog post every day or week. Freshness of content is a key factor within most Google algorithm updates. Content quality should always be a priority as organic search traffic directed to your website also play a huge factor on where your website ranks.
Link Rot
Over time the backlinks pointing to your website starts to lose power and this is known as Link Rot.
Consistently building fresh new links to your site is important to counter the Link Rot happening.
Behavioural Signals
How users interact and engage with your domain is a very important ranking factor in March 2023.
Many SEOs use CTR tools to manipulate the click-through rate that enhances your Behavioural Signals.
Social Signals
Part of the Behavioural Signals ranking factors is social media engagement and many SEOs try to build a presence on Facebook, Twitter and Pinterest.
The traffic and engagement from social media can really enhance the trust towards the website.
Many advanced SEOs buy social media engagement from the #1 social media provider of Signal Boy.
Social signals are also a great way to the justification of backlinks as it looks more natural to be receiving social media engagement when buying backlinks.
Lost Crucial Backlinks
Backlinks play a crucial role in your site's SEO performance in March 2023.
If your site is suffering from link loss you need to quickly identify this problem.
To help you identify which backlinks in your link profile are the most important, use a tool like SEMrush. Enter your domain URL and click on Link Building > Backlink Analytics to see all the links you've built thus far.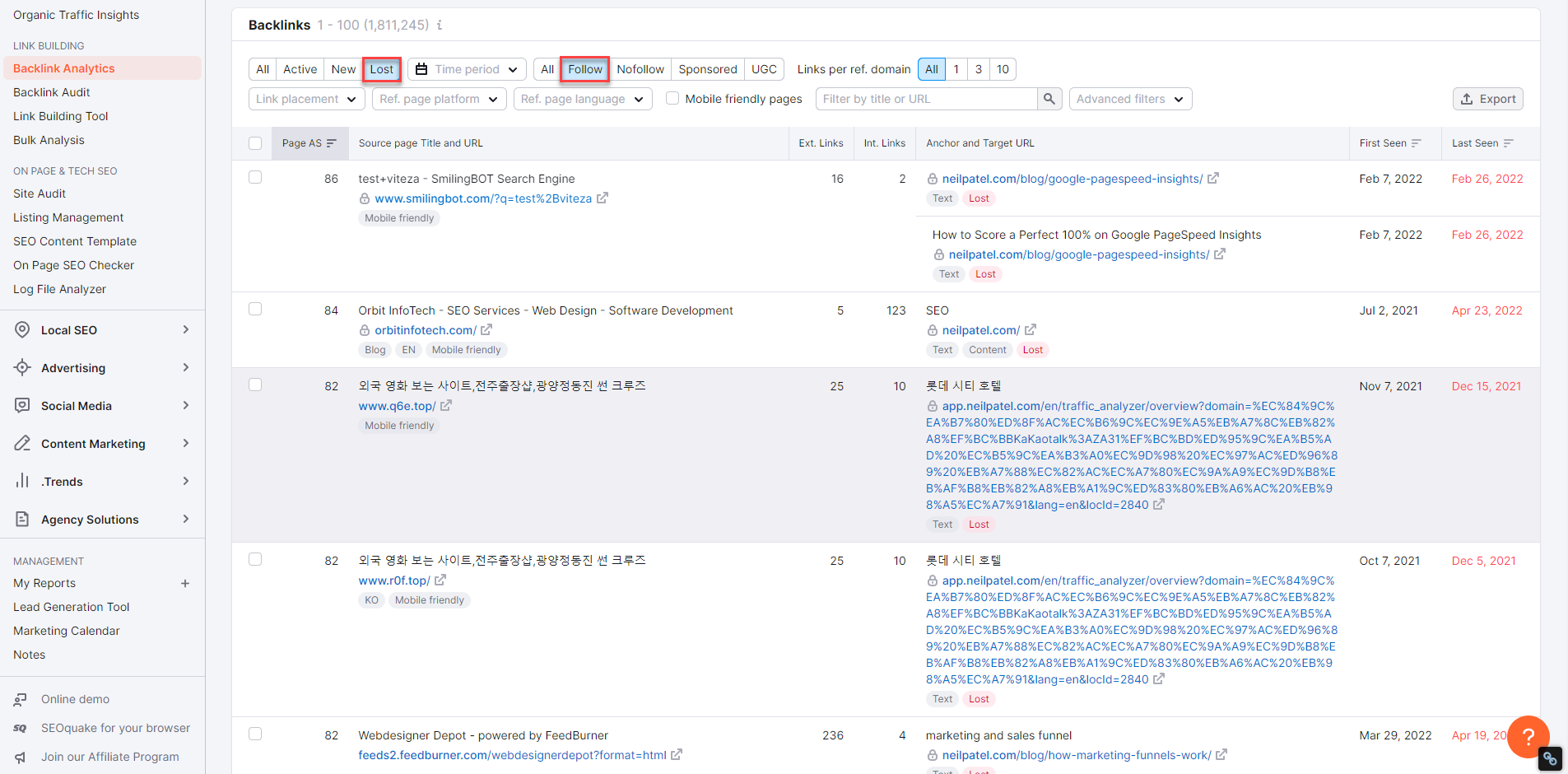 Once you've identified the crucial backlinks your site lost, you should at least try and recover them back.
If the site is still operational, send an email asking the owner to put your link back in.
You could send them a guest post or link to their site from other websites you own as an incentive.
Unless the backlinks you're trying to reclaim are essential to your Google rankings, the latter is unnecessary.
Received a Manual Penalty
A manual penalty refers to Google (either one of its employees or its algorithm) reviewing your website and deeming that it violates its Webmaster Guidelines.
To know if your site was manually penalized by Google, check Google Search Console for a message similar to the screenshot below: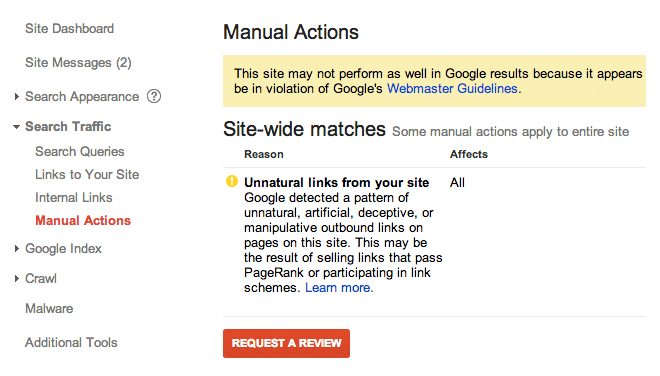 "Unnatural links from your site" is the most common Google penalty a website can receive.
Recovering from a manual penalty is important to use a tool like Link Research Tools to disavow all unnatural backlinks pointing to your website.
Once you have submitted your disavow file you can Write Reconsideration Requests to remove any manual penalties associated with your domain.
Trust Signals
Building trust signals is the first step our team carry out when building new websites.
Our core services for building trusted signals are:
Set up a social media branded set of profiles to build brand awareness
Buy a citation service to receive 100+ no follow, naked URL backlinks to the site
Buy 2-3 Wikipedia backlinks from the number one Wikipedia link supplier WikiWookiee
Create 20 informational posts (without any affiliate links) on the site as a foundation
Create some branded videos on the youtube channel
Create some branded images to share on the website
Buy some 5-star GMB reviews from rate my business for the Google Maps Listing
Create a privacy policy, t&c's and about us page
Many ask why build citations or Wikipedia backlinks if they are nofollow?
But these trusted backlinks are some of the best links in backlink profile as diversifies your anchor text, nofollow ratio and also Wikipedia is one of the seed set of trusted websites on the weblink graph so the relevance and trust sent through the hyperlink is very important.
Made Technical Changes to Your Site
Keeping tabs on your technical SEO audits is important in March 2023 as your domain starts to grow.
Make sure you check carefully if your developers have done any of the following technical changes:
Migrating your site to a new and improved web host to accommodate more visitors without compromising site speed.
Using a content delivery network (CDN) to help load your site pages more efficiently on web browsers.
You are transitioning to premium add-ons and plugins to supercharge your website.
You are potentially redirecting an aged domain to your site.
You are performing technical SEO to maximize your crawl budget.
You are hiring and training a virtual assistant to manage your site while you're busy with other vital matters.
These changes require a technical setup to ensure that your site provides users with the best possible experience.
These changes could potentially impact your site's SEO rankings, causing it to lose organic traffic in the process if elements of the work is not setup correctly.
Few technical problems websites have encountered:
If you change your hosting, you must fix the DNS records to point to the correct hosting. Otherwise, search engine crawlers and people won't be able to access your website.
Developer by accident forgets to allow Google Bot to crawl your site
Developer changes URLs and causes the quality score to reset back to zero
Internal links are removed from the main body content
Site speed has improved because removed all media rich images that was helping the SEO
In big organisations, there can be battles between the technical department and the SEOs. Mainly due to developers being obsessed by site speed and not thinking about the SEO benefits or user experience.
Tracking all technical changes to the site is key to analysing any errors quickly.
Keyword Changed its Intent
There are times that your site page isn't supposed to rank for a particular keyword, but it does anyway. It's a happy accident that drives loads of traffic to your website.
Until Google pulls the rug from under you and drops your page from SERPs.
This is not necessarily a cruel joke that Google pulls off regularly. Nevertheless, it is subject to mistakes as an algorithm.
In this case, it's primarily due to the ambiguous search intent of specific keywords.
For example, if your keyword is "content marketing," how do you plan to rank for it?
Do you create a page simply describing it? Create a walkthrough on how to develop one for your site? Or list down examples of excellent content marketing strategies?
If you answered "yes" to all, you're correct.
Using Surfer SEO, while most search results describe what content marketing is based on their title, two pages are step-by-step guides, while the other contains content marketing examples.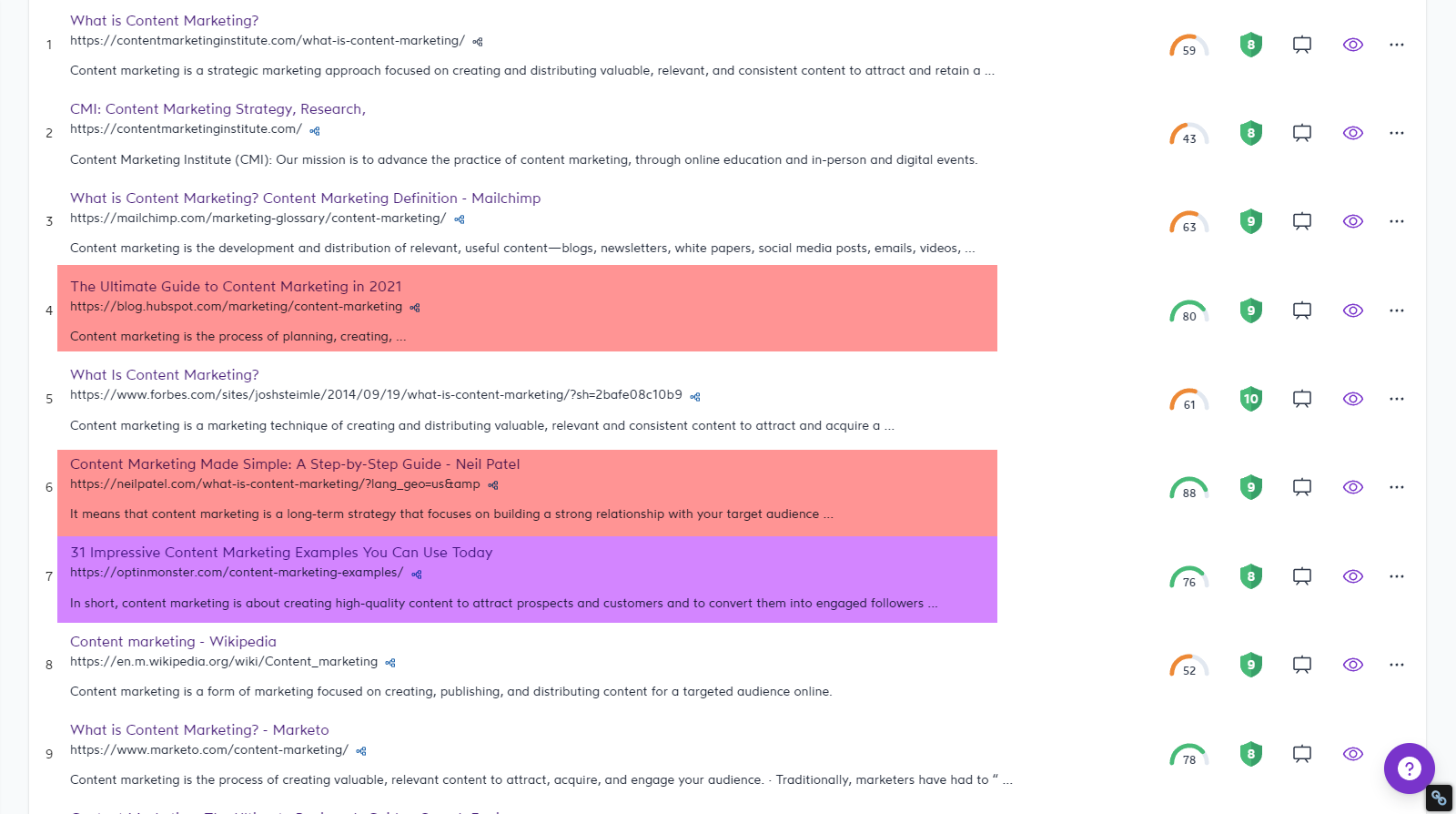 From this data, you should consider tweaking your post to lean toward answering the question, "what is content marketing." This could help bring you back to Google's good graces.
The Google Rank Transition
If you have ever heard of the Google Dance or Random Ranking Factor then these phrases come from The Google Rank Transition patent.
Check out the link for the Google Rank Transition patent.
Rank transition is Google's way of confusing search engine optimisation specialists who try to spam the Google SERP positions. It's Google's way of identifying specific techniques and formulating an algorithmic rule that appears to randomise rankings.
Here is an abstract from the Google Rank Transition patent.
"A system determines a first rank associated with a document and determines a second rank associated with the document, where the second rank is different from the first rank. The system also changes, during a transition period that occurs during a transition from the first rank to the second rank, a transition rank associated with the document based on a rank transition function that varies the transition rank over time without any change in ranking factors associated with the document."
So as you get to understand that Google is trying to randomise rankings to prevent spammers from being able to game their algorithms this is where patience is very important.
Here are some examples of why being patient with sudden drops in Google SERP ranking is important:
You build new guest post links (which are powerful, relevant and great) but the first rank associated with this technique is to drop the SERP ranking 24 positions. You wait 4-6 weeks and then the second rank and final SERP ranking returns better than ever and now long term you have jumped to position one rankings
You optimise an existing page using surfer SEO to add more entities, but the first rank associated with this technique is to drop the SERP ranking 7 positions. You wait 4-6 weeks and then the second rank and final SERP ranking returns better than ever and now long term you have jumped to position one rankings
You carry out content expansion to add more relevant headings and questions to a page, but the first rank associated with this technique is to drop the SERP ranking 9 positions. You wait 4-6 weeks and then the second rank and final SERP ranking returns better than ever and now long term you have jumped to position one rankings
Extract related terms missing on your page using marketmuse, but the first rank associated with this technique is to drop the SERP ranking 3 positions. You wait 4-6 weeks and then the second rank and final SERP ranking returns better than ever and now long term you have jumped to position one rankings
Improve your website's internal linking structure, but the first rank associated with this technique is to drop the SERP ranking 5 positions. You wait 4-6 weeks and then the second rank and final SERP ranking returns better than ever and now long term you have jumped to position one rankings
Here are five examples above where our team have seen the Google Rank Transition and has just been patient to know the SEO strategies used will in time improve the Google SERP ranking of the rank and rent website.
How do I recover from a Google Algorithm Update hit?
First, you need to look into the search console and have a look if there are any technical problems or any other related problems. If you've found some problems, start working on them first as you need your site to work to the best of its abilities.
Then, start focusing on on-page SEO, like content, images, videos, internal links etc. Make sure links pointing to other pages aren't pointing to broken pages or irrelevant pages. If you've got external links, be sure to check that the other sites you're linking to aren't flagged as spammy or suspicious.
Start to join some SEO communities and join in on conversations. By working with other like-minded individuals, you might come up with an SEO strategy the counter the update. In addition, you might receive search algorithm related-information, allowing you to understand why you've suffered a hit.
Another great tactic is to look at your competitors who are ranking higher. Look at search queries you want to rank #1 for and check their websites. What have they got that you don't? If you spot stuff missing, try incorporating them into your site.
Finally, check the Twitter of Google's Danny Sullivan. He will have produced a tweet explaining whether the update was a broad core update or more focused on a specific niche. Regardless of how you tackle it, it's important that you take action as leaving your site at the algorithm's mercy will just lead to it dropping in search rankings.
Do New Google Algorithm updates Protect Me From Negative SEO Attacks?
Yes and no. When the algorithm updates are first implemented, negative SEO attacks are often made powerless as the update helps protect websites. However, as time goes on, negative SEO attacks change tactics and can bypass the algorithm.
The most common type of negative SEO attack is spammy links. It's widely known in the SEO community that spammy links are something that Google hates, which gives people an opportunity to push their competition down by forcing their site to get linked to from crap websites.
Previous google algorithm updates (like Penguin 4.0) was said to counter this problem, but some site owners still reported being penalised. As time goes on though, negative SEO is starting to lose it's power.
When do the Google Algorithm Updates Get Implemented?
That's the problem. Google usually announce when an update is coming around 2-4 weeks before implementation. Due to the relatively short notice, it can be a nightmare to prepare your website fully for the new update.
On the other hand, some google updates have been kept secret and even released without anyone knowing about it. Usually, tools like Google search console can give you a good indicator of when an algorithm update has been implemented as you'll see a massive decrease in performance.
Some SEOs have started to call the days when Google implement their new major algorithm update as "Doomsday", but we don't see it that way. Google are always improving and learning how to counter spammy and illegal websites, as well as providing users with the best source of information for their search results.
If you follow steps like:
Improving page speed
Having high quality content
Removing broken links and fix broken pages
Making your site's mobile usability perfect
Creating category pages
Including meta descriptions
And more!
You will usually be safe from this "Doomsday" and only take a slight hit in traffic. If you keep providing users with fantastic content and a great UX, then all future algorithm updates won't have such a negative effect on your site.
Algorithm updates happen throughout the year. Keep in mind that Google releases multiple updates every year. Some updates will be major algorithm updates whilst others will be minor.
False Claims
Ever heard of the saying:
"don't believe everything you read on the internet"
Well, this couldn't be more true within the tech community. So many people try and pretend that they know what's going to happen next and say stupid stuff like:
"My Grandad's, Brother's, Son's, Sister-in-Law's daughter works for Google, and the new update is going to focus on link building!"
Never believe anyone like this. Most of the time, they're trying to scare you into buying their services and will make up for anything they can. And most of these unconfirmed google algorithm updates usually make no sense!
A great source of information for Google algorithm updates is Google's Danny Sullivan. His Twitter is great for learning about future algorithm updates and what they are going to focus on.
Do Google Provide any in-depth information about the Google algorithm update?
They do provide information based on the update, but it's not very precise or in-depth. Usually, you can find some information about the update on the Google Search Central Blog, but it won't explicitly tell you what factors will make your site rank higher.
For example, when the Panda update came out, Google stated:
"At the same time, it will provide better rankings for high-quality sites – sites with original content and information such as research, in-depth reports, thoughtful analysis and so on."
So, we know that search engine results pages will display sites with original content that provides value, but it doesn't mention anything about keyword focus, optimised content, images and videos.
It usually comes down to the SEO community to figure out what gets websites ranking higher and more search traffic. Another update was the Core Web Vitals update, which stated it would "judge first impressions a user would get from your site". But, after a few months, the SEO community cracked the code and judged that loading time became vital for ranking.
You can find a list of certain factors that Google staff deem as bad regardless of which core algorithm update is out. We recommend reading the quality rater guidelines that explains more about the concept of E-A-T.
Finally, information relating to the update depends on whether it's a broad core update or a specific niche. If it's a broad core update, then more SEOs are going to be affected and therefore the solution might be found lot quicker.
On the other hand, if the update is focused on a certain niche (like gambling), then it might take longer for a solution to be found, as less information will be accessible because of the lack of testing being performed.
Summary
There is always a chance to get your sites recovered from Google updates in March 2023.
The search algorithms are simple math and if you provide the thresholds Google is looking for you can 100% recover from Google Organic Traffic Drops.
When you have made significant tweaks your site content, internal linking, backlink profile and created more topical authority you will test the following:
Track all web pages that went up ????
Track all web pages that went down ????
Once you analyse the winning pages, then update your writing/editorial guidelines to include the winners in your SOPs & Guidelines. ????
You should also update most of your content accordingly to your new content writing SOPs to avoid getting hit in the next update.
If you iterate on this, you should slowly see your sites climb back up in the rankings and soon overtake your previous traffic records. ????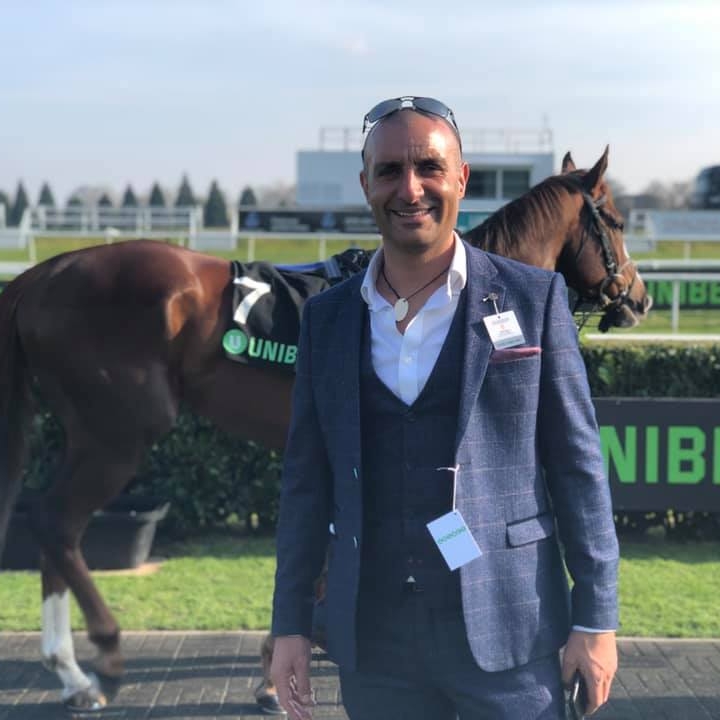 Digital Nomad
I'm a full-blown Search Engine Optimization specialist earning the majority of my income from SEO-focused endeavours, including affiliate marketing, lead generation, as well as SEO services. Love travelling the world networking while working on my laptop. Life is a perception of your own reality. You have no excuses and should be making memories every single day.
Recommended Story For You :