A mass page builder allows you to automatically mass generate webpages to maximise your search engine presence.
The mass page builders are known to many as churn and burn projects but if done correctly can last the test of time.
If you are a company covering multiple locations you are able to rank for specific terms like:
The WordPress mass page builders can cover as wide an area you want to rank for.
Do Mass Page Builders Work in December 2022?
Yes, Mass Page Builders are still going very strong in December 2022 when you create them correctly.
I have used Mass Page Generator Plugins for over a decade and this post needs to be updated because was an old blog post created a while ago.
Recently Craig Campbell who is a huge Scottish SEO influencer dug this page out and spoke about the multiple location websites here:
This blog post was out of date with some information that needed updating (which certainly was not a priority because I do not publicly sell any of the plugins or carry out any client SEO for that matter).
So I decided to delete the post until my team had carried out new tests.
Roll on two months and I realise the video is still live from Craig Campbell so it is only right for me to reupload and update.
Mass Page Site Link Building

When looking to build backlinks to these mass page sites here are the best strategies:
The point of the mass page websites is ranking super long-tail phrases so the links are only needed to help assist indexation and crawling the site really.
Search Engine Presence
The factors listed above are great for increasing your presence on a wide variety of search engines. It's vital for any site to try and include as many of those factors as possible as each one provides numerous benefits for your site.
Here at FatRank, we've tested numerous different services that offer the services listed above and have provided you with a list of brief reviews to help you save time and get your site the treatment it deserves.
Mass Page Websites Silo
The silo of the mass page websites is very important and too many fail at the internal linking.
You are going to be having thousands of pages and Googlebot needs to easily access all these webpages.
The silo structure is simple where you need to internal link all topical clusters together. (Link Whisper Plugin is good for progressive optimisation on internal links).
Create hub category pages and child posts of the categories and try to make all webpages within two clicks of the homepage if you can.
If creating nationwide in the United States you might decide to go three clicks with State > County > City which works fine also.
Social Signals To Aid Indexation
Social Signals is a key element to helping your webpages index because of user metrics needed for the crawl budget.
We purchase signal boy blasts to the home page and any webpages which are struggling to get indexed in the search engines.

Other SEO hacks are creating a cron job to automatically share location pages that can be syndicated via RSS feeds to multiple web2.0 properties.
We love to "schema same as" markup all the social media properties created on the brand to showcase EAT related signals.
Build On Aged Powerful Domains
When building mass page websites a key success story is building these out on aged powerful domains.
The best place to purchase aged domains with power is from ODYS and they have a special offer where when you sign up for free you get $100 credit added to your balance.
GET $100 FREE CREDIT TO ODYS BALANCE
Trying to building on new websites is time-consuming and these aged domains help you to rank so much faster.
Best Mass Page Builders
The best mass page builders are:
Magic Page Plugin
SERP Shaker
Page Generator Pro
SERP Farm
Local Pages Ninja
Local Business Page Builder
Workhorse SEO Plugin
The best mass page builders above are in order of top-rated.
The best mass page builder list has been updated in December 2022.
Magic Page Plugin is a great Mass Page Creator used by national companies looking to rank multiple locations.
You simply install the MPP plugin onto any WordPress website, which allows you to select the areas you want the site to cover.
Magic Page WordPress Plugin will take your article and build SEO content for every single location you are targeting. MPP adds Geolocation data to the back end of every single page it generates for better local SEO results.
Once these location webpages are picked up in the SERPs you will see them ranking high and driving traffic for local keywords in multiple areas.

But why does Magic Page Plugin come out as the top-rated mass page builder?
Loved and used by many industry-leading marketers the recent testimonials are there to see why it comes out on top.
The team at FatRank are late to the party on using MPP Plugin because having a system in place that is rinse/repeat and works great. But recently building some New York marketing related service pages have seen them jump into position one for some long-tail keywords (without even starting the backlink processes).
Daryl Thomas Ledyard uses MPP heavily within his mass.page which is a form that builds powerful LEAD GENERATING websites quickly when in conjunction with Magic Page Plugin.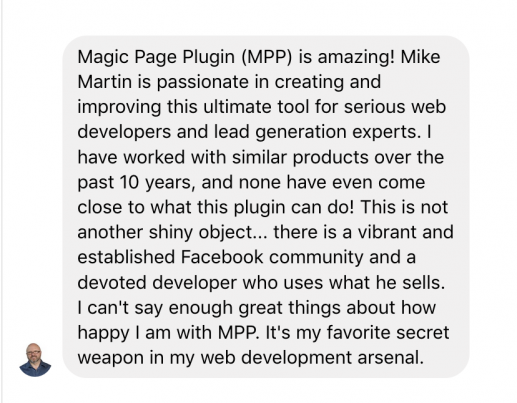 Two other HUGE reasons why Magic Page Plugin (MPP) comes out as the best mass page builder is:
The Community – Being able to network and communicate with a community of other like-minded lead generators allows testing groups to consistently improve your work. The community and regular live chats are unrivalled compared to most other mass page creators which have stopped updating their plugins
The Updates – The drive to creating and improving the tool for better results is amazing for web developers or lead generation specialists. Having the owners regularly doing Q+A webinars allow you to tackle them on potential improvements which are superb to see for business owners
Mass Page Creator WordPress Plugin
When you create unique content for one of your sites, you'll notice that it's a time-consuming job and can often get quite boring. However, the Magic Page Plugin has one of the simplest interface designs we have seen in a while, making it incredibly easy to generate thousands of pages without needing to be WordPress experts.
Whether you are wanting to create new content for a new site or add more content for an old site, if your site is a WordPress site then you would be silly for not utilising the Magic Page Plugin.
One feature we really love is how you can add postfix & prefix words for all pages and posts. Not only will this help write unique content, but it will help make that content look more natural and easier to read!
Multiple Pages Generator Plugin
At FatRank, we've tested Magic Page Plugin by using it to create multiple pages on some of our other sites and we couldn't be more impressed with the results. Generated pages are filled with generated content that is easy to read and is formatted really well.
Keep in mind that new pages that you generate content for won't have internal links done, so it's worth going back into the generated pages and locating some keywords that would be fantastic to internal link to.
You might be wondering: how does the Magic Page Plugin generate content? Simple. All you have to do is import certain data into a csv file and the plugin will start creating the content! An awesome feature is how you can create content groups by using different headers.
Serplify Review
Serplify automatically creates thousands of unique local pages for every city and zip code in your chosen country, the software can also schedule new content to be posted over a certain period of time with built-in search engine optimization functionality.
The scheduling of content is a nice feature because you can build a steady flow of article velocity on your money sites.
The problem with this WordPress plugin is that this is affiliated with high commissions meaning the end-user is paying way over the top on the prices.
You can earn 50% recurring revenue as an affiliate which tells you straight away as a buyer of this tool you are paying double the price of what it is worth.
Although the WordPress plugin does create the mass pages we feel the price is too high and other mass page builders are better value for money.
Many look at Serplify as a SERP shaker alternative plugin to use. But from recent testing and research in December 2022 we MPP Plugin gives a better alternative solution.
SERP Farm Review
SERP.farm is a mass page generator plugin for WordPress!
It allows you to create thousands or even millions of webpages.
The SERP Farm plugin features are great for optimising your articles to have unique images, videos and internal linking.
Check the video out here:
Among the list of mass page creators, we feel SERP Farm is a decent WordPress plugin to use.
We recommend you check out their YouTube channel to see the features they have available – SERP Farm Youtube Channel.
After a lot of testing, we liked the features but could not work with the plugin because the creation stage of the posts kept timing out and being buggy to use.
If you are only to build out websites with less than 10,000 URLs it could be an option but SERP Farm received our number 4 rating.
The downside to SERP Farm is the lack of members and constant updates. You want to build your money sites on platforms that you know will be kept up to date in December 2022 and for this reason, Magic Page Plugin is the best alternative option.
Page Generator Pro Review
Page Generator Pro allows you to quickly generate unique, unlimited content (Pages, Posts and Custom Posts) to maximise your search engine presence.
Whether it's building a city or locality-specific pages, or drip-feeding fresh content to your blog for the next month, Page Generator Pro provides a range of functionality for all of this and more.
Check out the full demonstration here of page generator pro plugin:
Among the list of mass page creators, we feel Page Generator Pro is a decent WordPress plugin to use.
We recommend you check out their YouTube channel to see the features they have available – Page Generator Pro Youtube Channel.
With our thorough testing, I really liked Page Generator Pro because I liked how often Tim Carr updated this plugin and seemed to be actively working on improving it continuously. BUT the time it took to build the URLs was too long.
When I wanted to create 30,000 posts on Page Generator Pro it took me nearly 21 hours to complete this task. Compared to SERP Shaker and other plugins which took us less than 5 minutes to complete the exact same quantity of posts.
For this reason, we could not recommend Page Generator to be higher than SERP Shaker or the MPP Plugin.
SERP Shaker
Is Serp Shaker still the best WordPress mass page plugin?
Back in 2016, the SERP Shaker plugin was all the rage in the SEO communities as allowed websites to scale very fast.
It allowed you to mass-produce pages with some level of spun content. While it wouldn't get you the large volume keywords, it could certainly help you with low competition keywords.

Among the list of mass page creators, we feel SERP Shaker is great to use as we know personally many successful SEOs who use this tool.
We recommend you check out their YouTube channel to see the features they have available – SERP Shaker Youtube Channel.
The major flaw of the SERP Shaker WordPress Plugin is the lack of updates and networking by Andres Tobar and the community of users.
Can you build money sites on quicksand where you do not know whether the framework will be updated in December 2022?
SERP Shaker Alternative
The SERP Shaker Alternative is to use a more updated mass page creator brand like MPP Plugin.
Magic Page Plugin community is so proactive in testing so the information you get from the MPP users is amazing.
With such a proactive network of members, it keeps the owners on their toes to keep updating the plugin which is great for long term investments into your money sites.
Done For You Location Sites
The best done for your location site builder is mass.page.
In forums about mass page websites, they get bad reviews. But this is due to the developer who creates the sites and not properly optimising the images, videos, content, schema, silo and technical build.
It is like SEO is dead ridiculous claims.
What you should look for on DFY location websites:
If the majority of the above is not carried out on location websites you will struggle to get all your posts indexed.
Google has a filtering system and if there is not even a reason (once they have crawled your webpages) to list them in the index they will filter this out and you will struggle to get the webpages indexed in Google Search.
Creating 100,000 webpages in all the states of America or all towns in the UK is the easy part.
Getting them indexed and ranking is where the skills come into play.
What is the Best Mass Page Builder for my WordPress Website?
From years of testing and utilisation, we are confident to say that the Magic Page Plugin is hands down the best mass page generator for you! Whether you're a WordPress noobie or master, this plugin is easy to use and provides fantastic results.
By using attributes like phone area codes, zip codes, phone country codes and even Google maps coordinates, your generated content will be created to suit the area and have Geolocation backend data added to it.

Whether you plan to use it for your product pages, landing pages or even a parent page; the Magic Page plugin creates easy-to-read content whilst making it SEO optimised and providing all the attribute required for high rankings!
However, there is a pricing structure in place which offer different benefits. The most expensive package is the Agency Plan, which allows an unlimited number of websites to make use of the Magic Page plugin. Packages like the Pro Version give you access to features like the posts creator and the drip-feed content option.
Regardless of which package you pick, you'll have access to the full feature set of the Magic Page plugin. We think this is a great plugin for any WordPress website owners and couldn't recommend it anymore.
Summary
Mass Page Builders are a great fast and easy method to build out thousands of webpages for local SEO clients or specific product ID posts on your domain.
The problem with mass page websites is the ability to get the webpages indexed.
You need to provide value for Google to index your posts so make sure you are ahead of the game with SEO is key.
Spintax for unique content, social signals, regularly backlinks created, the freshness of content and a good silo are the main attributes to indexation.
You can certainly rank duplicated content and get the articles into the index if you can send the right signals to the algorithms.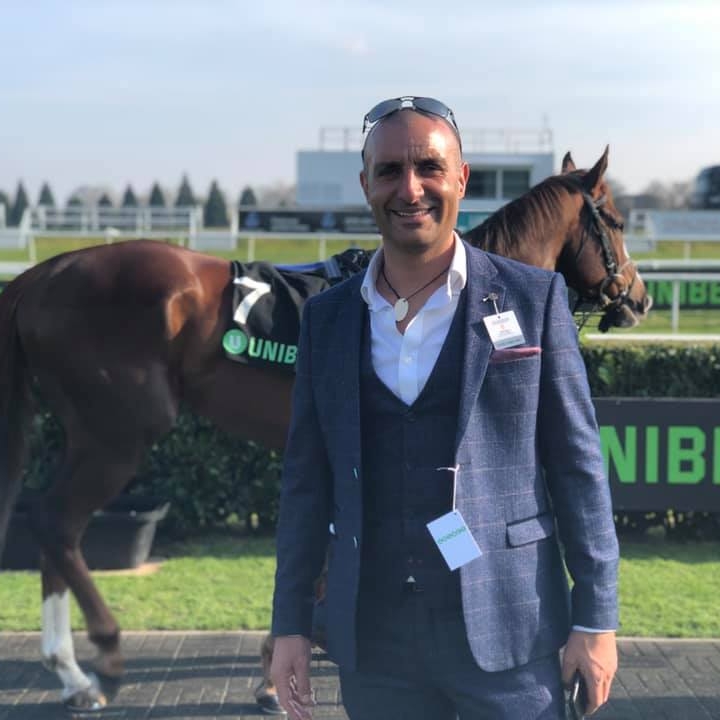 Digital Nomad
I'm a full-blown Search Engine Optimization specialist earning the majority of my income from SEO-focused endeavours, including affiliate marketing, lead generation, as well as SEO services. Love travelling the world networking while working on my laptop. Life is a perception of your own reality. You have no excuses and should be making memories every single day.
Recommended Story For You :