What is SE ranking?
SE ranking is a complete SEO software for small firms, SEO organizations, online marketing professionals, and SEO professionals.
With it, you wield the power of multiple SEO tools that you can use to annihilate your competitors.
I should mention early enough that SE ranking is cloud-based, meaning that you can easily access it from their website without the need to download software.
This SE ranking review will look at some of the best-known features of the tool that you can use to improve your website.
You'll also get to learn how the platform works and its ease of use.
If you've been browsing through the several SE ranking reviews on the internet but just can't seem to find one that better familiarizes you with this SEO tool, then look no further. This review is for you.
When we're done with the review, you'll have enough information and knowledge to base your decision on.
How to get started with SE ranking
My advice while joining SE ranking for the first time is to use the 14-day free trial currently being offered.
All you need to do is enter your email, names, phone number, and password.
I believe it's an opportunity of a lifetime as you get to see how useful the SEO tool can be before actually committing to it.
If you feel uncomfortable providing these details, you could use the Facebook or Google option to sign up.
The process is surprisingly fast since using SE ranking via free trial requires no credit card information.
You also don't have to contact customer support to request the trial.
First impression: Design and interface of SE ranking
SE ranking uses a monochromatic color scheme to see variations of the color blue all over its dashboard.
This makes it look absolutely stunning and cohesive.
Aside from color, you're able to view nearly every feature of this SEO tool immediately you're signed in.
To your left, you'll see features such as:
Rankings
Analytics and traffic
Competitors
Digital marketing plan
Website audit
Backlink monitor
Social media.
If you were to hover your cursor in their direction, you would notice that the features displayed cannot be selected.
This is because these SEO features are connected to your project, and on your first sign in, you won't have created one.
However, the SEO features displayed in the horizontal panel on top of the dashboard are accessible at any time.
They include competitive research, keyword research, report builder, and backlink checker, among others.
Creating your first project on SE ranking
While looking at creating a project in standard SEO tools, the first thing I check out is the simplicity.
If I can set up my project with no difficulties, then this is a good indication of what lies ahead.
I managed to create my first project on SE ranking with ease, and this got me even more psyched up to explore the best SEO tool – and boy did I do it!
But first, let me walk you through the process.
Step 1 – Domain
To add and track your website, first, you need to find the add project button.
If it's your first time on SE ranking, then there will be two of them – one at the top right of your dashboard and another right at the center.
Once you've clicked on the button, the process will begin.
In the first section, you will be required to enter your domain's URL and your project name.
SE ranking automatically enters a project name similar to that entered in the domain box. However, you can change it.
This segment also features the search range. This determines how far within the SERPs you want SE ranking to look up your website. You can pick either the top 100 or top 200 SERPs.
Do not forget to add other users you'd like to give authority to view or edit the project.
Step 2 – Keywords
The second step of the process is adding the specific keywords you wish to track.
SE ranking allows you to enter your keywords manually or import from other sources like Google Analytics and CSV/XLS file.
I also noticed that this SEO tool allows keyword grouping within this segment. This simply means that you can add your target keywords to a specific group to monitor them together. It also comes in handy when you want to track a large number of keywords.
SE ranking also has a suggest keyword section within this segment. If you're having trouble remembering some keywords, then you could use it.
Step 3 – Search Engines
This section includes 2 of the most important aspects of keyword tracking. These are:
The search engines/ search engine results pages
Location
I was thrilled to see the variety offered by SE ranking when it comes to different search engines.
Although Google is the most widely used search engine globally, some highly populated and developed countries do not use it as much. A case in point, Russia, where Yandex happens to be the top corporation dealing with internet products and services.
That being said, here is the complete set of major search engines made available by SE ranking:
Google
Google mobile
Yandex
Yandex mobile
Yahoo
Bing
YouTube
When it comes to location, you can select your country as well as the city.
So let's say you live in the UK but would like to see your city Barry's local results, then you can select the country as the UK, and in the location section, you can write Barry, Wales, UK.
This will pull out your rankings from Barry alone. So if, by any chance, you're selling a product to the residents of Barry, then you'll be able to know where you appear when they search for your product or service.
This makes local SEO possible.
If you'd like to know where you feature in the Google maps and the paid search results (Google Ads), then you can activate them in this section.
Step 4 – Competitors
Unless you're a monopoly, then you might want to track how your competitors are performing.
If uncertain, this segment has a suggestion area that provides a list of competitors who might be competing to rank for the keywords you're ranking for.
From here, you'll move to the statistics and analytics section, which marks the end of your project creation process. This section allows you to connect your Google Analytics and Google search console to SE ranking.
SE ranking features
Keyword research
This section is situated on the horizontal panel on top of SE ranking's dashboard.
It generates valuable data for your keywords and houses the popular suggestion tool for keywords, which I happen to be a big fan of myself.
To do keyword research on SE ranking, you need to have an idea of the keyword you want to review.
Once you enter the keyword, SE ranking will provide the following valuable details:
Difficulty – It's always important to know just how difficult it would be to rank for any of your keywords. SE ranking has a metric that examines and provides details concerning that. If this metric is green, then the keyword analysis is fairly easy to rank for in the top 10. If red, then this means that it would take a lot of work to appear in the top results.
Search volume – You should always review your keywords' monthly search volume, especially those you intend to use. This is to ensure that the keyword is actually worth your effort. If a keyword only gets 100 monthly searches on Google, you might try to find another one in the keyword suggestion tool.
Cost per click – If you're thinking of doing a Google ads marketing campaign, then this is a vital area to look at. SE ranking provides a list of countries along with their cost per click.
Keyword ideas – This is meant to offer you some ideas on other identical or related keywords that you can use instead of or alongside the one you entered. It is almost similar to the keywords suggestion tool; however, this provides shallow information concerning the keywords. The suggestion tool for keywords does a more in-depth analysis, as we'll see later on.
Organic search results – SE ranking allows you to see all the domains currently ranking in the top positions for your target keyword. In addition to that, you're provided with the total traffic they get (search visibility), the cost incurred, and the number of keywords these websites is targeting.
Advertisers – SE ranking will show you any website holding a Google ads marketing campaign for your target keyword.
Keyword suggestions tool
This is the tool that swoops in to save the day when you need related keywords data exhaustively researched.
The suggestion tool for keywords in SE ranking provides data in 3 forms, similar keywords, related keywords, and low search volume keywords.
Similar keywords are usually identical to the keyword you entered but with some few additions. In contrast, related keywords might be different but do not divert far from your keyword's core message.
For example, if your keyword is "buy headphones," then a similar keyword might be something like "best buy headphones," while a related keyword could be "wireless earbuds."
Low search volume keywords are those that users don't generally search for and therefore experience low monthly search volumes.
The keyword suggestion tool also includes monthly search volumes, the cost per clicks, the difficulty to rank for each keyword, and anyone running an ad campaign on them.
This tool alone provides some valuable information you could include in your digital marketing plan.
Competitor SEO/PPC research
SE ranking allows you to track your competitors' performance, as seen in the set-up process.
However, they also have a competitive research section that allows you to do way more about SEO.
Here, all you have to do is enter your competitor's domain name, and SE ranking will extract data such as the competitor's organic and paid search volumes.
You'll get this information for the selected country and additional countries for better analysis.
In addition to this, SE ranking shows you the total number of keywords that the website is ranking for along with their names.
Competitor research allows you to:
See the other websites that challenge your competitor for the top SERPs.
See the different pages that bring traffic to your competitor's website, such as the search visibility.
Find out which keywords the competitor is ranking for that other competitor websites and yours are not.
Get to know the keywords your competitor is mostly targeting in their ad campaign.
Utilizing competitor/PPC research to beat competitors
As a business, you shouldn't live in isolation.
You need to assemble your spy gadgets and go find out what the other companies are doing. This information is vital for SEO.
Lucky for you, SE ranking is the only spy gadget you'll need for competitor analysis and PPC research.
If you find out that your competitors are ranking for a specific keyword that you're not using yet, you should consider using it.
If you find out their top pages have featured snippets, such as videos or photos that you don't use or own yet, then you should consider getting SE ranking videos.
If you find out that their blogs are mostly getting traffic because they put out "how-to" content, then consider modifying some of your topics to follow the same.
Social media management
SEO is not always about competitor analysis and keyword tracking. Social media also plays a huge role in SEO.
The social media feature in SE ranking is immediately made available once you've set up your website. Its purpose is to help you keep track of your social media activities.
As you know, there are an estimated 3.6 billion people on social media, and this number is expected to go even higher as time goes by.
All these are potential customers for your business and target traffic for all the content you put out on your website.
For that reason, you should always monitor your social media platforms.
Currently, SE ranking only allows you to connect to Facebook and Twitter accounts.
However, with the rise in other platforms such as Instagram, it would be great to consider adding them to the list.
I particularly loved social media management as it allows you to automatically schedule and post an update on both Facebook and Twitter.
It is also convenient, especially for people who operate numerous social media accounts, as you do not have to move from one account to another constantly.
In addition to all that, the feature helps you establish the best time to interact with your customers and provide you with information such as your demographic data and user activity.
Keyword rank tracking
Keyword rank tracking is a feature I believe no high-end SEO tool should miss.
Below you can take a look of how the user interface of SE keyword rank Rankings looks like when it comes to rank tracking keywords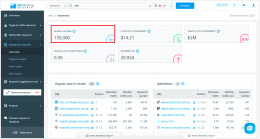 SE ranking allows you to check your keyword rank tracking in engines like Google, Yahoo, Bing, Yandex and YouTube.
Like other keyword rank tracking tools, it provides information regarding the search volume for every keyword, your average position, the SERP features, and traffic forecast.
The traffic forecast is a crucial metric to look at, especially if you're carrying out a digital marketing plan aimed at a specific audience. It shows you the degree of traffic a chosen keyword is likely to generate for your website.
SE ranking groups your keywords into the top 1, top 3, top 5, top 10, top 30, and beyond.
The tool further keeps you updated on those that entered the top 10, those that exited the top 10, those that entered the top 100, and more.
Such information is vital as you can assess the reasons that helped you rise in rank and then use it to improve your other keywords.
You'll be happy to know that you can update the rankings and search volume data whenever you want.
Moreover, SE ranking allows you to take notes, share, or export the information in this area.
The "notes" capability is great for people who have a team and would like to leave important information for their colleagues to review.
I think we can say when it comes to keyword rank tracking, SE ranking does its duty excellently.
Website Audit
You always need to perform a comprehensive site audit to identify any flaws within your website that need to be fixed.
SE ranking helps you check just how good your site is in terms of optimization. Remember, the better optimized your website is, the more traffic it can potentially get.
After doing the site audit, SE ranking will display a score between 1 and 100. The higher the score on your site audit, the better optimized and healthy your site is.
You'll also be able to view the crawled pages, external links, and crawled images.
A review would have been done on all of them, and the information following well displayed for you to assess.
SE ranking will examine every single webpage you have. It identifies both on and off-page errors and, if that is not enough, goes on to suggest how you can remedy these errors.
You also have the option of either doing a quick website audit or a deep audit. This helps for those who just want to identify some minor errors and have n time to wait.
Depending on your subscription, the number of crawled pages may vary.
Backlink checker/monitoring
To do backlink analysis on SE ranking, you'll need to find the backlink checker feature.
It's situated on top of your dashboard next to the keyword research tool.
Once inside, you will be required to enter the domain name whose backlinks you want to check.
When this is done, SE ranking will generate a pop-up displaying the total backlinks found and the total referring domains.
This information alone is not enough for proper backlink analysis, so the tool allows you to view the detailed report.
Now here is where things get interesting.
The information provided here is like a goldmine for SEO professionals and certainly something worth including in their SEO digital marketing plan.
The first set of information you'll see will be:
Domain trust – This looks at the ability of the website under review to rank on the SERPs. The higher the score, the better it can rank.
Page trust – Unlike the domain trust, this will assess a page's ability within the website under review to rank on a search engine.
Anchor texts – This is the number of anchor texts within the website.
Referring domains – Every single domain that links out to the site you're analyzing will be totaled here. You'll also know the total number of domains that link to the homepage of the site and those that link to other pages.
Backlinks – The total number of links that refer visitors to the site under review will be displayed here. It will also show you the total backlinks that refer visitors to the homepage and those that direct them to other pages.
Do follow/no follow – It's difficult to know visitors who'll follow a backlink and those who won't. This metric here will give you a historical data ratio between the two, making it a valuable backlink monitoring feature.
SE ranking also provides a graph for:
The total referring domains
Total backlinks
New & lost referring domains
The new and lost backlinks
This makes using SE ranking for backlink monitoring over some time much more straightforward.
Also, while using SE ranking, you'll never have to worry about losing backlinks and not getting news about it, as they will send an email to inform you.
Before wrapping this section up, we need to look at the top referring domain anchors and the top backlink anchors. These are the texts that are normally used to guide visitors to the site under review.
For example, if one wants to refer people to buy something at Amazon, then the link will be something like "order at Amazon." This section will arrange these texts for you in order of frequency and popularity.
Online marketing plan strategy
Most SEO tools assume that everyone subscribing to their tool has enough SEO knowledge to optimize their website. So, as a result, they'll just teach you how to use their tool.
SE ranking acknowledges that some people are completely new and looking to jump-start their journey using their SEO tool.
For that reason, they have an online marketing area that looks to educate such people.
I went through it and found some valuable information to take even though I have been doing this for a while.
The online marketing plan is well organized and provides a step by step guide on how to get started with SEO. The plan will help to bring your professional digital services to the next level.
If you enroll, you'll be taught:
How to do effective keyword research
On-site optimization
Mobile optimization
Content strategy
Off-site optimization
Social media strategy
Each lesson is extensive to ensure that you've understood every topic before moving on to the next.
There is also a metric that shows just how much you've done, and I have to say, it did help keep me going.
I find this section valuable to newbies and upcoming SEO analysts as it will help avoid common mistakes that most seasoned SEO pros went through.
Reporting
SE ranking allows you to schedule dates on which you will receive reports concerning your keyword rankings, competitor analysis, and website audit.
If you prefer customizing your own reports, then you will absolutely love the report builder feature.
The report builder displays a stunning cover page that you can play around to develop a report that suits your organization.
You can add your company's logo, create a table of contents, and drag and drop other reports you might require.
When this is done, you can download your report in the form of a PDF.
SE ranking review: Keyword grouper
Earlier on, I talked a bit about keyword grouping within the project creation process.
However, comparing that with this tool would be like comparing Earth to Jupiter.
Keyword grouper, unlike the one we mentioned, automatically does the grouping for you.
It basically uses the similarities within the SERPs of certain keywords to establish them into a group.
If this seems confusing, do not worry, I'll explain through an example.
Let us say you have two keywords, "top rank tracking tools" and "best keyword tracking tools." Just by looking at them, you can conclude that they should be placed in a similar group.
However, keyword grouper takes it a step further by analyzing their SERPs. If let's assume, the keywords generate four similar SERPs on Google search. Then they are grouped.
The keyword grouper in itself is like a fully established tool within SE ranking with features such as:
Search engine settings
This section is where you add your search engine, country, city, and Google interface language. I must point out that unlike keyword tracking, Google is the only search engine you can use here.
Keyword grouping accuracy
This section displays numbers from 1 to 9. I say you pick the number 4. Keyword grouper will look for four similar SERPs within the top 10 rankings before assigning two or more keywords to the same group.
The higher the number, the more accurate the groupings. Using this logic, you can decide the number to pick. However, you should remember that most keywords won't have eight or more similar SERPs in the top 10 results.
Method
This section is categorized into soft and hard.
Soft will review the monthly volume of your keywords, pick one with the highest volume, and then use it to group the others.
The hard option ignores the search volume and will match keywords based only on the pre-selected grouping accuracy.
Aside from search volume, another difference between the two is that:
There is a huge possibility of getting keywords in a group with no similar URLs when using the soft option.
Such a case is impossible for the hard option. For that reason, I'd recommend using the hard option when doing keyword grouping.
Search volume check
This option will review and provide the total search volume for every keyword entered for grouping.
Now it would be uncool of me to leave out the fact that SE ranking requires you to pay a small fee to use this feature.
This depends on the number of keywords you entered and whether or not you chose to apply the search volume check.
The cost per query/keywords is $0.004, while the search volume check cost is $0.005: a small price to pay for such valuable information.
SE ranking review: White label
If you're part of a huge organization, then this can be a helpful feature to have.
SE ranking allows you to do a ton of adjustments to their tool during the white label process. They include:
Interface customization
Here, you can change:
The SE ranking header name to your company's name.
The SE ranking logo.
SE ranking's interface color.
The SE ranking footer logo.
Domain name personalization
This enables you to use the name of your company on SE ranking's domain name.
Log in page customization.
Here you can:
Change the SE ranking log in logo
Opt to have your company's name in the login area
The white label process can make your SE ranking tool look completely different, but closer to your brand.
Why people love SE ranking
SE ranking is affordable. The tool may not be as fancy as tools like Ahrefs and SEMrush, but it definitely saves you a lot of cash while giving you unimaginable value at a price.
Ease of use. The tool's interface is straightforward and easy to navigate through. Nearly every important feature is displayed within the dashboard. Upcoming SEO tools need to follow in their footsteps. When a site's ease of use is outstanding, customer support can focus on the more difficult problems experienced by clients.
It does accurate keyword tracking.
Being an all-in-one tool, it eliminates the hassle of having to buy other tools.
It has top-notch customer support. Friendly and available customer support is always something to treasure.
It provides extensive data on backlinks and your competitors. This is helpful information for SEO agencies and marketing agencies.
Like other SEO tools, it allows you to connect your Google Analytics and Google Search console accounts to their tool.
SE ranking is quite fast compared to other SEO tools.
New tools and features are regularly being added to SE ranking. There are several SEO tools out there that remain stagnant, even though the SEO industry is constantly changing. By adding new features regularly, we know that SE ranking moves with the SEO trends.
The free trial is not as limited as seen on other tools.
Pricing
The plans offered by SE ranking will vary based on features such as keyword count, subscription period as well as the frequency with which you want your rankings to be checked.
The following are the subscriptions you can choose from the SEO tool:
Optimum – $ 39 per month (250 keywords)
Plus – $71 per month (1000 keywords)
Enterprise – $189 per month (2500 keywords)
If you adjust your rankings check frequency to every 3 days, you'll get a 20% discount, and if you opt for weekly updates, you get a 40% discount.
You can also choose to pay for 3 months, 6 months, 9 months, or the entire year. The discounts for each are 5%, 10%, 15% and 20% respectively. The higher the subscription period, the more the discount you'll get.
In case you require more keywords or features, you'll need to contact customer support and direct you on how to acquire the customized plan.
SE ranking also has an ongoing 2-week free trial.
This will allow you to make use of the features that come with the Optimum plan, and as a bonus, you're offered the white-label feature found in the other plans.
Conclusion
This SE ranking review has looked at everything you need to know to use the tool, from how to get started to some of its most powerful features.
Overall, I found SE ranking relatively easy to use. This is always something to applaud an SEO tool, as many people struggle with the ease of use concept.
Currently, there are over 300,000 people who use SE ranking. However, having a large number of customers does not necessarily mean your product is great.
These people need to show their satisfaction with the SEO tool through positive reviews. So this is what I analyzed.
I found the level of trust placed in the tool to be incredible.
SE ranking has over 4-star reviews in some of the most prominent review sites out there. These include the likes of G2 crowd, Trustpilot, Software advice, Finance online, and Capterra.
Most of the SE ranking reviews praise not only the tools' amazing features but also their customer support.
I would recommend it for anyone searching for an all-in-one SEO tool, from those carrying out huge digital marketing campaigns to the small SEO pros.
Want More?
Did you like our post and want to read more reviews about other tools that you can use to track your keyword rankings?
Take a look at the rest of the trackers we have tested and reviewed:
Don't forget to also take a look at our MASSIVE guide on the best rank tracking tools for 2023.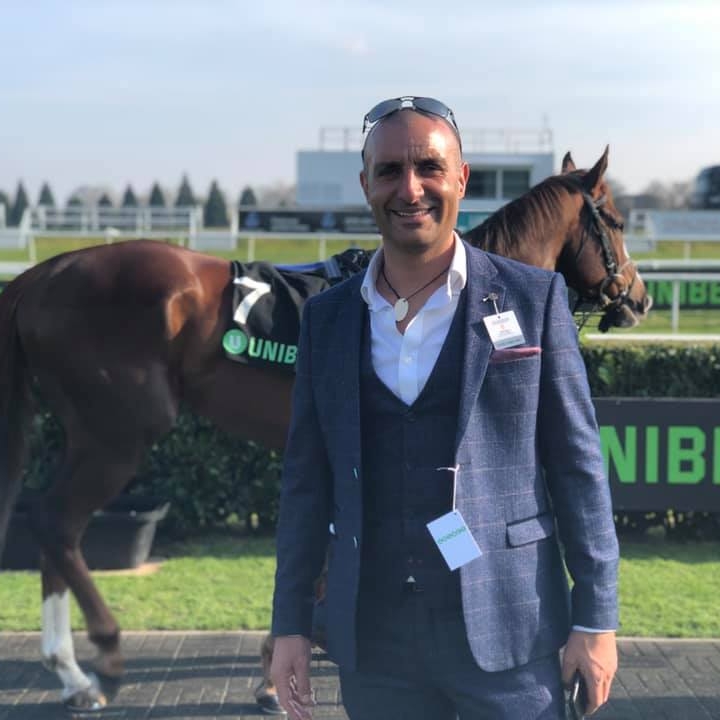 Digital Nomad
I'm a full-blown Search Engine Optimization specialist earning the majority of my income from SEO-focused endeavours, including affiliate marketing, lead generation, as well as SEO services. Love travelling the world networking while working on my laptop. Life is a perception of your own reality. You have no excuses and should be making memories every single day.
Recommended Story For You :