If you want to effectively scale your business and workflow then Standard Operating Procedures need to be set up.
A standard operating procedure (SOP) is a set of step-by-step instructions compiled by an organisation to help workers carry out complex routine operations.
SOPs aim to achieve efficiency, quality output and uniformity of performance while reducing miscommunication and failure to comply with industry regulations.
How to Create SEO Content Briefs?
A content strategist or editorial manager are tasked to create content briefs for your SEO content writers.
The content brief is a document created with all the essential information you want for the article.
There are several ways to create an SEO Content Brief outlined below.
How to Create SEO Content Briefs Using Surfer SEO?
Using Surfer SEO Content Editor to create your content briefs does all the heavy lifting for you.
Surfer Content Editor analyses top-ranking webpages and generates guidelines for your articles based on what's actually working in the SERPs.
You just type your target keyword (or multiple keywords) plus your location, and Surfer does the calculation for you.
Get Dan to create a content editor 2.0 video.
You'll access invaluable data like:
– Prominent words and phrases to use (including NLP entities from Google API)
– Word count, number of paragraphs, images, and headlines
– Topics and questions from People Also Ask and top-ranking pages
When you start writing, Surfer will also calculate your Content Score (1-100) so you know how good your content really is.
Oh, and Content Editor works where you work. You can get your SEO guidelines inside Google Docs and WordPress, or share it with anyone.
This is the second release of this tool: we managed to improve the UI and UX and add additional customization options that you won't find in any other tool on the market.
How to Create SEO Content Briefs Using Frase?
Frase understands the importance of providing clear directions before the writing begins.
Too little direction and the finished work can end up very different from what you had intended.
Check out the Frase Guide on Creating Content Briefs.
Well researched content briefs in Frase can provide your content creators with a strategic guide to create topically-optimized content.
Creating Content Ordering SOP
When ordering content through freelance writers, it's important to keep track of each writer at every stage of the process. We create a content ordering SOP for each individual writer we work with.
Here are the steps to follow:
Copy existing Google Sheet Content Ordering SOP
Rename it to the new writer's information
Add in any SOP document links on how to write the articles you want to be completed
Add in title tags of the article you want writing
Create the surfer SEO content editor link for the writer to work from
Make the Google Sheet public so the writer has full access to the project management sheet
Explain to the writer once they have written the article to make on column E to be 'Completed'
The sheet should look like this template below: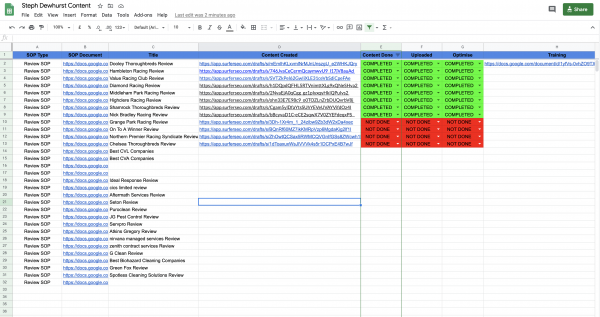 Why We Follow This Procedure?
Over the years we have experimented with many different ways to order content.
Our Ordering Content SOP now works and all team members are familiar with this.
Trying different methods had major flaws and here are some reasons why:
How Many Articles Has The Writer got to Do? This should be a simple question to answer. Using our method it is very easy to see in column E how many articles are marked as NOT DONE. When we were using email, WhatsApp and other communication platforms, we needed to scroll back through old messages to find out this information.
How Many Articles Is Completed and Need Uploading? Using our method it is very easy to see in column F how many articles are marked as NOT DONE. So we have paid for the content to be written but we have not yet uploaded to the website. Previously on email or other communication platforms, we had paid for content and not uploaded it because the articles landed in our junk mail. The Google sheet is one centralised platform to check this.
Does the Writer Produce SEO-Ready Content? Using our method it is very easy to see in column D the article is being written in Surfer SEO Content Editor to help correlated phrases to be included in the writing and keep the wording within the corpus.
Can The Writer Be Given Set Instructions? Using our method it is very easy to see in column B we can give a writing style SOP on what we want the structure of the page to be like. Some articles can be left blank however some might need defining on what you need.
Not needing to ask the content manager what articles are on order helps save time. Work can be completed more efficiently without confusion over which articles have been sent out or written.
The emails, WhatsApp, text and calls can then be merely used for communication with the Google sheet the project management bible to work from.
Standard Operating Procedures Examples
Here are our Standard Operating Procedures we need to effectively grow our SEO team:
Summary
Ordering content can be hard to manage and keep track of when using freelance writers.
Having SOPs and systems in place for how to effectively order content is key to scaling your projects.
When entering new joint ventures all partners should determine and understand the systems set out to help scale the websites.
Clearly defined ordering processes give consistency and make life easier for onboarding and training staff as you grow.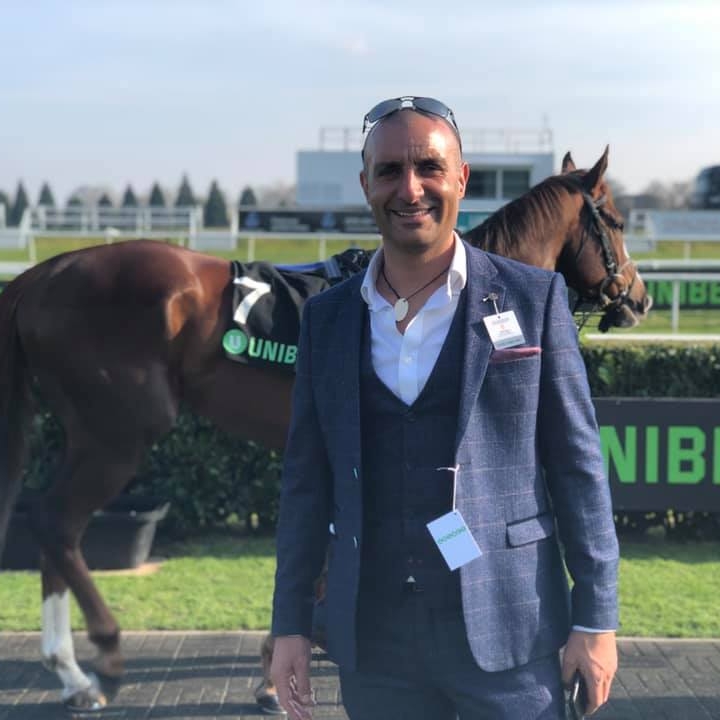 Digital Nomad
I'm a full-blown Search Engine Optimization specialist earning the majority of my income from SEO-focused endeavours, including affiliate marketing, lead generation, as well as SEO services. Love travelling the world networking while working on my laptop. Life is a perception of your own reality. You have no excuses and should be making memories every single day.
Recommended Story For You :