As Google continues to improve its algorithms to read the content better is MarketMuse a must-have software you need?
One of the biggest challenges SEOs have is ensuring their content performs well.
Have you covered the topic at a page level in its entirety?
Have you covered the topic at a domain level in its entirety?
Is your existing content good enough? And is MarketMuse worth the investement?
Can you really start to utilise DFY Natural Language Generation articles at scale?
In this in-depth Market Muse review, I will share my findings for why any content marketer should be using this.
What Is MarketMuse?
MarketMuse is content intelligence software that provides workflows for all your content marketing strategies.
From researching, planning your topical clusters to on-page optimisation guidelines to improve the content to existing posts. MarketMuse analyses millions of articles, uncovering content gaps and opportunities to empower you to create predictably better content.
The AI-powered platform sets the standard for content quality that increases traffic and engagement, improves productivity, and drives revenue. 
Find out more about the AI-powered content research, intelligence, and writing platform. The video shows how MarketMuse analyses your content, using metrics personalised for your website.
MarketMuse uses artificial intelligence and machine learning to help you:
Build content strategies
Accelerate content creation
Map out relevant keywords and topics to your niche
Inform content decisions
Help better understand Google NLP topics
Achieve content success!
How MarketMuse Works?
MarketMuse provides workflows for the entire content teams.
Do more. Do it better. Do it faster
With MarketMuse what used to days now takes only a few minutes.
The workflow covers the whole content life cycle.
Content Research
Content Research gives you the buyer's needs, search intent, competitive content, and your own content performance scores.
Better rankings begins with better content research
Every page within your topical clusters needs to showcase your organization's expertise.
Let AI do the research for you with MarketMuse Content Research.
If you are a digital content creator, an SEO management Tool like MarketMuse saves you so much to create a content brief and scale content creation.
Content Strategy
The Content Strategy allows you to discover what it really takes for you to rank your focus keywords.
Authority assesses how well you've covered a topic and highlights gaps you have in your topics.
A bespoke topical keyword difficulty score takes the standard keyword difficulty and adjusts it based on the authority you have earned for that topic.
So instead of only researching how to improve the content based on a single webpage, the content strategy authority scores assess topical improvements needed.
Bring Predictability to content with MarketMuse Content Strategy.
One of the most important roles within a digital content marketing agency is a content strategist who can find content gaps and map out a content plan.
Content Creation
MarketMuse Content Creation Briefs provide detailed guidance on what is needed to rank higher in the search engines.
The MarketMuse content brief allows SEO Content Writers to create expert-level content that is search-engine friendly.
Everything you need to create better content faster
The MarketMuse Content Creation Brief includes:
Subheading
Page Structure
Important topics to cover
Audience profiles
Search Intent
Question to answers
Best pages to link both internally and externally, including appropriate anchor text
Consistently Craft the Best Content on the Web at Scale with MarketMuse Content Creation.
Content Optimization Tool
It is hard to find subject matter experts for all the topics on your affiliate sites.
But with content optimization now every copywriter can be a subject matter expert on your niche.
Using machine learning, MarketMuse identifies what is being written and compares it to a giant corpus of data. It determines the most important topics, their relevance, and how much content is required to cover each topic in a meaningful way.
Not only identifying the common topics but uncovering related topics about which an expert would write. So assists you to find new supporting articles to write about.
The best content is created with the highest quality data-driven insights with MarketMuse Content Optimization.
Copying and pasting content from Google Docs into WordPress can result in formatting issues and messy HTML. The Content Optimisation tool prevents this from happening in future.
The optimize application is amazing for marketers to improve content so that it is the most comprehensive content in comparison to the competition.
Content Metrics
The AI-powered content metrics discover content opportunities to improve the quality of your content.
You can use the MarketMuse Opportunity Score to:
Strengthen topical clusters
How comprehensively your content covers a topic
Align content with user intent
Compares competition and identify areas for improvement
Pinpoint low-quality content
Bolster thin content
Identify and leverage power pages
The guidance of the MarketMuse Content Metrics shows opportunities to improve your Content Score in real-time by writing for greater topical coverage.
Popular Questions
Where is MarketMuse Located?
MarketMuse is located at 77 Sleeper St One Seaport Square, Boston, MA 02210.
The previous MarketMuse office address was 207 South St #671, Boston, MA 02111, United States.
Based in the US but they have customers worldwide.
Who Are MarketMuse Competitors?
We have compiled a list of solutions as the best overall alternatives and competitors to MarketMuse:
Many see these as MarketMuse alternatives but none optimise topics as good as MarketMuse from testing.
Check out our in-depth guide on the best-rated Onpage Content Optimisation Tools in December 2022.
You may also want to investigate similar alternatives or competitors to subscribe in addition to the MarketMuse subscription.
Is MarketMuse Worth It?
MarketMuse is value for money for any serious content marketer looking to rank high in the SERP.
When it comes to performing topical research and getting the most out of content marketing, I have to say MarketMuse is definitely worth it.
They are certainly not the cheapest SEO software but you get what you pay for in life and the investment is worth it.
MarketMuse Vs Clearscope
MarketMuse is better because it has content metrics you can't get from Clearscope including, personalised difficulty, user intent, and topical authority.
These metrics are designed to help you find your best content opportunities, prioritise them, and surgically execute against them.
Clearscope helps you produce content that's highly relevant to what people are searching for. Many SEOs call clearscope, frase and surferseo copycat content tools.
Whereas MarketMuse AI analyses thousands of pages to build topic models so you can write like an expert and not sound like a copycat.
What sector does MarketMuse operate in?
MarketMuse operates in the search engine optimisation sector using SEO semantic writing Artificial Intelligence (AI).
The cloud-based enterprise helps content marketers, content creators, copywriters, marketing agencies and SEO professionals maximise the value of their content produced online.
MarketMuse involves targeting topics, not keywords, by including semantically related phrases within your content (aka semantic SEO).
The Artificial Intelligence (AI) writing styles of topical research help your content to rank within semantic search engines. In December 2022 the future of great SEO copywriting to rank in Google is to utilise Semantic SEO with MarketMuse.
What is the MarketMuse Inventory?
Your inventory and content audit processes are automated with MarketMuse Inventory. It gathers and organises your pages, analyses them, and makes them conveniently available for you. You'll have less manual work to do and more time to research, plan, and execute content.
Pricing and Packages
MarketMuse has packages and pricing to suit all sizes of agencies: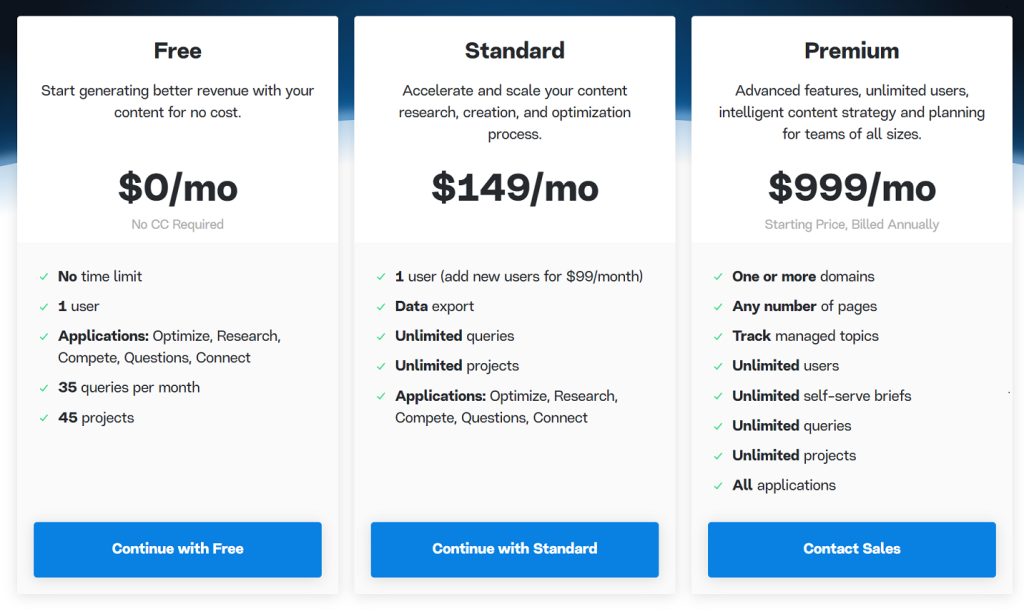 The costs of packages at MarketMuse pricing are:
Free Plan @ $0 per month
Standard Plan @ $149 per month
Premium Pricing Package @ $1499 per month
There is also 7-day unlimited usage free trial all users could make the most of (try before you buy).
Platform User Interface
The Platform have an amazing user interface to navigate around.
Your inventory is broken down into Pages, Topics and All.
The "All" section of your content inventory will show every page and topic connection you have.
This is the core database of all of your inventory information.
Several new data columns have been added, as well as Content Operations features!
Projects are classified in this area when you add items to a plan, order a Content Brief or a First Draft, or save your writing on a topic or page and topic
All of the things you have acted on can be found in these lists with full inventory data on them!
Applications
The applications section of the user interface is the most used and includes:
The research application is where it will help you to create the most comprehensive content on the internet.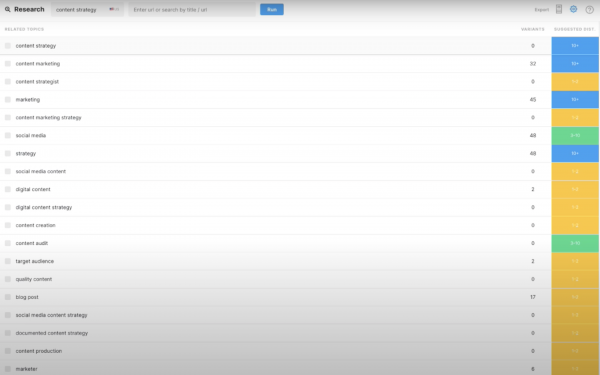 Most tools like Surfer SEO or Frase only analyse the top 10 results in the SERPs.
MarketMuse patented topic modelling technology uses AI to quickly analyse the whole topic.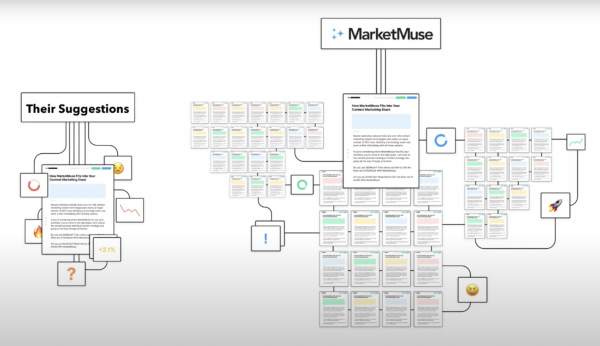 MarketMuse Research Application highlights the most important related topics and variants you need to cover to have the ability to write expert-level content.
As the topic models are patented no competitor can offer the same analysis and the E in EAT SEO (Expertise, Authoritativeness, Trustworthiness) is where MarketMuse Research can provide you with the expertise content depth required to rank higher in the search engines.
Alongside the most relevant topics, the variants are shown which clusters all the semantically relevant phrases to the copy you can include covering the relevant topic in its entirety at a page level.
Check out the video showing how to use the MarketMuse Research Application feature:
The compete application allows you to take your focus topic and analyse how your competitors cover this subject.
Below is the "compete application" heat map design that shows the top 20 SERP competitors topical entities they are using.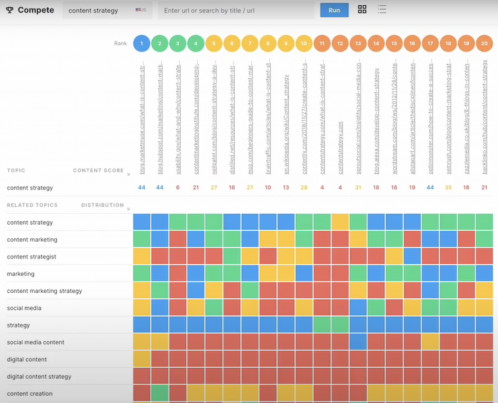 Use the heat map application for competitor analysis to quickly find topic gaps and any opportunities to differentiate your content score.
The list view is straightforward and shows all the ranking positions in the SERP including:
Competitor Ranking Position
Competition Title Tag
Competitors URL
Competitor Content Score
Competitors Word Count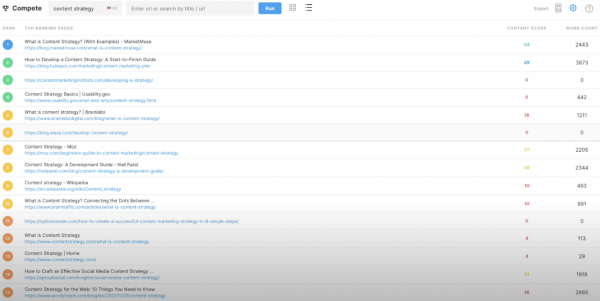 The MarketMuse Compete Application is amazing to find the content gap showing the missing pages.
Check out the video showing how to use the MarketMuse Compete Application feature:
When using the competitive heatmap the coloured squares denote how frequent the related topics are mentioned on the page. The colour squares key is:
Red squares are zero mention of the related topic on the page
Yellow squares are 1-2 mentions of the related topic on the page
Green squares are 3-10 mentions of the related topic on the page
Blue squares are 10+ mentions of the related topic on the page
The MarketMuse Optimize Application is similar to the content editor in Surfer SEO where it allows you to write your content within a shared URL and guide you on what topics you need to cover while your copywriters are producing the content.
Writing your articles in the Optimize Application enables you to write expertise and comprehensive blogs first time.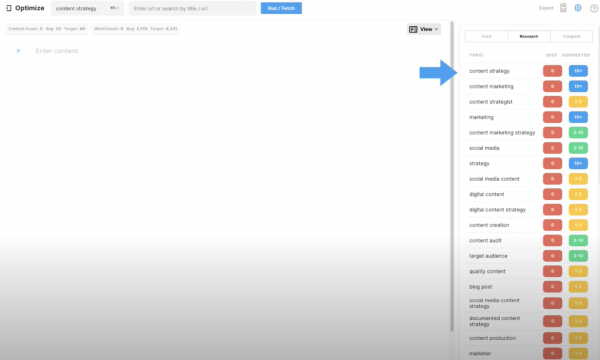 The right sidebar shows a list of topics to cover, with suggest number of mentions to assist full topical coverage.
The list of topics gives your copywriters the confidence they are writing equal or better to your competition every time.
As you type in the editor you can watch your word count and content score increase whilst you are typing.
Check out the video showing how to use the MarketMuse Optimize Application feature:
The questions application pulls in what questions your audience is asking when researching the subject.
The question list helps you better understand user intent and gives great insights into FAQ schema content briefs.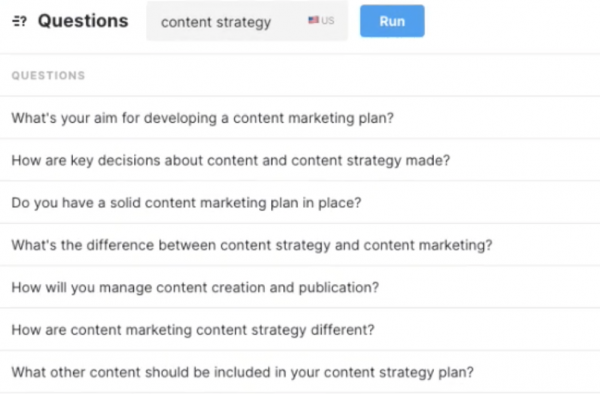 Answer the questions directly in your article gives you a great chance of ranking featured snippets or getting into the people also ask.
These questions are pulled in using the patent topic modelling technology and you get many more than the standard searches of PAA or Google Suggest questions.
The questions are pulled in not just from search engines but forums and is much better than surfer SEO data on the Q+As.
Check out the video showing how to use the MarketMuse Questions Application feature:
The MarketMuse Connect Application allows you to improve your content by adding suggested internal links and outbound links.
The Connect Application takes related concepts from the topics list and overlapping topics give great internal link opportunities.
Creating this siloing of related topical articles help build out your comprehensive coverage of niches you want to fully cover.
Identifying outbound links enhancing the user experience that are not directly competing for the same search terms are found to help your topical authority.
Check out the video showing how to use the MarketMuse Connect Application feature:
Knowledge Base
If you want to learn more regards to why MarketMuse is great and educate yourself on topical authority research these areas:
The knowledge base gives you information on everything you need to learn from content briefs to the optimisation of existing articles.
MarketMuse Reviews
When we asked our content team this was their responses.
Becca Honeybill
Becca is a content writer who loves to write high quality content:
"Absolutely love the content blueprints and personalized recommendations MarketMuse gives to find all topical gaps in your articles"
Scott Calland
Scott runs the content team for progressive optimisation:
"As a content strategist I love search engine seo keyword recommendations and keyword planner for the content editor. MarketMuse is a must have SEO Tool for our content writers as assists us to write comprehensive content at scale"
Elliot Preston
Elliot is all about scaling high quality content at speed:
"For content creators and content planning we love the natural language generation first draft. Creating audience targeting copy for our marketing teams loads in all the seo keyword suggestions for us to optimize and cover any content gaps"
Lucy Crompton
Lucy is a content strategist who loves MarketMuse for the following reasons:
Fantastic tool for content marketing
Optimizing producing quality content
Great tool for optimizing keyword research
Marketmuse has helped us replace a fully-fledged seo professional
Non seo can use as part of the business strategy
Content strategists within marketing agencies get the keyword recommendations that search engines reward
The SEO keywords that the audience loves helps it to rank better and also convert
The marketmuse suite of applications is now part of our marketing agencies content marketing strategy
Final Thoughts
You need to take the plunge if you are serious about trying to rank your websites high in the search engines.
The topical authority of a website is what the algorithms are using to check your expertise on a specific niche.
When using the MarketMuse campaign management tool you start to write better, more comprehensive blog posts that offer readers more detailed information about the subject matter.
The marketing software speeds up my content creation process with in-depth content briefs for your copywriters.
The content optimisation applications help streamline topic research and planning which is crucial for all progressive optimisation techniques.
MarketMuse is our go-to tool when it comes to content expansion ideas and really helps all writers create those comprehensive blogs the users are looking for.
Our MarketMuse Review is super positive because the Compete Application and Questions Application are two features my digital content manager uses every day.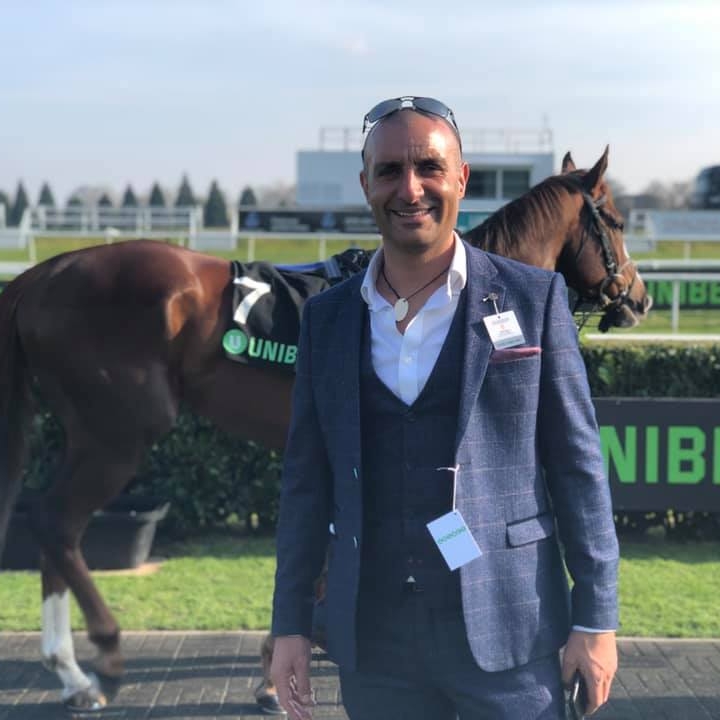 Digital Nomad
I'm a full-blown Search Engine Optimization specialist earning the majority of my income from SEO-focused endeavours, including affiliate marketing, lead generation, as well as SEO services. Love travelling the world networking while working on my laptop. Life is a perception of your own reality. You have no excuses and should be making memories every single day.
Recommended Story For You :