Freelancer is an online marketplace for freelancers offering their services on a pay-per-task model.
The Freelancer online platform was recently voted one of the top marketplaces for online freelancers in 2022.
In our Freelancer Marketplace Review, we explain everything you need to know about the projects, costs and feedback for the Freelancer services.
What is Freelancer.com?
Founded in 2009, Matt Barrie and his business partners wanted to create a platform where a business could post a job and have freelancers bidding over it.
Matt wanted to have a stronger focus on the buyer rather than the seller.
Freelancer.com has one of the most unique approaches to the service and it works incredibly well.
For the past 13, Freelancer has seen a huge growth in traffic and awareness, making it one of the most popular platforms in present times.
Users come from 247 different countries, making this platform one of the most globalised and profitable freelance websites out there.
With glowing reviews across the web and an active community, Freelancer has become a benchmark within the industry.
If you're wondering why so many different freelance platforms look up to Freelancer.com, then be sure to read on through our review.
Knowing all of the information I'm going to provide you with will massively help you decide if the platform is worth using or avoiding.
Freelancer Review
With a basic understanding of how Freelancer is different from other freelance websites, it's time to take a deeper plunge into the specifics.
It's important to note that everything I say is just my personal opinion, I haven't been paid or given anything to make this review.
Due to this, all of my reviews are unbiased and balanced; meaning everything you read here hasn't been skewed or avoided. Make sure to read everything I say and take it into consideration.
Finally, due to my experience of being a business owner, this review will be tailored toward buyers and not sellers. I've never been a freelancer in my life, so I feel it would be wrong to comment on that side of things.
When I write reviews, I can only recommend great services/products. With that information, you have to decide whether or not to use the platform.
With all of the disclaimers out of the way, it's time to understand what makes Freelancer.com a great freelancer site.
Hire Freelancers On Freelancer.com
As mentioned at the beginning of this post, Freelancer takes a different approach to hiring freelancers than other freelance websites.
Instead of the buyer selecting from a list of gigs, buyers create a job post and freelancers have to bid against each other for who gets the job.
Having the job posting feature implemented on the website is a great feature that makes Freelancer.com stand out from the competition.
It allows buyers to get more specific with what they want compared to purchasing a generic gig.
When a job is posted with an in-depth description, you'll find a good freelancer very quickly.
Not only can a job be posted, but buyers can also create competition if they want a broader pool of candidates to select from.
These competitions allow all freelancers to enter and submit the requirements for the competition, for a chance to win something! This feature is great for jobs like logo designs, website design and more!
Personally, I've had huge success from using the competition feature and have had some amazing submissions. I would definitely recommend using this feature.
But, what about the job quality?
Freelancers on Freelancer.com are experts within their industries and have had years of experience in freelancing. Freelancer.com's algorithm always pushes your job in front of the perfect freelancers.
When hiring these freelancers, you can post them to specific people by using the different categories. The main 3 different factors you can choose to focus on include:
By Skill – Focus on the freelancer's experience within your chosen industry
By Location – Select a freelancer who is from your country to avoid time-zone delays
By Profile – Look through thousands of different profiles and filter them down to the best-suited candidates.
The geolocation and skill filter are brilliant additions to the process as both of these factors are vital for finding the perfect candidate.
Pricing on this platform is great, allowing buyers to choose between paying for the gig as a whole or paying by the hour for the freelancer's time.
Paying per hour is perfect for buyers looking to set up a long-term solution and can save you a lot of money compared to paying per gig.
My final positive point to bring up is the client fee. Freelancer.com has one of the lowest client fees within the industry, only charging 3%.
It really does feel like Freelancer.com is the perfect platform for getting jobs done. However, there are some problems that need addressing or solving.
Firstly, no gigs are present on the website.
Even though the job posting feature is great and allows buyers to get specific with what they want, gig projects make the purchase journey a lot quicker and allow the work to get underway even quicker.
Even platforms like PeoplePerHour, which allows jobs to be posted, offer a basic form of gigs.
Secondly, some freelancers are known to implement automation for bidding. This can lead to a freelancer winning the bid, but not even having the experience or drive to complete the job.
This issue is really prevalent and has led to a lot of buyers moving to other freelance platforms.
Along with this issue, some users have reported that a few freelancers are scammers and have caused problems for buyers wanting to get a job done.
My final issue with the hiring of freelancers on this platform is that highly-rated freelancers can cost a lot of money to hire.
Of course, you'll be paying for high-quality work, but some of the prices I've been given seem pretty unreasonable.
Advantages & Disadvantages Of HIRING Freelancers On Freelancer.com
In all of my freelance platform reviews, I like to include a quick summary of all the positives and negatives of each factor.
It's vital that you understand these points and how they can affect your business before you jump into using the platform.
Overall, I think Freelancer.com is great for hiring freelancers and creating the perfect freelancer team.
When you hire freelancers, you should have a safe and enjoyable service and not be scared off by scammers or automation.
Once the negatives have been improved, Freelancer.com could easily become one of the strongest platforms within the industry.
Advantages
Creating job posts allows for more specific projects
Competitions can be created to have numerous designs or plans to choose from
Filters allow for the perfect freelancer to be found
Having the option between pay-per-gig and pay-per-hour allows for short/long-term solutions
Disadvantages
No gig projects can be found on the website, providing no quick fix
Some freelancers use automation to win jobs, even though they're not qualified for it
Users have reported some freelancers being scammers
Highly-rated freelancers can be incredibly expensive compared to other platforms
Freelancers On Freelancer.com
Every freelance marketplace needs great freelancers to flourish. Without any good freelancers, platforms like Freelancer.com are bound to crash and crumble.
Thankfully, Freelancer.com has one of the strongest selections of freelancers within the industry and displays all the right information to the user with ease.
Freelancer.com takes a different approach with profiles, as the platform makes them one of the strongest focuses for freelancers.
Freelancer.com almost acts like LinkedIn. Buyers are presented with hundreds of freelancer profiles to read and browse through.
Some of the information you can find displayed on these profiles include:
Rating
Success rate
The freelancer's rate
Country of residence
Recommendations
Joining date
Reviews
Portfolio
Verifications
Certifications
And even more!
Honestly, this is one of the most impressive profile systems I've ever seen. It's really easy to find out the type of person you are working with and whether or not you want to work with them.
Not only are the profiles amazing, but the vetting process is too. For freelancers to claim that they have certifications, they have to take tests.
Through this, information that is displayed on the profiles is usually accurate and double-checked by Freelancer.com
Finally, the verification process is brilliant. As verifications are shown on the profile of users, you can easily spot spam accounts through their lack of verification.
I genuinely think that all the other freelance platforms should incorporate a verification process like Freelance.com
It's really hard to think of a problem with their freelancers, as it's pretty much perfect. The only issue I saw is how newer freelancers don't have an easy chance to break through.
By this, new users are pushed right to the back of any profile searches, meaning the tried and tested freelancers get more jobs than new users.
Another minor problem I can see is the direct messaging system. Some users have claimed that the messaging feature doesn't work too well, and it leads to a lot of miscommunication occurring.
My recommendation would be to make your job description as in-depth and simple as possible. This should avoid the need for the messaging feature.
Advantages & Disadvantages Of Freelancers On Freelancer.com
Freelancer.com has one of the best systems in place for freelancers to join the platform and showcase their skills to potential clients.
I genuinely think that this is Freelancer.com's strongest point and helps it stand out from the crowd.
Advantages
Freelancer profiles are in-depth and are user-friendly to navigate around
The vetting process is fantastic
Verifications are heavily focused on, decreasing the number of spam accounts
Disadvantages
New freelancers don't really get a chance to shine
Direct messaging isn't great and could be improved
Customer Service On Freelancer.com
Customer support plays a vital role for any website wanting to retain users and perform well.
Freelancer.com know how important it is to help users throughout the website, hence why there seems to be such a focus on this factor.
Firstly, Freelancer.com implemented a live chat feature to help users get a quick response to issues. From my usage of this chat, I've found solutions to a lot of my problems within a period of a few hours!
I think the live support you get is incredible and a lot quicker than many other freelance platforms in the industry.
Not only are the response times quick, but the actual customer support team seem dedicated to helping solve your problem.
They'll run through every possible solution with you until you're problem is fixed and you're happy.
It's really nice to have a support team that genuinely cares and wants to help with all of your problems.
Finally, the customer support page offers a help centre for both clients and freelancers.
Both of these help centres contain articles on common problems and provide quick fixes. In addition, these help centres allow new users to learn more about the platform.
Even though there are some great positives for customer support, there are some negatives that weigh it down.
Firstly, the help centre doesn't cover a wide range of topics. Your problem might not be found on it and you might have to resort to using the live chat feature.
Speaking of which, the live chat feature tends to go down quite regularly. No one seems to know why, but I presume it's for maintenance and upgrades.
It can be really frustrating if you need a problem sorting out quickly due to the other option you're left with.
Linking to the above sentence, my final gripe with customer support is the email communication channel.
Trying to communicate over email with Freelancer.com's support team can be incredibly annoying as replies seem to come in a lot slower and they can often be found in the spam folder.
Advantages & Disadvantages Of Customer Service On Freelancer.com
Personally, I think Freelancer.com's customer support is average.
With response times varying depending on what communication channel you're using and the help centre having limited resources, it can be really annoying and off-putting to use.
All of the problems I've listed can be easily fixed, but the sooner they are fixed, the quicker the website can stop users from leaving.
Advantages
The live chat feature provides answers really quick
Freelancer.com's support team are really helpful and pleasant to speak to
Help centres are dedicated to both clients and freelancers
Disadvantages
The help centre doesn't cover all issues
Live chat seems to go down regularly
Communicating through email can be draining and annoying due to a lack of response
PeoplePerHour's Design, Security & Reach
Every single website on the web needs to have three things to perform well and grow. Those three things are:
A fantastic website design
A strong security system in place
An amazing exposure across the globe
We're going to see if Freelancer.com has each of these three things in place during this section.
However, due to how little there is to say about each section, I decided to group the three into one section.
It's vital that you read this section as it will give you a better idea of how good the user experience will be on Freelancer.com
Freelancer.com's Web design
Website design is key for attracting new users and retaining them too.
It should be eye-catching and easy to navigate, creating an amazing user experience.
Freelancer.com does a good job with its website design.
Using a combination of white, black and blue, the website looks really professional and clean.
The website is media-rich, having a bunch of images and videos all across the website. I love when websites understand the importance of visual content and Freelancer.com definitely does.
One feature I really love is the animated banner on the home page. It displays some jobs that were carried out for big companies (like NASA, Amazon, Facebook etc.) and shows how much they were paid for it.
The homepage also includes other features, like:
"As used by" section
A simple explanation of how the site works
Examples of some hourly projects carried out
Lists all categories that Freelance.com covers
Link to documents/information
To me, this is how a homepage should be structured! It displays all the information that users need to know before actually using it.
Pages are nicely grouped together and really easy to find, making the experience more relaxing than stressful.
However, some pages definitely need a rehaul and need to be structured slightly better.
For example, the freelancer search page looks really tacky, with blocks of content scattered around the page.
There are hardly any design features on this page too, making it really dull and boring.
Some pages are also quite complicated to navigate.
The customer service page can be a real headache to try and navigate sometimes as they constantly change it.
Personally, I think the web design is good on Freelancer, but certain elements could be improved.
Freelancer.com's Security System
Freelancer.com seem to have a huge focus on security in recent years. I've run some tests and found the following six safety softwares that believe it's safe to use. These include:
W3Tools
Norton ConnectSafe
Google Safe Search
Google Safe Browsing
McAfee WebAdvisor
WOT (Web Of Trust)
With the number of safety softwares claiming the website to be safe, it's a great sign of trust and helps prove that users can have a safe experience on the site.
Freelancer.com also has an SSL certificate issued by DigiCert Inc. DigiCert has issued SSL certificates to some big websites like Facebook, Instagram, Yahoo, Amazon and more.
It's important to note that this is how secure the website is currently; but in the past, it was a different story.
Freelancer.com has been in trouble with the OAIC (Office of the Australian Information Commissioner) twice.
Both of these times were related to breaches of the Privacy Act, resulting in the company having to pay the two former users compensation.
Not only this, but Freelancer used to have a lot of problems with hackers. A lot of these hackers managed to siphon money from buyers and caused a lot of upset customers.
Even though the past of Freelancer.com's security system is really bad, they have strived to make the website as safe as possible.
As I'm writing this in 2022, no other security issues have been reported.
I really hope that they don't make another blunder and that they now understand the importance of security.
Freelancer.com's Reach
Having a large reach means more users are active on the website. The more active websites, the more the freelancer marketplace thrives and prices become more acceptable.
I was really surprised to learn that Freelancer.com has just under 62 million users worldwide!
This easily makes it one of the most popular platforms within the industry, and it's not hard to see why.
Being established in 247 countries, users come from all across the globe. But, 25% of the traffic comes from India.
Again, I never thought Freelancer.com would have such a huge amount of traffic, but the more I thought about it, it really deserves more.
In addition, Freelancer has created an app that is downloadable on iOS & Android. Having a mobile app of the platform makes it a lot more accessible and easy to keep track of things.
Fiverr is the only other platform to incorporate an app, so Freelancer is currently reaping the benefits.
The final point I want to make is their social media accounts.
Every account owned by Freelancer.com seems to have a lot of followers and activity occurring on them. It's fantastic to see how well this platform is doing on the social media front.
Even though I think the reach that this platform has is amazing, I definitely can see some room for improvement.
My suggestion would be to increase marketing activities. Try targetting other countries to diversify the user base a bit more.
This is my only gripe with reach. Apart from spreading the traffic out a bit more to other countries, Freelancer.com is doing everything right.
I genuinely think that Freelancer.com has one of the best reaches out of all the freelance marketplaces out there!
Freelancer.com: Final Rating
Freelancer.com is a perfect example of how a freelancer marketplace platform should operate and be displayed.
Everything this platform does is almost perfect and I can definitely understand how it got the huge amount of users it has.
From my personal experience, Freelancer.com has always been great for getting long-term work done at a cheap and high-quality rate.
I've used the platform since 2014 and have always had an amazing experience on it; I never have regretted using the platform.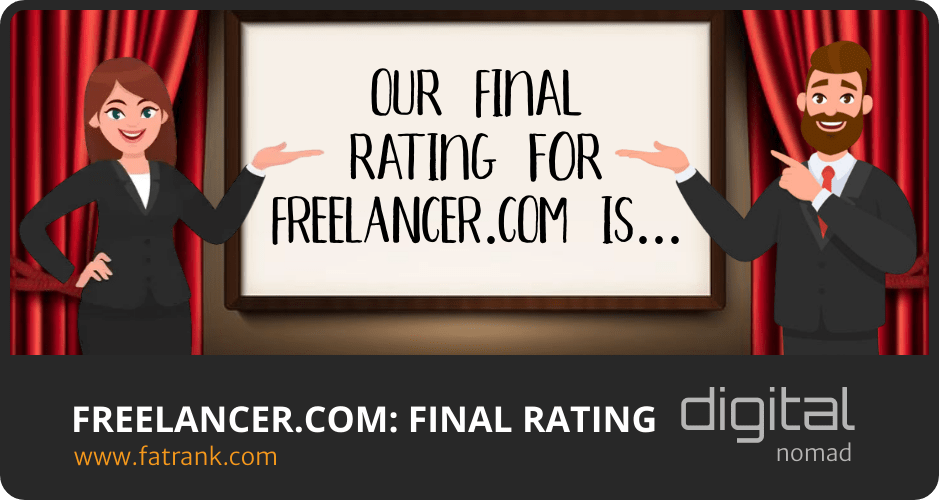 Honestly, Freelancer.com is probably joint first with Fiverr for being the place to go for all your freelance projects (whether single or hourly projects).
There are some minor problems that could be tweaked and implemented, but in its current state, the platform is fantastic.
I decided to give Freelancer.com a 4.5/5.
Freelancer makes the freelancer hiring process more interesting and unique, creating a great UX and differentiating itself from the competition.
As mentioned above, once the minor problems have been tweaked, I would happily give the platform a 5/5!
Freelancer.com Alternatives
With freelance marketplaces becoming more popular, it can feel overwhelming to select the right one.
Due to this problem, I've decided to create this alternatives section.
I'll compare Freelancer.com with some of the biggest names within the industry and try to help you understand more about each platform and its unique benefits and downfalls.
When you hire freelancers, it should be an easy, safe and enjoyable experience.
Make sure to read each section to understand how each platform operates and which one you might like to try out.
Remember, if any of the platforms catch your eye, make sure to click the link at the bottom and read more about your perfect freelancer marketplace.
Freelancer vs Konker
Konker has become popular in recent years for providing businesses with fantastic digital marketing services.
Even though Freelancer.com offers digital marketing, Konker specifically specialises in providing freelance projects for digital marketing.
Due to this, Konker has much better marketing services than Freelancer.com.
In addition, Konker offers something that I really love. A test run.
If you're not 100% convinced by a gig/service, you can request a test run to be carried out and the freelancer will heavily discount the price (or make it free)!
However, this is where the benefits it has over Freelancer.com end.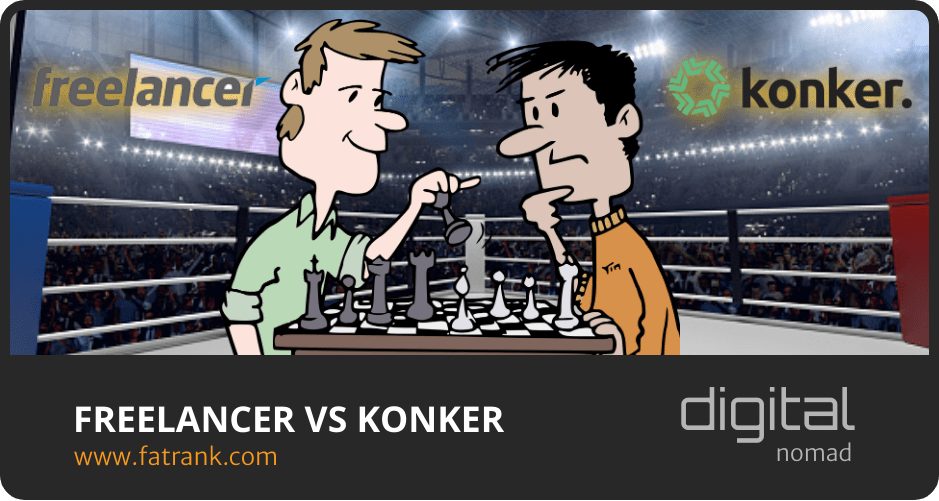 Firstly, Konker easily is the slowest customer support system I have ever used.
You can be expected to wait a couple of months for an answer to a simple question and if your problem is related to getting a refund, then good luck getting it.
The problems don't just end with customer support, but the prices of gig projects are really expensive.
You can usually find the same project being sold on Legiit or SEOClerks for half the price Konker wants to sell it at.
Due to the pricing difference on the two platforms, many users have resorted to calling Konker a scam.
Out of the two platforms, I personally think Freelancer.com is the stronger one.
If you are in desperate need of digital marketing services, then why not try Legiit or SEOClerks?
But, Freelancer.com has over 1,800 different categories to select projects from, so I would definitely use Freelancer for my other needs.
Konker has the potential to turn some businesses into powerhouses of the SERPs, so check out our Konker Review to learn more about it!
Freelancer vs Fiverr
The battle of the giants.
Fiverr and Freelancer have always had a fierce rivalry with each other.
Even though Freelancer has a huge user base, Fiverr is a lot more well-known around the world and makes a lot more profit.
It's clear to see that the profit made by Fiverr is reinvested into the business as the security system used by Fiverr is state-of-the-art.
We can't forget that Fiverr introduced cheap gigs to the market, by allowing gigs to be set as low as $5, creating a really price-competitive platform!
Fiverr is an awesome platform, but Freelancer.com offers a couple of things that Fiverr can't match.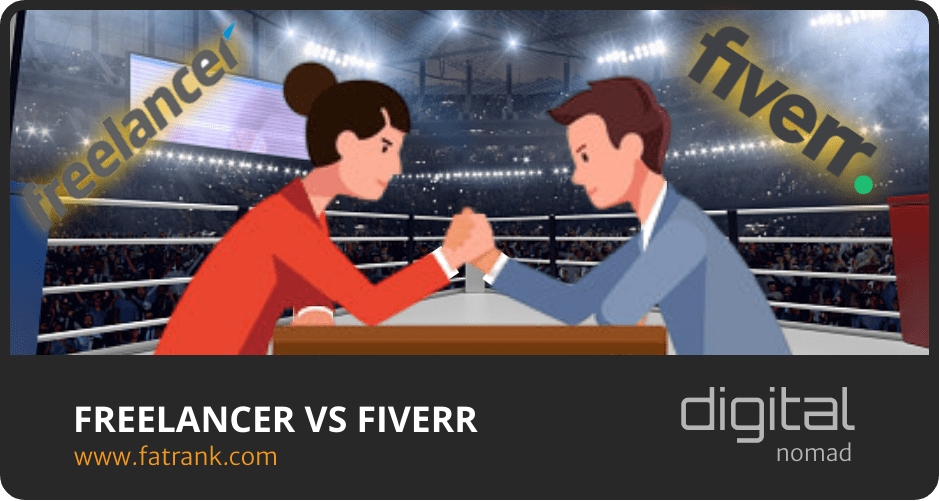 Firstly, Freelancer.com covers over 1800 different categories.
Covering so many categories is fantastic as it makes the platform more versatile, whereas Fiverr covers over 700.
Not only does Freelancer.com offer more categories, but this platform also has a stronger vetting system for sellers to go through.
Fiverr has had reports of scammers/phishers being present on the site, whereas Freelancer.com has incredibly low numbers of reports of these malicious users.
Finally, Freelancer.com allows the buyer to choose how to pay the freelancer (per gig or per hour); Fiverr is locked into paying per gig.
Of course, paying per gig is great in the short term, but for businesses who need a service repeating, it can be a complete nightmare.
Honestly, I recommend using both of these platforms.
I have always had good experiences whilst using them and they are both perfect in their own way.
My only advice is to save you long-term jobs for Freelancer.com to save more money.
If Fiverr sounds like an interesting platform to you, then make sure to read our Fiverr Marketplace Review here!
Freelancer vs Legiit
With people all across the globe needing more digital marketing services to be carried out on their website, it's no surprise Legiit was created.
Unlike Freelancer.com, Legiit solely focuses on digital marketing, in particular SEO, projects.
Legiit boasts thousands of well-known SEO/Marketing experts who sell their services to buyers like you.
With an active community that always recommends updates and changes, Legiit definitely stands out from the crowd.
I can't forget to mention how amazing the support system is on Legiit, allowing you to find answers in a matter of hours.
However, Legiit isn't perfect.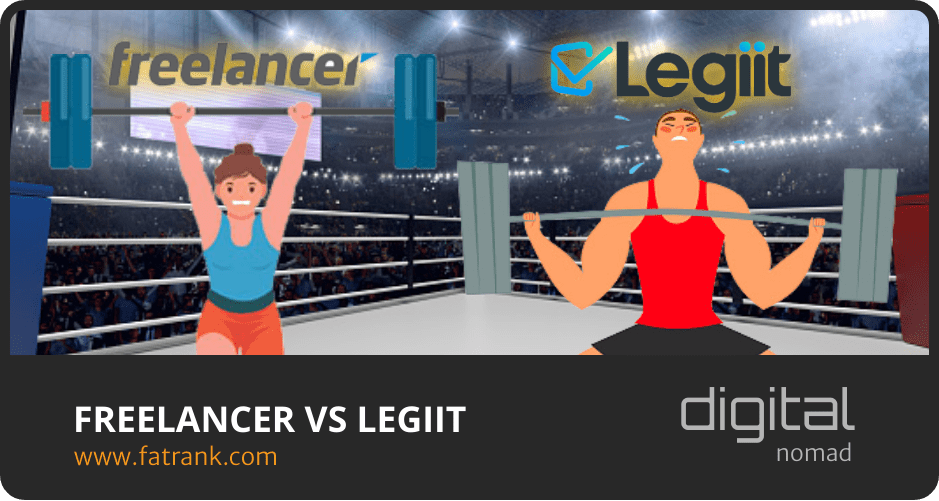 Firstly, prices on Legiit can be stupidly high. You might find the same project on both Legiit and Freelancer.com, but Legiit will probably charge $25 more.
This leads to you avoiding any long-term use with the platform as it can quickly drain your funds.
Another prominent issue with Legiit is the user base.
Whilst Freelancer boasts a number in the millions, Legiit only has around ten thousand.
Having fewer users operating on your marketplace means that the prices are more likely to be stuck high.
I have to admit though, Legiit has provided some fantastic results for me and I still do use it nowadays for my digital marketing needs.
However, if it's anything other than marketing, then definitely use Freelancer.com!
Does Legiit sound like it could transform your business? Why not check out our full Legiit review and see what we think?
Freelancer vs Upwork
Upwork and Freelancer are incredibly similar to each other.
Both of these platforms put focus on how to find freelancers through profiles and provide buyers with the best freelancer for them.
Similar to the previous platforms, Upwork aims to provide buyers with freelancers who work within digital marketing and nothing else.
Having a huge database of digital marketing freelancers makes the platform the go-to platform for any digital marketing project.
I have to admit that Upwork provides higher quality marketing gigs than Freelancer.com, but that's to be expected.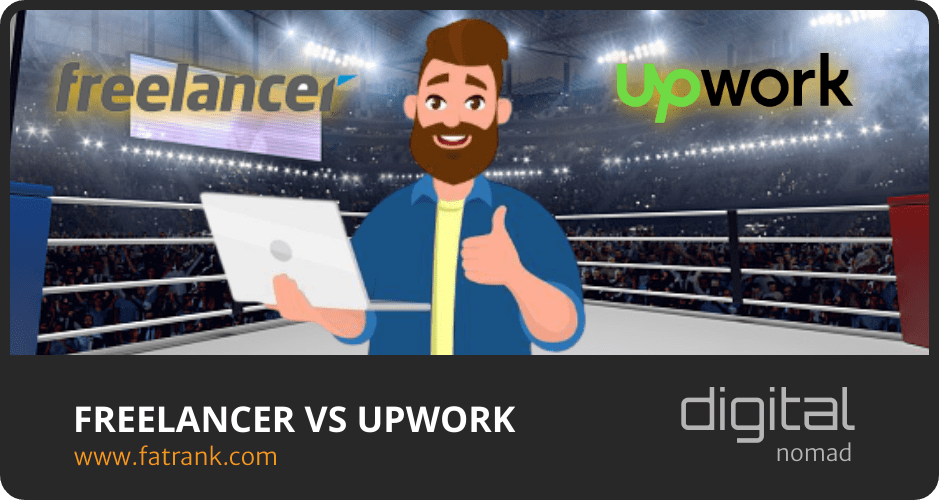 However, there isn't much else that Upwork does different, good or bad.
I guess the only issue Upwork has that Freelancer.com doesn't have is marketplace fees.
Whilst Freelancer.com takes 10% of the fee, Upwork introduces a flexi-fee, which ranges from 10-20%!
In conclusion, I think both of these platforms are worth checking out, but I think Freelancer beats Upwork by an inch.
Again, it's definitely worth checking them both out and seeing which one you like the most.
Read our Upwork Freelancer Marketplace Review today and see how this platform can help you!
Freelancer vs SEOClerks
SEOClerks is a recent entry into the world of freelance marketplaces.
As the name suggests, this platform specialises in providing SEO services.
Funnily enough, Freelancer.com doesn't have an SEO category, making it quite useless if you're wanting this service.
Not only do SEOClerks provide SEO projects, but the prices of their services are really cheap.
SEOClerks lowered the minimum price for the industry-standard $5, all the way to $1!
Sounds great right? Problem is, there are two huge issues that need sorting out before I would recommend it.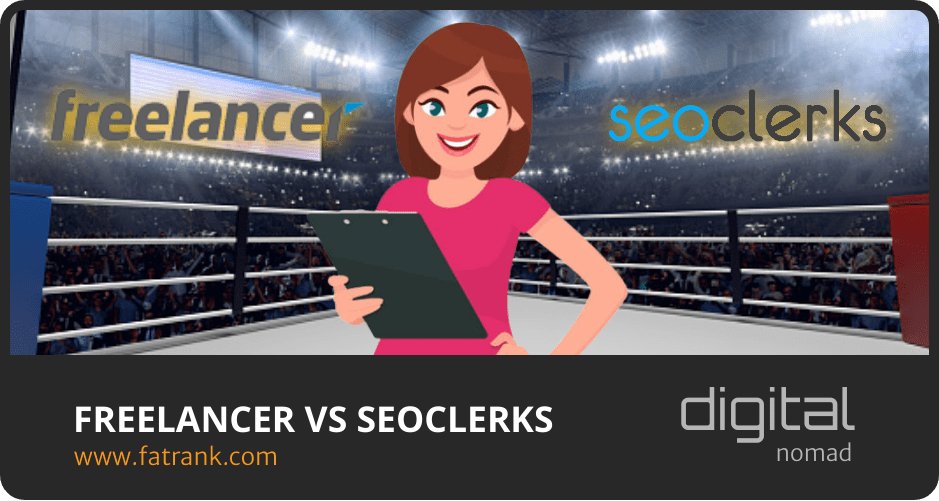 Firstly, SEOClerks probably has the smallest traffic out of all the freelancer marketplace platforms I've used.
This means that the platform doesn't provide too much variety, limiting your exploration to familiar sellers.
Secondly, some of the gigs found on this website can actually cause more harm than good.
I've personally experienced this for myself; when a gig from SEOClerks ended up plummeting one of my sites down the SERPs.
A lot of users have reported similar problems too, going so far as to call this website a scam!
Honestly, I think Freelancer.com wins all day.
If you're wanting SEO projects, then use Legiit or Upwork.
I find it really hard to recommend SEOClerks currently and will only start to consider using it again if they fix the two major problems.
However, if you're wanting to tackle another category, then definitely use Freelancer.
Make sure to read our full in-depth SEOClerks Review and see how this platform can boost your website in the SERPs.
Freelancer vs PeoplePerHour
If any two platforms are similar, it's probably PeoplePerHour & Freelancer.
Both of these platforms were created to avoid the generic pay-per-gig gimmick and instead focus on building long-term relationships with freelancers.
However, PeoplePerHour seems to have a stronger vetting system in place, requiring freelancers to complete a test to earn a certificate in their respective fields.
I really like this feature as it stops freelancers from lying about their qualifications and instead, having to prove them.
I would also say that PeoplePerHour has one of the strongest security systems in place, making it really hard for malicious users to get onto the site.
Even though PeoplePerHour is a great platform, there still is a few issues that I want to address.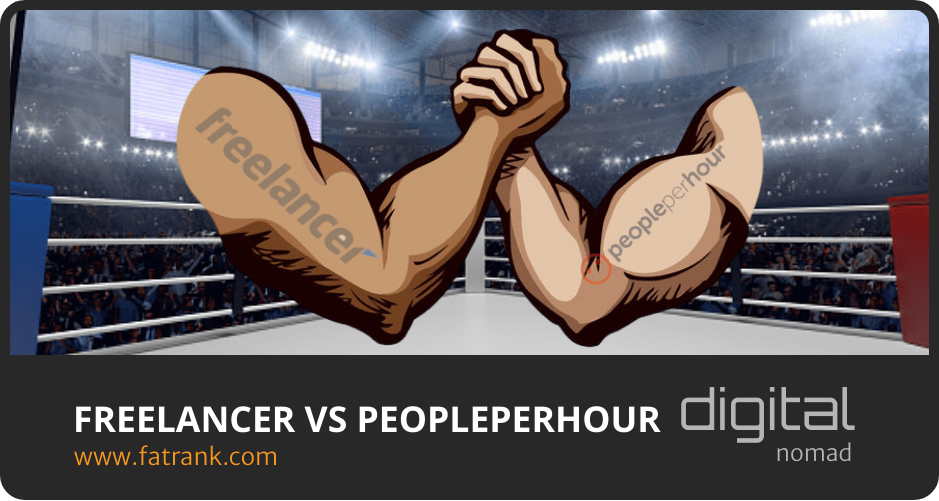 Probably the main source of a lot of user complaints with the platform is customer support.
The PeoplePerHour customer support team is dreadful and it has to be one of the worst support systems I've ever used.
The staff are rude and if you use email to contact them, be prepared to wait several months for an answer.
If your issue is related to getting a refund, then be prepared to be treated horribly for no apparent reason.
Another issue I have is that PeoplePerHour still has a small user base.
With so few users, there aren't many freelancers to choose from compared to other platforms like Freelancer.com
Overall, I would say that Freelancer.com is the better platform.
If things improve with PeoplePerHour, then I would say they are on par.
But, as things stand, Freelancer is definitely the platform to go for.
Why not check out our PeoplePerHour Review and learn how this platform can help your business?
Freelancer vs OnlineJobs.ph
Finally, I want to cover OnlineJobs.ph.
For those not in the know, OnlineJobs.ph is a platform that is dedicated to finding businesses VAs that are prepared to work in a wide variety of different niches.
Straight off the bat, hiring a VA through this platform is a lot cheaper than taking on a freelancer.
VAs on OnlineJobs.ph are based in the Philippines, meaning their salary requirements are a lot lower than US/UK citizens.
In addition, the majority of VAs on this platform undergo a strict vetting process, meaning only the most qualified VAs are displayed for you.
It sounds great; however, there are some things that OnlineJobs.ph does wrong.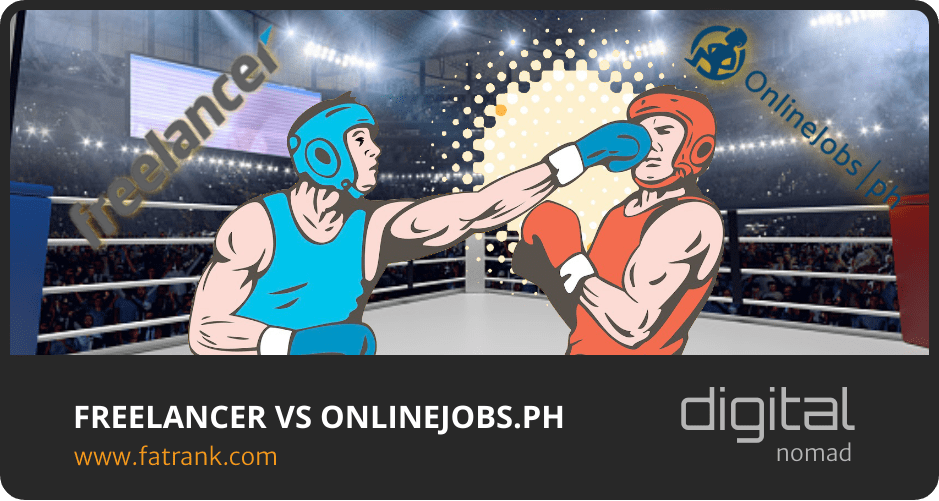 Firstly, Freelancer.com seems to have the better website design and UI, as my user experience was incredible.
OnlineJobs.ph on the other hand seemed unfinished or cheap.
Another issue is that VAs are wanting a steady form of employment and not just a month of work.
If your company can't afford to pay for another member of staff, then definitely don't go for a VA.
Both of these platforms are perfect for different reasons.
If you're wanting to expand your workforce, then OnlineJobs.ph is the perfect platform for you.
On the other hand, if you're looking for a cheaper alternative (and a shorter timespan of working together), then Freelancer.com is the perfect platform for you.
Does OnlineJobs.ph sound like a platform perfect for you? If so, why not check out our OnlineJobs.ph Review today!
Final Thoughts of Freelancer.com
Freelancer.com has gained a great reputation through constantly improving its site and service.
I can only see a handful of problems with this platform and each of those problems is relatively easy to fix.
I think as time goes on, Freelancer.com will start to make a stronger name for itself and become the main benchmark for all the other freelancer marketplaces.
Thank you for taking the time to read my review on Freelancer.com. If you're still debating whether or not this platform is worth using, then I would highly recommend it.
This review should have provided you with all the information you need to know before using Freelancer.com.
Before you leave and start playing around with the platform, make sure to check out our other reviews and find the perfect freelancer platform for you!
So, what are you waiting for? Why not give Freeelancer.com a try today and see if this platform can let your business grow?
Make sure to keep us updated on our Facebook and Twitter too!
All Online Marketplaces for Freelancers
Check out the in-depth list of online freelance marketplaces.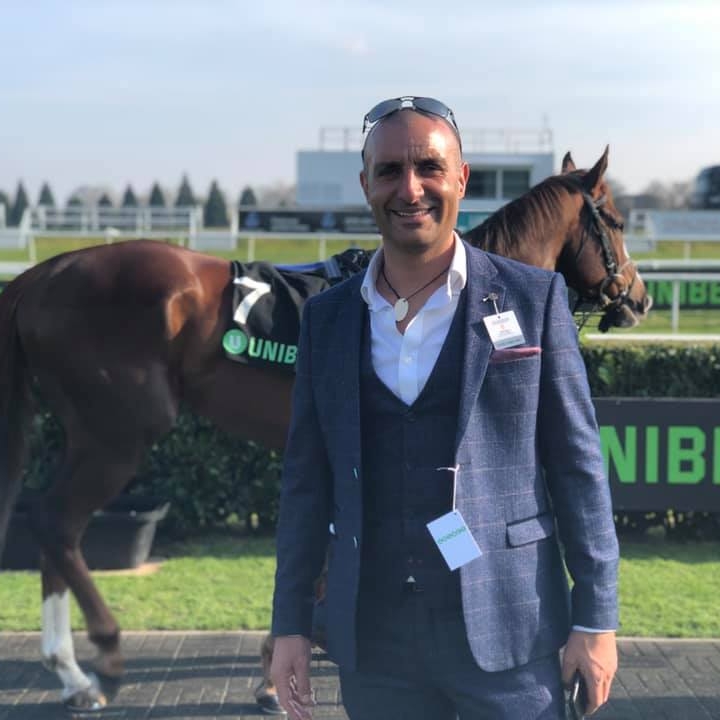 Digital Nomad
I'm a full-blown Search Engine Optimization specialist earning the majority of my income from SEO-focused endeavours, including affiliate marketing, lead generation, as well as SEO services. Love travelling the world networking while working on my laptop. Life is a perception of your own reality. You have no excuses and should be making memories every single day.
Recommended Story For You :