As SEO has evolved over the years every webpage you create needs to have a clear focus keyphrase.
The focus keyphrase is the query you would primarily like the page to rank for in Google.
But is your selection of the focus keyword killing your SEO strategy?
Can the choice of focus keywords make or break your ranking chances?
In today's digital world we all are using amazing on-page tools like Surfer SEO or MarketMuse to assist us with our content strategies.
If the input data (i.e. focus keyphrase) is nonsense then the output will be killing your rankings in October 2022.
Let's dive in to explain the importance of the correct use of focus keywords as part of your keyword research and why keyword clustering tools will massively benefit your websites to grow the overall topical authority of your domain.
What is a Focus Keyword?
A focus keyword is the primary search query that you want a page or post to rank for in the search engine results (SERP).
When people search for your focus keyword you are optimising your page to rank higher in Google so they can find you.
Each page you create on your website should have a clear focus to cover a specific search intent.
Why Do You Need To Choose a Focus Keyphrase?
You need a choose a focus keyphrase for each article so it has a clear intent match.
Matching the content you create to meet the search intent is the main reason choosing a focus keyphrase is very important.
Regularly adding quality content to your blog is a good SEO strategy when each article has a predefined search intent.
Google sees that your blog is active because you add new information and you increase the volume of your content.
But randomly adding content to your site isn't very useful if you are repeating the same information across multiple pages.
You have to craft a keyword strategy, and based on that strategy you should create high-quality content your audience is looking for.
When you write those articles, it's important to optimize them for the key phrases you're aiming at.
Each page should follow the one page for one corpus strategy so it has a clear direction and matches intent to the search query.
Where Do You Use Focus Keywords?
From our research here are the main places you use your focus keywords.
Yoast SEO
Yoast SEO helps you with your website optimisation and has a focus keyword field for each post or page you produce.
When you set the focus keywords for a post with Yoast SEO, the plugin evaluates the content and provides feedback on how to improve the content.
The focus keyphrase is the phrase that you want your post or page to be found for in search engines. Sometimes, it is a single word, but it usually consists of a few words. That's why we call it a keyphrase. For example, if you want your blog post to rank for 'healthy snacks', then optimize your post for that term.
The input field for your focus keyphrase can be found in the Yoast SEO sidebar on the right side of your editor.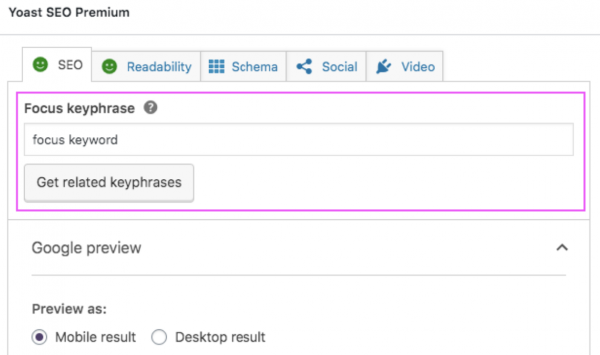 If you don't see the Yoast SEO sidebar on the right side of the editor, click on the Yoast icon on the top right of your screen first.
Utilise the Yoast Focus Keyphrase Input Field to increase the chances of ranking higher for that search term.
Surfer SEO
Surfer SEO helps you correlate your data against the competition already ranking for your focus keywords.
Also referred to as copycat SEO it merges the content missing on your page to rank for the focus keyword search term.
When you set the focus keyphrase in the Content Editor or SERP Audit feature the on-page SEO tool scrapes the best-ranking websites to give you valuable data on what keywords are being used by your competitors.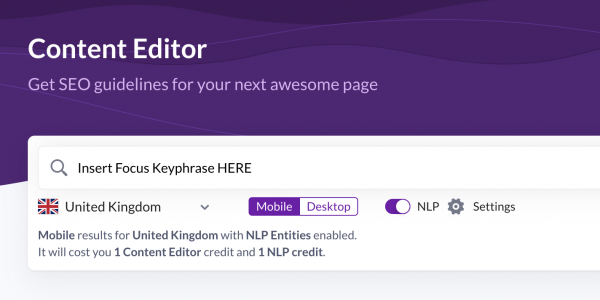 Imagine sitting an exam and being able to copy the results of students you know are successful – this is what Surfer SEO brings to your strategies.
MarketMuse
MarketMuse uses AI and machine learning to help you build content strategies.
Choosing the best focus keyword can accelerate your content creation and indicate precise decisions to your SEO content writers.
The focus keyword input field can build topic models to give information on new questions your article might be missing.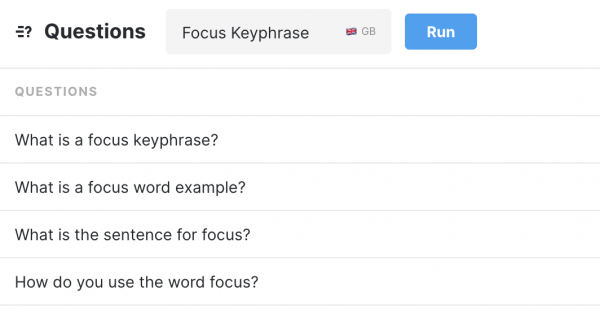 Adding related topics to the articles you create help expand your knowledge and expertise on the given niche.
Search engines look to rank higher web pages with the most in-depth knowledge and information on the given topic and this is why the initial focus keyword input is the most important part of optimising any webpages.
How To Choose a Focus Keyphrase?
Here is how to choose the best focus keyphrase for your blogs in October 2022:
Carry out Keyword Research
Before looking to choose any focus keywords to write about you should carry out a full content roadmap for your website.
The best keyword research techniques are using your preferred kw research tools like semrush or ahrefs.
Semrush is an all-in-one SEO tool for improving online visibility and discovering new keyword research insights. With the ability to load in competitors websites you can extract all the keywords they currently rank for into your keyword research content roadmap.
AhRefs generate thousands of keyword ideas for Google, Bing, YouTube, and Amazon, complete with monthly search volumes and Keyword Difficulty scores. So you are able to export a huge list of keyword ideas to map out as part of your content audit guide.
Import All Keywords Into Keyword Clustering Tool
Now you have thousands of relevant keywords you want to rank for you need to group together keywords that have the same search intent.
Keyword Clustering Tools like keyword cupid or cluster AI do a great job of grouping keywords that deserve to be on the same page.
The clustering tools use the SERPs to determine whether one page can cover both search terms and if return similar results group them together.
The grouping of keywords into clusters is an integral part of your content roadmaps.
Identify Best Focus Keyword Per Group of Keywords
Identifying the best focus keyword for each page can be chosen from the group of search queries in the list.
Many SEO specialists say you should make the focus keyword the search query which has the largest search volume – but this is NOT correct.
You want to enter the focus keyword that best meets the intent of the page.
Google is smart enough to know the search intent of the page and a single page when written well can rank for thousands of keywords.
What Happens If You Choose The Wrong Focus Keyword?
If you choose the wrong focus keyword for your page the concept is flawed with garbage in, garbage out (GIGO).
The wrong focus keyword can drop your search engine rankings or cause keyword cannibalization issues.
In computer science or when using any SaaS tools then nonsense input data produces nonsense output.
The nonsense input data is sometimes referred to as rubbish in, rubbish out (RIRO).
The principle applies to all analysis, in that arguments are unsound if their premises are flawed.
With correlation tools like SurferSEO imagine you copying results from the wrong corpus? Adding non-relevant search terms because you have chosen the wrong focus keyword for your article.
This is why choosing the correct focus keyword is crucial to your SEO efforts in October 2022.
Wrong Focus Keyword Examples
The type of content shown on the search results will help you decide on what kind of content to create.
Here are some wrong focus keyword examples:
MUGA – You want to rank for the MUGA because you build multi-use games areas. But the search query "MUGA" also is a type of red wine and also a heart scan. So when you just search the term "MUGA" are you looking for a MUGA company to build a playground, a MUGA heart scan or a MUGA wine? The choice of focus keyword is too subjective and broad. The correct choice would be something along the lines of "MUGA Playground", "MUGA Pitch", "MUGA Sports Court" as it is very clear then what the search query is requiring.
JAPANESE KNOTWEED – You are a Japanese knotweed removal company. But the exact phrase of just "Japanese Knotweed" could be users wanting to understand what it is, how to identify it or could be looking for a company to remove this. As it's a mixed SERP you want to primarily focus on keyphrases like "Japanese Knotweed Removal Company", "Japanese Knotweed Contractors" and similar long-tail keyphrases.
Checking whether Google shows product pages or information blog posts?
Or perhaps videos, images?
The best advice given is to REFLECT THE SERP in the first instance of writing your content brief.
Then once you form part of the corpus ranking on page one and receiving the clicks you can then SET THE SERP by adding differentiator keywords to improve your Information Gain Scores set out by the Google Patent.
Never Assume
Why assume the focus keyphrase when you have the hard data on Google Search Console to tell you the best terms to optimise for?
If it is a new page utilise the keyword research tools and the power of observation in Google Searches.
Assumptions at any part of this game are going to kill you in the long run.
Never assume, you may think you're taking a shortcut, but you're not… it's going to cost you if you choose the wrong search query.
Don't assume that your primary keywords will generate traffic because it has the biggest search volume
Don't assume your focus keyword is easy to select without researching the data from Google Search Console.
Don't assume you'll be able to rank well for your keywords without reviewing the existing competition that is ranking.
Any assumptions in the SEO sector is not advised because you can base all decisions on scientific data you have at your disposal.
Winning Strategy For Selecting Best Focus Keyword
The winning strategy for selecting the best focus keyword is to choose a key phrase you can rank #1 for in the SERPs easily.
Do not choose the focus keyword with the highest search volume if you will struggle to rank for this.
Start winning with long-tail search queries and then as you rank highly for the easier keyphrases you start to attract the clicks and engagement which improves the post to rank for more secondary keywords.
Start With Long-Tail Keywords
If you want a post to rank, you can increase your chance of success by aiming for long-tail keywords.
Long-tail keywords often exist of more words and are less searched for than very popular 'head' keywords.
But less popular also means less competition and the chances to convert are usually higher which gets you the engagement that helps your SEO efforts.
Our content expansion tips to rank for long-tail keywords utilise expanding content briefs with common questions, benefits, pricing and information users are sought after.
Tools like MarketMuse, SurferSEO, Answer the Public, People Also Ask, Semrush and AhRefs all help you get related keyphrases and give search volume metrics and trends.
Check Existing Rankings
When looking to carry out progressive optimisation the best place to start is by checking your existing rankings.
Google Search Console is your best friend and gives you all the impressions and clicks your articles are currently showing up in the SERPs for.
Adapting your focus keyword to match search queries that are driving you the most clicks is a very clever tactic.
The use of third party keyword research tools are great but real data in Google Search Console is the holy grail to what your focus keywords should be long term.
Google Your Focus Keyword Idea
Why guess what is the best focus keyword?
Google the search term and see whether the results match the search intent of your page.
Take the time to look at the search engine result pages (SERPs). Are the articles in the Google results of similar character to your article? Could your article fit the results shown in these search pages? If you decide to write your blog post or page, while optimizing for this exact focus keyword, you are aiming to get your post amongst these results.
Apart from knowing which search terms are actually used by people, you need to know whether or not your idea for your post or page fits the needs and expectations of the people who use these search terms.
You need to find out what the search intent is.
One way to find out whether your content meets people's needs is to Google your proposed (sets of) keywords yourself.
If the results are mixed with different intents you might want to choose another focus keyphrase that brings back the exact corpus your article is going after.
Popular Questions
Can I Target Multiple Focus Keyphrases?
Yes, absolutely you can target multiple focus key phrases on a single webpage.
One blog post can rank for thousands of keywords.
We strongly advise starting the focus keywords with long-tail queries that are easier to rank for.
Then moving onto secondary search terms your existing post can rank for with the same intent.
How do I learn how many searches a focus keyword has?
When looking to learn the search volume of your focus keyword you can use any of these tools:
AhRefs
Semrush
Google Keyword Planner
Keywords Everywhere
Keyword Surfer
Google Search Console
Moz Keyword Explorer
How do I learn how competitive a focus keyword is?
The keyword difficulty of a focus keyword can be checked using AhRefs keyword difficulty Checker or SemRush Keyword Difficulty scores.
Or alternatively can be manually checked to search in Google and checking the authority of the ranking of the website by seeing how in-depth they have covered a topic or how many backlinks they have pointing to their post for page authority power.
Why is it important to choose the right focus keywords?
Choosing the right focus keywords is the most important aspect of keyword research.
If you do not choose the right focus keywords you get the following problems:
Multiple Pages Trying to Rank for The Same Terms
Blog Posts having zero chance to rank on page one of Google
Optimising blogs for the wrong keywords with correlation tools
Increasing bounce rates because does not meet the search intent
Low CTR value due to wrong title tags implemented
Warning Signs You're Optimising for the Wrong Focus Keywords?
The 5 warning signs you are optimising your content for the wrong focus keywords are:
Pogo Sticking with a High Bounce Rate
Low Time On-Site From Users
Little Organic Visibility For Your Focus Keywords
High Impressions But Low Click-Through Rate
Content Cannibalisation Penalty
Summary
Your content roadmap keyword strategy should have given you some idea of what you want to write about.
If you don't have a keyword strategy yet, you should really create one.
Entering the focus keywords into your SEO Tools is what will determine the output quality.
Optimising and understanding the search intent behind each article is very important to your SEO strategy.
Carefully crafting topical clusters and making sure each page is being optimised for the correct corpus (i.e. search intent) is key.
The silo structure of the related articles all internal linking to each other is what determines to search engines the expert level authority your domain has on a given niche.
Covering the page topic in its entirety on a single page will help you rank one page for thousands of keywords.
Then moving on to covering the whole topic in its entirety at a domain level is where you will dominate the SERPs for the whole industry you are targeting.
But identifying the correct focus keyword for each page is crucial to dominating the search engines results pages.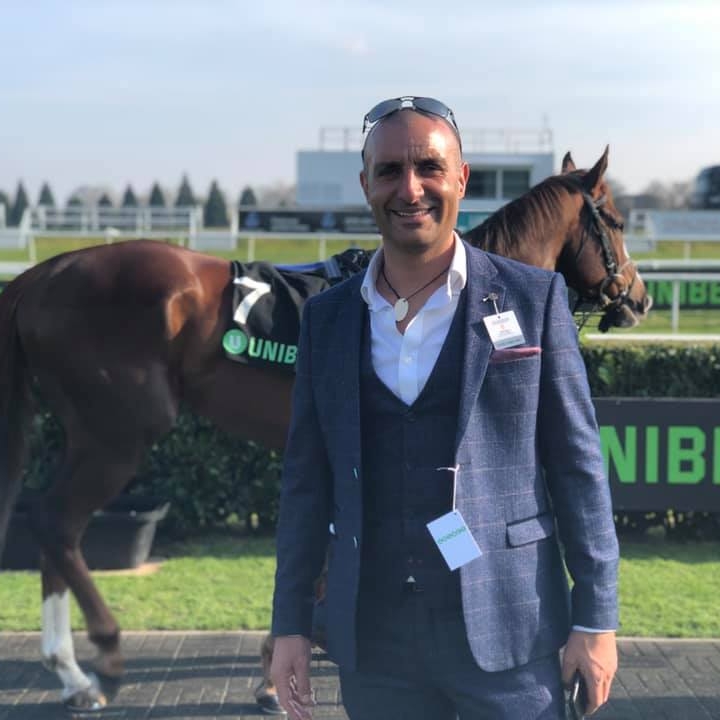 Digital Nomad
I'm a full-blown Search Engine Optimization specialist earning the majority of my income from SEO-focused endeavours, including affiliate marketing, lead generation, as well as SEO services. Love travelling the world networking while working on my laptop. Life is a perception of your own reality. You have no excuses and should be making memories every single day.
Recommended Story For You :