Fiverr is an online marketplace for freelancers offering their services on a pay-per-task model.
The Fiverr online freelance platform was recently voted in the list of top marketplaces for freelancers online in 2022.
In our Fiverr Freelancer Marketplace Review, I explain everything you need to know about the services, costs and feedback for the Fiverr services.
What is Fiverr?
Being the most popular freelancer marketplace, Fiverr has gained a reputation for being one the best places to shop for freelance services. From web design to graphic design, Fiverr is a great platform to utilise for outsourcing time-consuming tasks.
For those who don't understand how freelance marketplaces work, let me explain:
"Freelance marketplaces are online platforms which help you (the customer) find a service that you need doing by putting you in contact with different freelancers. Freelance marketplaces, like Fiverr, make their money by taking a cut from both the employer and freelancer's transaction."
Platforms, like Fiverr, can help a business operate smoothly and allow the focus to be shifted from menial tasks to more pressing matters.
Fiverr is full of freelancers offering their services to businesses, like yours, to help take care of annoying and time-consuming tasks for a cheap price.
For those wondering "is Fiverr legit?" then you'll be happy to know it is. It's been established for years and built up a strong customer base.
I joined Fiverr when it first started gaining traction and I would often use a lot of Fiverr gigs to help my employees focus on more important tasks.
Fiverr works for any business that has an online presence and can be a great tool to use for new businesses who can't afford to bring in new staff to focus on certain aspects of marketing, sales and/or even finance.
As an owner of an online business, I always turn to Fiverr for any unimportant tasks that need completing.
You can join Fiverr today, for free, and have a look at all the services their platform offers you. I honestly can say you won't be disappointed by what you see.
Fiverr Review
Now that you know what Fiverr is, I can delve into our review of the platform. When creating reviews for these platforms, I always try to keep an open mind and remain unbiased, meaning the information you're receiving isn't sponsored or paid for by Fiverr.
Below are some of the main points I want to focus on and try to educate you on. Remember, all I can do is tell you the positives and negatives of this platform, but it's up to you to decide whether or not you will utilise it.
Finally, this review is mainly targeted at the customer, not the freelancers. If you're a budding freelancer and want information regarding how beneficial this platform is for you, then you might be slightly disappointed.
I want to make sure that business owners, like myself, are well-educated on this platform and understand how they can utilise Fiverr to help their business run smoothly. So let's get started with the first point.
Fiverr Gigs
Let's talk about the main factor of Fiverr, the gigs.
Fiverr gigs cover a wide range of different topics, from logo design to data entry. With such a wide variety of different services to choose from, I'm sure you can find a service that your business could do with using.

Keep in mind that 99% of all services on Fiverr are digital services, meaning if you're looking for physical products or services, then you might have to look elsewhere.
The Fiverr algorithm is great for displaying the best freelancers for the service you're looking for and you can even filter through the results to find someone who matches your budget too!
In addition, you can easily find out if you're dealing with beginner freelancers or experienced freelancers as their years of experience will be displayed with their names. Knowing this can help you avoid any dodgy sellers or inexperienced freelancers.
You can also discover the delivery time is for the gig to be completed by looking at the gig description. In some cases, you can pay a little bit extra to have the order prioritised and have the delivery time reduced.
A gig price is usually quite cheap and only get's expensive if the seller is in high demand or the gig requires a lot of work. I've found a lot of gigs with cheap prices to still produce high quality work. In addition Fiverr charges one of the lowest buyer fees, set at 5%.
When you've found the perfect Fiverr gigs, the process of acquiring them is relatively easy. When you purchase gigs, you just have to provide any information the seller requests and then pay the requested fee (which can be done by debit card, credit card and even through a PayPal account).
Once paid, all you have to do is wait. If the wait goes on longer than what the seller displayed, you can send them a direct message and even request a refund. Don't worry though, if the seller doesn't reply, Fiverr will automatically take the money from the seller and give it back to you.
But, it isn't always perfect. Having thousands of different freelancers means you're going to come across low-quality services and in worse cases, scam artists. You must read the reviews left by other buyers to ensure that you avoid any problematic sellers on Fiverr.
Fake reviews are prevalent on the platform, meaning you can be tricked into using certain services. To avoid this happening, I would recommend paying attention to the accounts leaving the reviews and seeing if they've bought other services or just use this particular seller and their one service.
With Fiverr being a global platform, you'll encounter Freelancers from all across the world. This can be a slight issue as sometimes the seller may not be proficient in your language and may cause issues with the service due to a language barrier.
Advantages & Disadvantages Of Fiverr Gigs
To summarise, I've put together this list which should explain the positives and negatives relating to the Fiverr services. Again, this is my personal opinion and others may disagree. But, from years of running a business and using this platform, my opinion comes from experience and testing.
Advantages
There are thousands of different services to choose from, covering almost every aspect of running a business.
Fiverr's algorithm is great for pushing experienced freelancers to the top of its pages.
Gigs are relatively cheap and easy to acquire.
A wide variety of different payment methods are offered.
Reviews are attached to gigs, meaning you can understand how effective the service is.
Disadvantages
The quality of gigs fluctuates due to the number of sellers on the platform.
Prices can get expensive for high-quality services.
Scam artists can slip by the vetting process.
Certain sellers can lack communication skills.
Some sellers can use fake reviews to trick you into buying with them.
Fiverr Sellers
For every great gig on Fiverr, there's a professional seller behind it. A successful seller on Fiverr will often have fantastic reviews and offer a wide range of services relating to their profession.
These types of sellers are the ones you want to try and work with. Fiverr buyers often find it hard to come across these sellers, but by fine-tuning the search filters, you can find pages full of them.
As well as that, a seller on Fiverr might hold certain qualifications that would make them perfect for the job you're looking to complete (like a degree). You can often find information like this by looking at the seller's profile.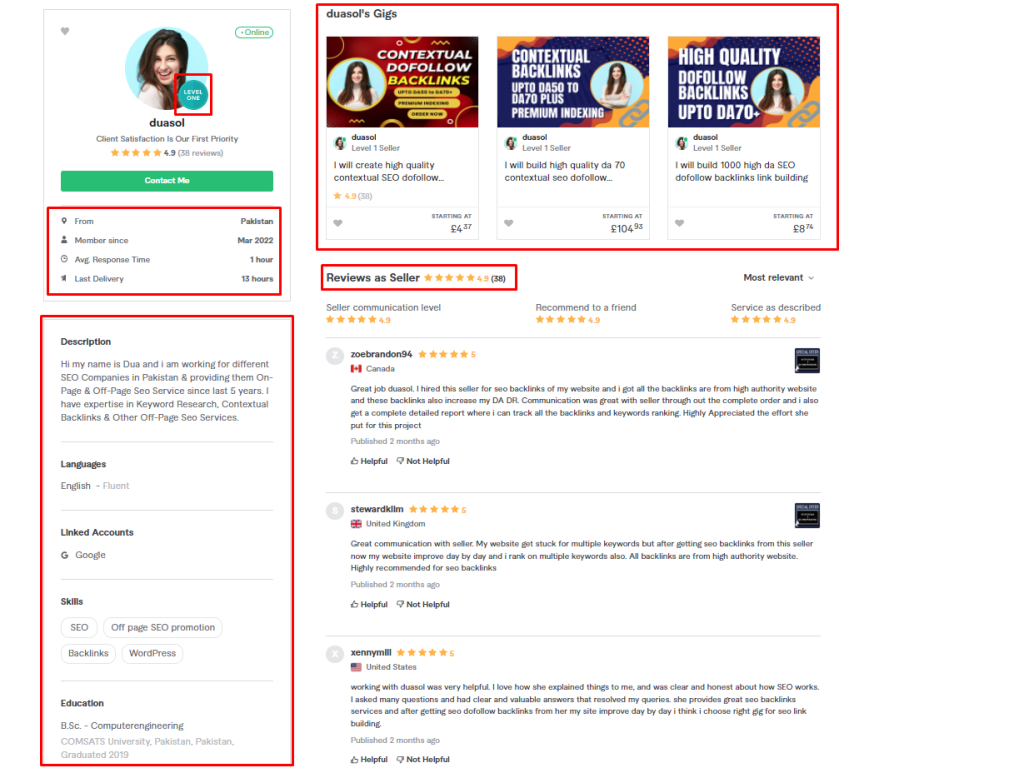 Whilst on the seller's profile, you can also see information like:
Other services they offer
The country they operate from
Languages they speak
Time on Fiverr
Last delivery
Average response time
Skills
Linked accounts
Seller's Level
All of this information can help you make an informed decision about using the seller and can help build a strong relationship with them. I would recommend that before you buy any Fiverr gigs you check out the seller's profile.
Another great feature Fiverr implemented on their platform is the messaging system. The messaging system allows you to contact Fiverr sellers even before you buy any of their services.
You can use this feature to ask questions and/or recommendations for solutions to problems. I've found this to be of great use, as a professional seller will often direct you to their high-quality services that they think will benefit you the most and sell services related to your problems.
However, not all Fiverr sellers are great. You'll find a few that have a lot of negative reviews and an overwhelming amount of hate. To be honest, on every freelance marketplace you'll find sellers like this.
The issue is that these sellers carry on providing their services and make money on Fiverr by scamming or providing low-quality services. In addition, some sellers will even employ fake reviews to balance out genuine negative reviews.
Profiles on Fiverr can also be spoofed. For example, there's no verification process when it comes to the seller listing their education or languages. This means, in rare cases, you can be coerced into using a specific seller when they're nothing like their description.
Make sure that you're careful with choosing a seller and try to look for any inconsistencies within their profile. Also, make sure to check their average response times, as this will indicate how communicative they are with buyers.
Advantages & disadvantages of Fiverr sellers
Overall, sellers on Fiverr can either be a divine gift or your worst nightmare. It really comes down to looking into sellers and understanding more about their background and how they operate.
Advantages
Sellers can be well-educated in your niche and even offer advice.
The profile feature allows you to understand more about the seller.
Messaging system creates an easy channel of communication.
Seller levels show how experienced the freelancer is.
Disadvantages
Profiles don't get verified, meaning information can be false.
Some sellers have poor communication skills.
Reviews on profiles can be spoofed and faked.
Sellers can be scam artists, so be sure to check that they are genuine.
Fiverr Customer Service
As a Fiverr buyer, it's important to know how the customer service is and how they deal with your problems. A lot of freelance marketplaces don't have a strong customer support team, but Fiverr is different.
The Fiverr customer service is easy-to-use and is really helpful when you encounter a problem with the site or a problem with a seller. Fiverr's support team will work closely with you and will try to sort out any issues you may have with the site.
In addition, the Fiverr support page offers answers to popular questions and problems to save Fiverr buyers time, and I found that a lot of questions I had were answered on this nifty page. I'd recommend checking this page out as it provides some great information on how you can make Fiverr work for your business and how they can help with problems.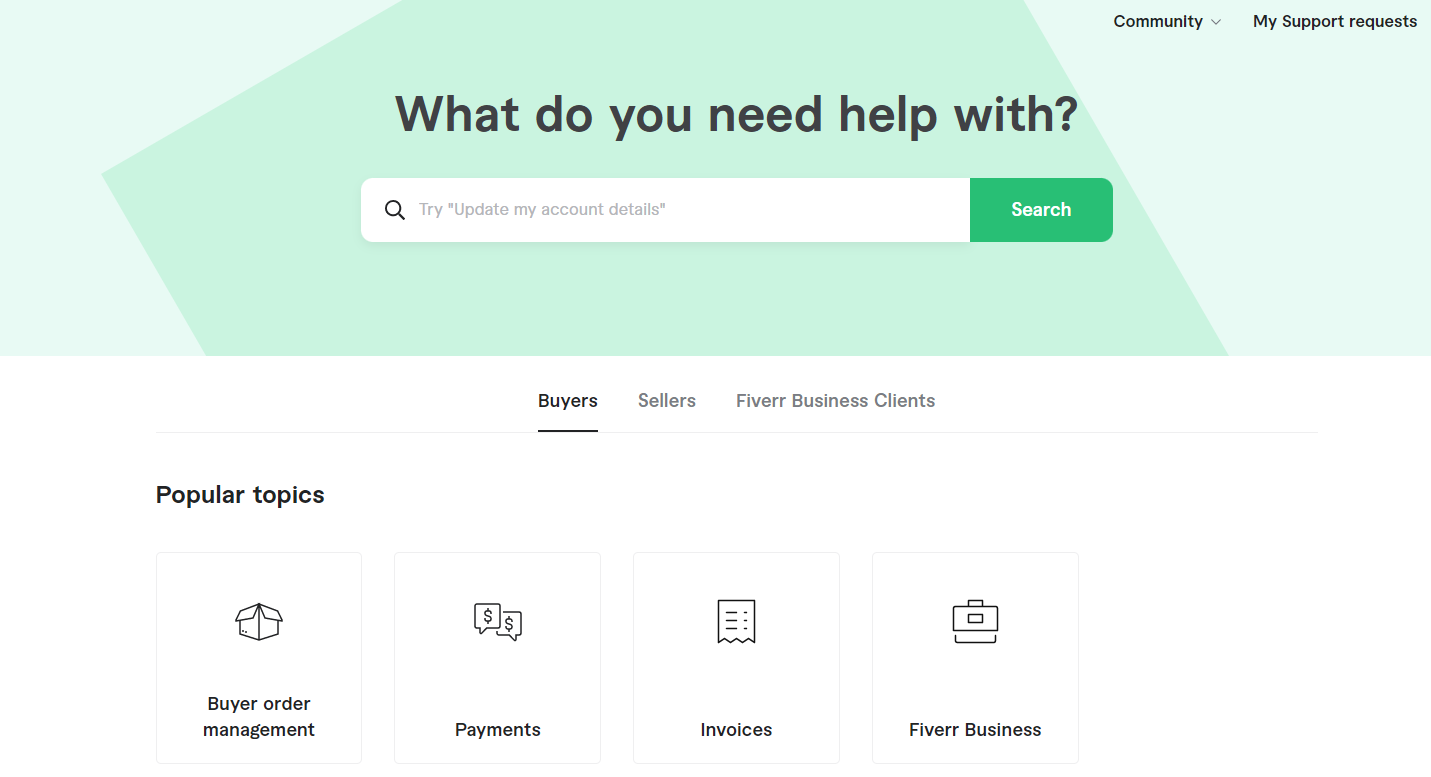 When messaging customer support, you will open a support request and will be able to keep track of this by simply navigating to your support requests tab. Having this feature allows you to focus on other tasks instead of just waiting for a response.
Fiverr's customer support team receive a lot of positive feedback on their service and has helped thousands of people navigate and understand the online platform. I would hands down say this is one of the best customer support teams I've encountered on freelance platforms.
On the other hand, there are some glaring issues with the support that should be fixed for it to be even better. For starters, response times are incredibly random. Sometimes you might get responded to in an hour and other times in a week.
It can be incredibly frustrating if you have a deadline on a project and you need to get help before it. So, just understand that even though the responses and solutions provided by the team are great, the waiting time is really inconsistent.
Another massive issue is the lack of action toward malicious users. If you encounter a scammer and report them, the likely hood of them being dealt with is low. I have no idea why Fiverr struggles with this, but when compared to other platforms, it makes it seem a lot less professional.
My final issue is the members of the support team. Of course, the majority of them are fantastic and really care about the problem you have and want to solve it, but there's a chance you might be put with a member of staff who's unmotivated, blunt and sometimes rude.
Having an exchange with a bad support member can make your experience sour and frustrating, and sadly Fiverr does have a few members like this. If you encounter this problem, I would recommend closing the support request and re-opening a new one to save time.
Advantages & Disadvantages Of Fiverr's Support Team
A great support team can make a good platform a great platform. This team acts as the backbone of the whole marketplace and it's vital that Fiverr has the right team in place. I reckon that they are great, but there are some things that could be improved on to make the support process a lot easier and less stressful.
Advantages:
The support team provide great solutions to a lot of issues you might encounter.
Utilising the support team is easy due to the fantastic UI.
The creation of the Support page offers quick answers to those who need common problems solving.
Users of the support service have given huge amounts of positive feedback about it.
Disadvantages
Response times are inconsistent, ranging from 1 hour to a whole week.
Hardly any action is taken towards malicious users e.g. scammers, phishers, hackers
Some members of the support team can be rude and have no motivation of helping you.
In rare cases, your support ticket might be ignored completely, leaving you to re-open a new one.
Fiverr's Design, Security & Reach
I decided to group these three factors into one section as I only have a little bit to say about each one. We all know it's important for a website to have:
Strong website design
Brilliant security system in place
Fantastic exposure to the world
These three factors are fundamental for a freelancer marketplace to perform well in the modern digital landscape. Below, I take a closer look at these three factors and explain what I like about them and what I dislike about them.
Fiverr's Web design
I personally believe that Fiverr is a great example of how incorporating great web design is essential to success. When you go to Fiverr's website, you'll notice that the website looks clean, professional and easy to navigate.
In addition, the website is optimised technically, with low page loading speeds and hardly taking up any cache space.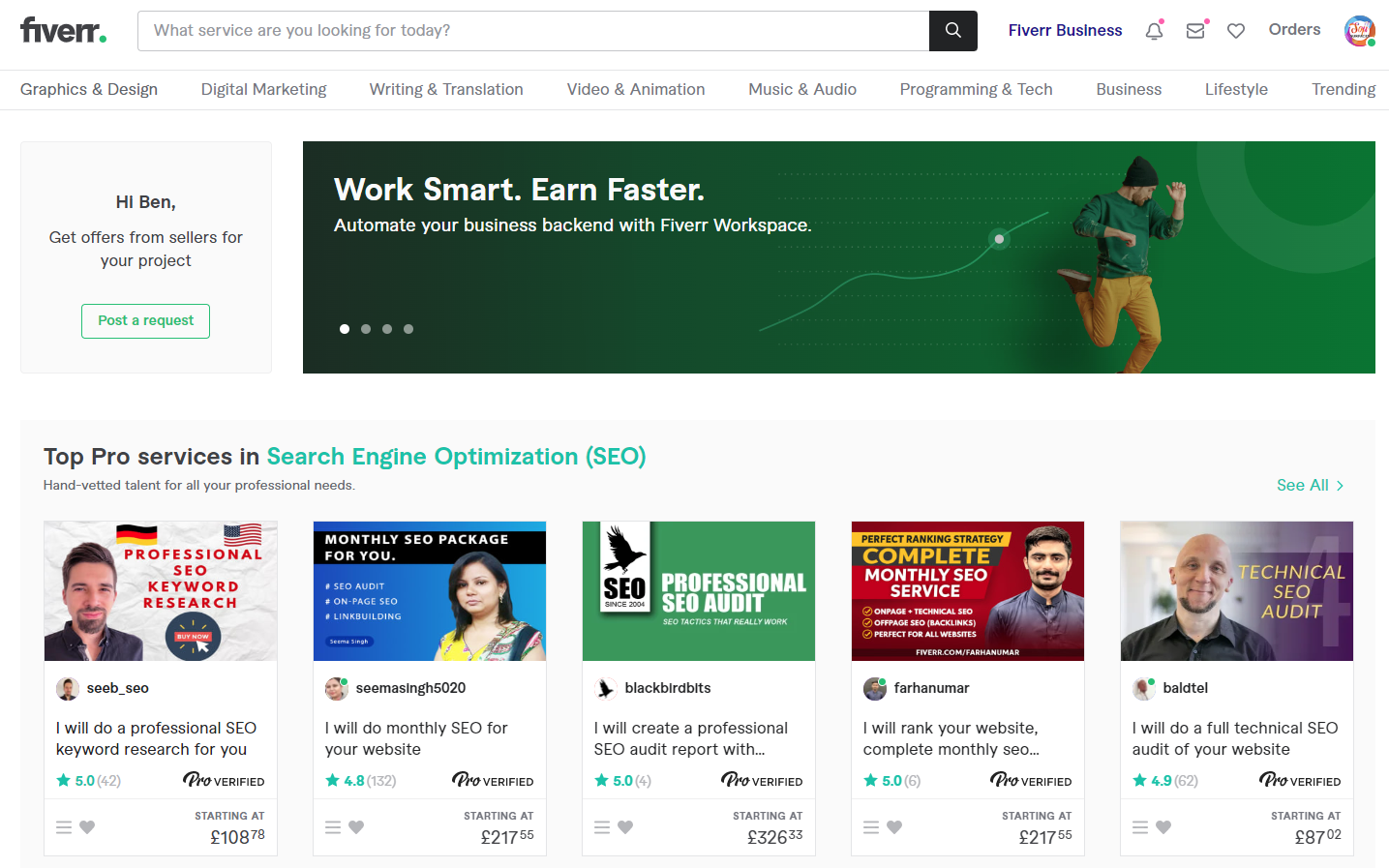 I can't forget the profile pages either. They're created to look really clean and provide information in a clear but concise manner. When you look at a seller profile, you'll find it easy to find the information you're looking for.
Fiverr's website is an amazing platform for its site users and I'm sure that you'll find it incredibly easy to navigate. It's obvious that Fiverr really focused on its web development and helping users get to their desired service in just a couple of clicks.
Overall, I believe that the web design on Fiverr is top notch and I don't have any problems with it whatsoever. From the display of a seller profile to the web development of the homepage, Fiverr knows how website design should be carried out and implemented.
Fiverr's Security
Hundreds of Fiverr reviews love to talk about the security of the website, and I'm no different. The website uses an SSL certificate to encrypt Fiverr buyers' personal details and bank information. Due to this, it's often a nightmare for hackers to get your data from the website.
In recent years, Fiverr has also clamped down harder on scammers and phishers by creating an algorithm to detect them. This algorithm is really effective in finding a Fiverr seller who isn't legit. Due to this, it's often hard to come across malicious users, but not impossible.
Many people use to question whether Fiverr is a legit website, but I would say it's probably one of the most legit websites in the industry. Fiverr takes its brand reputation seriously and aims to improve on any problems with great speed.
There is a big issue with Fiverr's security system though. It's too good. By this, the security algorithm has sometimes warned or banned a Fiverr seller when they haven't done anything wrong.
This glaring issue has caused a few sellers to move to other platforms and focus on selling their services there. I understand that Fiverr wants a high-quality service to shine above the bad quality work, but sometimes this security system can ruin freelancers.
If you're wondering:
"Is Fiverr safe and a legit website?"
There's a simple answer. Yes. I believe that the SSL certificate and DDoS protection make the site safe for transactions including more money being sent to the seller. But, Fiverr need to calm the security algorithm down, as innocent sellers are being penalised for doing nothing wrong and just getting good reviews.
Fiverr's Reach
I'm sure that if you've used Fiverr before, you'll most likely have the Fiverr app downloaded on your phone or tablet. The Fiverr mobile app has made Fiverr super accessible for people across the world, and due to this, a lot of sellers come from a third-world country.
This is why a lot of the Fiverr gigs you see listed on the website are so cheap. In a third-world country, $5 is a lot of money and so a lot of people will carry out complex tasks for a cheap price. Doing this benefits both the seller and the buyer.
This is another reason why Fiverr is a great platform. Having such an established user base helps the Fiverr market have more competitive pricing strategies and a wider range of different services.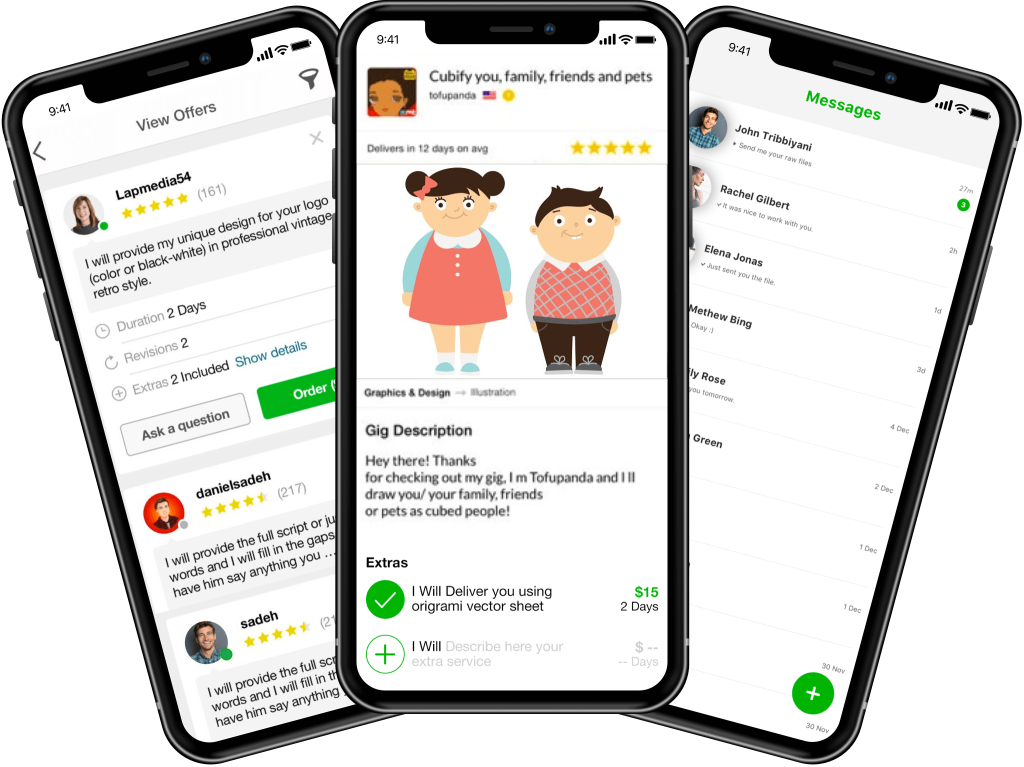 Now, this doesn't mean all prices are set cheap by residents in third world countries, as you'll find a lot of other sellers from more developed countries. Fiverr states "you can set your price from anywhere between $5 – $995", meaning some gigs can be a bit more expensive and aren't always set at $5.
You may think that having such a huge reach can only provide good things, but there are some downsides to this approach. The main problem I've encountered is that a lot of poor-quality sellers use the site.
If you don't pay attention to reviews and the seller's Fiverr profile, you can end up paying for something that is rubbish and worthless. Again, Fiverr is so popular that it has become the go-to place for freelance work.
I would suggest that users are cautious when picking a seller on Fiverr and don't make price the determining factor of what Fiverr gigs you are going to use, as sometimes the cheap service could be the seller's first gig or just low quality.
Fiverr: Final Rating
It's no surprise how Fiverr has become so popular over recent years. From selling graphic design, logo design, voiceovers, videos and even SEO; Fiverr gigs are available for almost anything a business needs to succeed.
Every time I've used Fiverr, I've always used good services and seen great impacts from them. It's been so effective that I have even formed partnerships with some freelancers and use them on a regular basis and get discounts on their services.
Fiverr offer services from sellers around the world, meaning you can meet new people and learn a thing or two about other cultures. If you become good friends, you might even share your digital marketing knowledge with each other and become even stronger.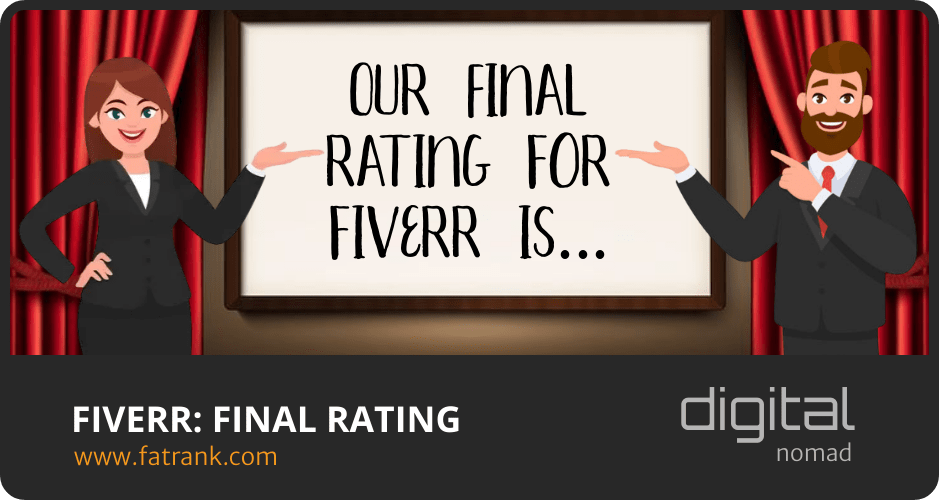 With so many good factors in Fiverr's favour, it seems impossible to find problems with it, but sadly I've found a few. These problems vary in severity and how common they are, but it's important to understand that other platforms may have similar issues.
If Fiverr can improve on the disadvantages I've mentioned above, I would easily give this freelance marketplace a 5/5! But, certain areas still need improvement and/or redevelopment. For this reason, I'm going to give Fiverr a score of 4/5.
I personally think Fiverr is one of the best freelance marketplaces for your business needs, but I would use marketplaces like Legiit for SEO needs or PeoplePerHour if I wanted to outsource work for a longer period of time.
Fiverr Alternatives
With so many freelance service providers out there, it can be difficult to choose which one to use to help with your quest to climb the rankings. So, I've listed some useful differences between Fiverr and other platforms.
It's important to know that each of these platforms has different strengths and weaknesses, but Fiverr is our go-to for freelance services. But, by reading ahead, you'll see some other platforms that I use and how combining them with Fiverr can create a smooth running operation.
For more information on each provider, be sure to click the links to read our full in-depth reviews on each platform.
Fiverr vs Konker
Konker and Fiverr are fairly similar to each other in how they operate and make money. But, the main difference is that while Fiverr focuses on covering all aspects of business services, Konker solely focuses on SEO-related services.
I have to admit, Fiverr is dreadful with SEO services and when I see a seller start selling SEO services, I tend to stay away from them. But, with Konker, a lot of sellers on the platform are well-known figures from the industry and usually deliver great services to you.
However, Konker has huge issues that Fiverr doesn't. Firstly, Konker's interface is nowhere near as user-friendly as Fiverr, making Konker incredibly hard to navigate and find a service. Finding a freelancer should take just a couple of minutes, but Konker drags it out and turns it into an hour-long process.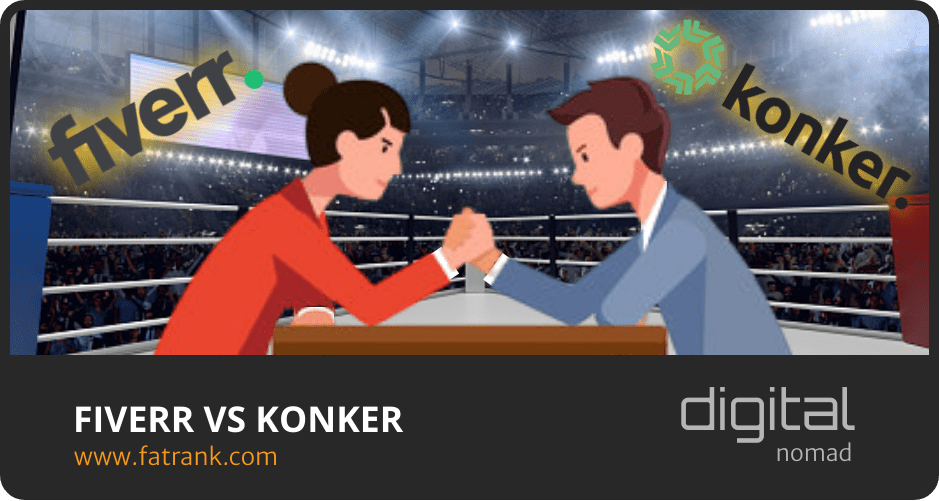 In addition, the prices on Konker are more expensive than on Fiverr. You could argue that the services are better, but some costs seem really extortionate and over-the-top. To put the cherry on the cake, the quality of services fluctuates massively, with no consistent string of good services ever occurring.
A lot of past clients of Konker have voiced these two main concerns for years and Konker has still done nothing to fix the issues. In my opinion, I see this as a major red flag as it clearly demonstrates that Konker has no intention of helping its users.
The best way to describe Konker is like a raffle draw at a fair. You could either have:
your number drawn and win amazing prizes and get your money's worth (find a service that actually provides benefits to your business and you see actual improvements using it).
Or you could be drawn to win a little keyring and have wasted your money and time taking part (spent loads on a gig that promised awesome results but in reality, you gained nothing from it and lost money).
Still wanting more information on Konker? Read our full Konker review here and learn more about the platform today.
Fiverr vs Upwork
Upwork has become the go-to freelancer marketplace for businesses looking to create long-term relationships with people. Whilst Fiverr offers buyers gigs to choose from, Upwork only offers profiles of freelancers who could perform the task you are looking for.
Think of Upwork as similar to LinkedIn. You search the sector/speciality you want the person to operate within and Upwork presents you with the profiles of professionals who can help with your problems.
Keep in mind, when you higher a freelancer from Upwork, you aren't just hiring them for one job, but for a certain time. This can save money in the long run if you have multiple jobs needing to be carried out but can be really expensive if you only need the occasional job being completed.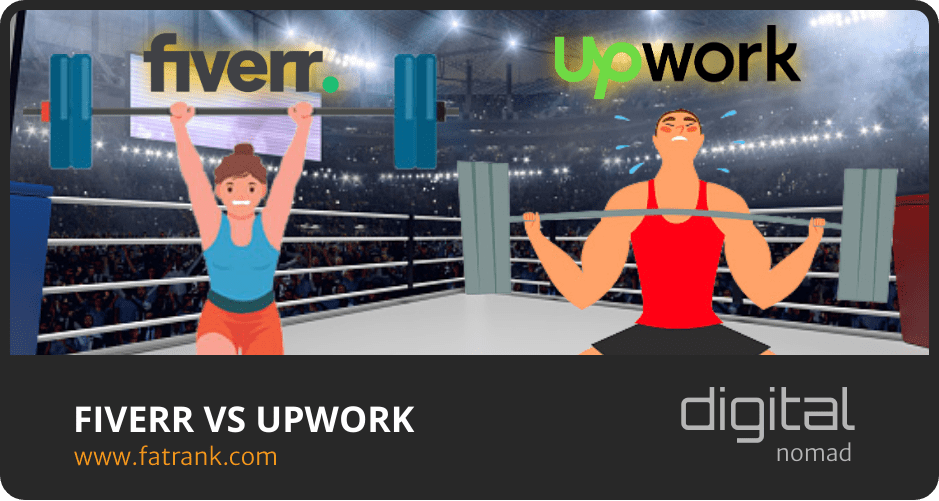 Upwork has a great vetting process for freelancers, making sure that only the best people are displayed on their website. Even though this can be good, it also lowers the number of possible people you can work with, as Fiverr has a much larger user base.
In addition, Fiverr offer services that cover a wide arrange of different topics. Upwork, on the other hand, seems to mainly focus on digital marketing aspects. Make sure to check with freelancers if they can carry out your jobs first before you
If you're looking to expand your business's workforce quickly and get professionals on the case, then I would suggest Upwork. But, if you're wanting just the odd job being completed for a cheap price, then Fiverr takes the lead.
Read our Upwork review today and see our opinion on the platform.
Fiverr vs Legiit
Being a recent contender in the freelance marketplace industry, Legiit has become a strong alternative for Fiverr users who are looking for SEO services to be carried out. As mentioned previously, Fiverr isn't the best place to get SEO services as they are often low quality and can have huge negative impacts.
Legiit is great because it solely focuses on providing SEO services and from our testing and utilisation of the platform, I have seen some great results from it. Of course, Legiit is a bit more expensive than Fiverr, but you really do get your money's worth from it.
All services I've used from Legiit have always been of good quality. For example, I bought a backlink package and was scared that the seller was going to provide low-quality backlinks, but it was the complete opposite and those backlinks have actually helped my site climb the rankings!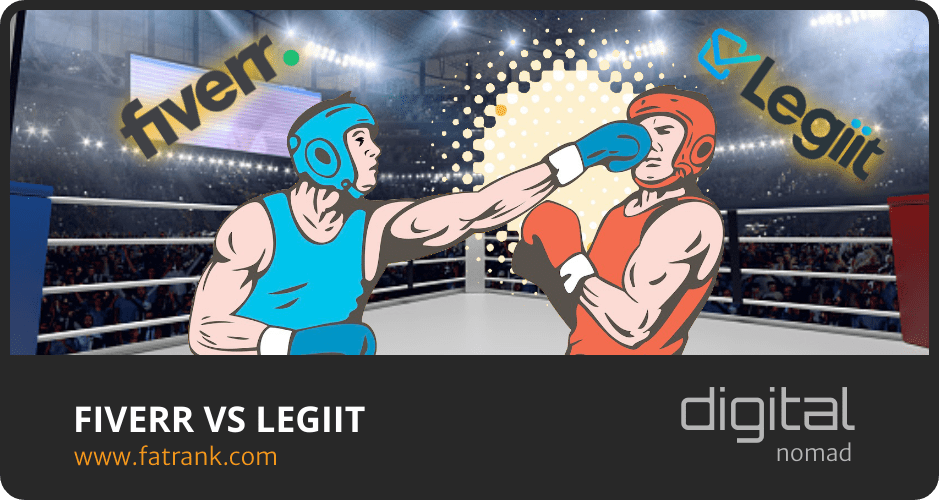 Legiit doesn't offer any other services apart from SEO, which means you'll have to use another online platform to get other services completed. Personally, I use a combination of Legiit and Fiverr to complete my daily business tasks, as both are really good for completely different things.
With design and security, both Fiverr and Legiit have easy-to-use websites and provide the same level of security, meaning you aren't risking anything when you use these platforms. Neither of them is better than the other.
The only problem I have with Legiit that Fiverr does well is how Fiverr has a stronger reach. Legiit isn't as well known, meaning not as many people use it, causing prices to be quite high and set. If Legiit was able to increase its reach, I would probably say that Legiit is slightly better than Fiverr.
If you're wanting any SEO-related tasks being carried out, then I would suggest using Legiit all day. But, for any tasks like graphic design or other non-SEO tasks, then utilise Fiverr to its maximum.
Our Legiit review covers all aspects of the platform, so make sure you read all about it today and see how it can transform your business.
Fiverr vs Freelancer
Freelancer and Fiverr have always had a fierce rivalry, with both platforms claiming to be the #1 freelancer marketplace for offering digital services. Both of these platforms offer similar services and implement similar features but there's one stand-out feature Freelancer includes.
Whereas Fiverr offers buyers gigs to choose from, Freelancer allows the buyer to post a particular job onto the platform. Once the job has been posted, freelancers can apply for the job by sending a message to the buyer, with their rates and estimated delivery time.
I've noticed that sellers provide the same quality of work on both platforms, meaning that Fiverr and Freelancer are similar in their quality. Of course, this depends on which freelancer you use and can fluctuate with time.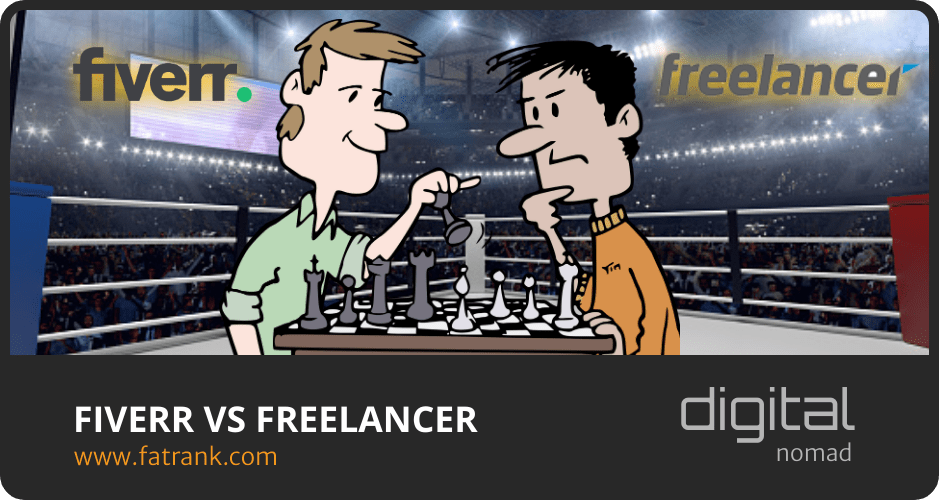 Having a feature like the one implemented by Freelancer is quite refreshing and can actually help massively when you're looking to get a service carried out that's really specific and niche.
However, Freelancer requires freelancers to pay a monthly subscription to use their service, meaning that the pool of freelancers who use this platform is limited. Compare this to Fiverr which has no joining fees, then you start to see how problematic this can be.
Due to there being a monthly subscription, many freelance services on Freelancer are quite expensive compared to Fiverr. I would only recommend using this platform if you can't find the right service on Fiverr and need something super specific.
Want to see a more in-depth Freelancer Review? Then make sure to check it out by clicking the link.
Fiverr vs SEOClerks
Another recent entry to the freelance marketplace industry, SEOClerks was created to help buyers find digital marketing-related services with relative ease. One thing I noticed right away was how SEOClerks has an amazing UI and I found it incredibly easy to navigate and get to pages I wanted to get to.
Not only is the UI great on SEOClerks, but services related to digital marketing (mainly SEO) seem to be higher quality compared to Fiverr gigs of the same description. In addition, the prices of gigs start from $1, which is remarkably cheap for SEO gigs.
But, price shouldn't be the driving factor for using this website. SEOClerks has been known for having some services that can actually damage your brand's SEO (buying their Facebook likes, purchasing low-quality backlinks, getting content etc.).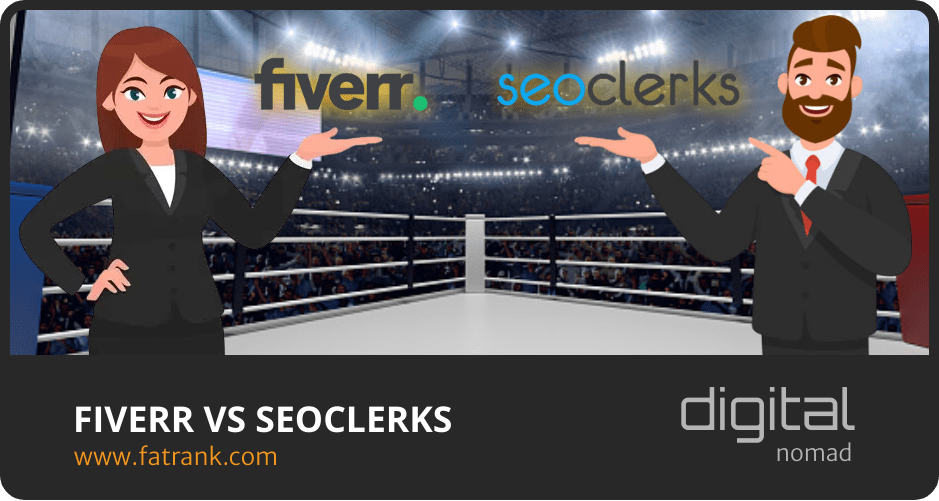 If you want a more high-quality service, then prepare to spend more money. SEOClerks doesn't have the same traffic compared to Fiverr, meaning sellers can increase their prices without the fear of competition cutting their prices.
Finally, SEOClerks has more reports of scammers and phishers than Fiverr does. When on SEOClerks, I recommend being incredibly careful and understanding that there is a few risks to using this platform.
I'd personally recommend using another platform, like Legiit, until SEOClerks improve on some glaring issues. But, if you're wanting reliable and good quality services for anything other than digital marketing related, then definitely Fiverr takes the cake.
Make sure to read our SEOClerks review to understand more about this platform.
Fiverr vs PeoplePerHour
PeoplePerHour has been around for a while and built quite the reputation for its platform. PeoplePerHour takes the approach of allowing buyers to hire freelancers on an hourly basis, compared to Fiverr's gig scheme.
Not only does PeoplePerHour use a different hiring scheme, but PeoplePerHour allows buyers to target freelancers from a specific country. Fiverr doesn't have this option, but I think it should really implement this.
Having the ability to target freelancers from specific geolocations helps massively if you need content written in a certain language or a seller who can communicate with you with relative ease.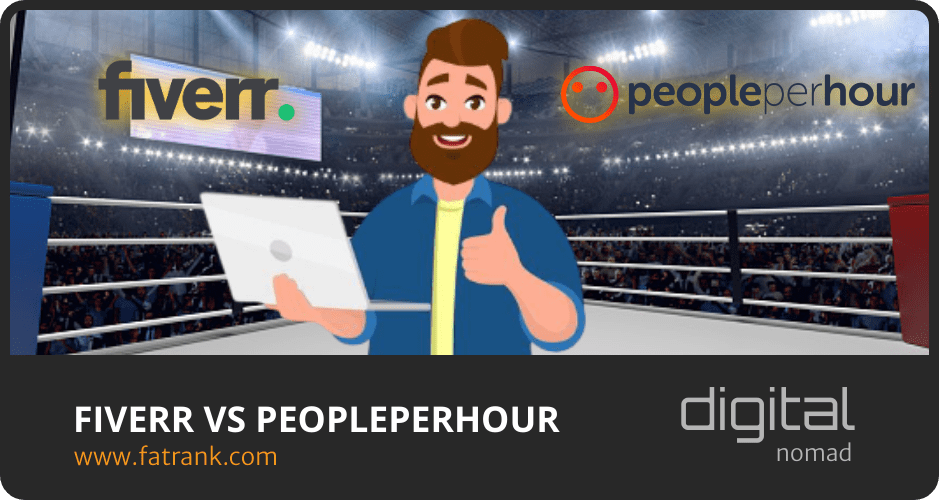 Sadly, there are some major problems with PeoplePerHour, mainly relating to the built-in dispute resolution structure. Whilst Fiverr offers both the buyer and seller ways to raise a dispute, PeoplePerHour only lets the freelancer raise the disputes.
I personally don't understand why the buyer has no control over the dispute process, but this can result in some messy problems occurring and damaged relationships. It seems that because of this feature, many users of PeoplePerHour have moved to different platforms.
Due to this problem, I believe that PeoplePerHour is not a good platform to use compared to some of the others I have mentioned throughout this blog. If I was you, I would stick to Fiverr and hopefully, they will include a geolocation filter in the future.
For more information regarding PeoplePerHour, be sure to check out our review of this platform here.
Final Thoughts of Fiverr
Let's face the facts, Fiverr hasn't gained its positive reputation and amazing brand reach for nothing. The platform has long been a leader within the freelance marketplace industry and in my opinion, it will continue to be the leader for a while longer.
Fiverr does most of the necessary things right, creating a great environment for buyers to purchase gigs with relative ease and no problems. Of course, there are some negatives, but once they have been tackled and improved, Fiverr will solidify its leadership in the industry.
I hope that this article has helped you understand why Fiverr is a great platform and what holds it back from being perfect. You should be able to make Fiverr work for your business if you follow our recommendations.
Make sure you check out our blogs on other freelance marketplaces and get educated on how each one can offer you different positives and negatives.
If you're still thinking "is Fiverr worth it?", then I would say give Fiverr a try. The platform has improved a lot since its first inception and as time goes by, it looks like it's going to improve further.
Start your Fiverr journey today, whether you're a freelancer looking to make money on Fiverr with your first gig, or a company looking to purchase some cheap and strong quality gigs.
All Online Marketplaces for Freelancers
Check out the in-depth list of online freelance marketplaces.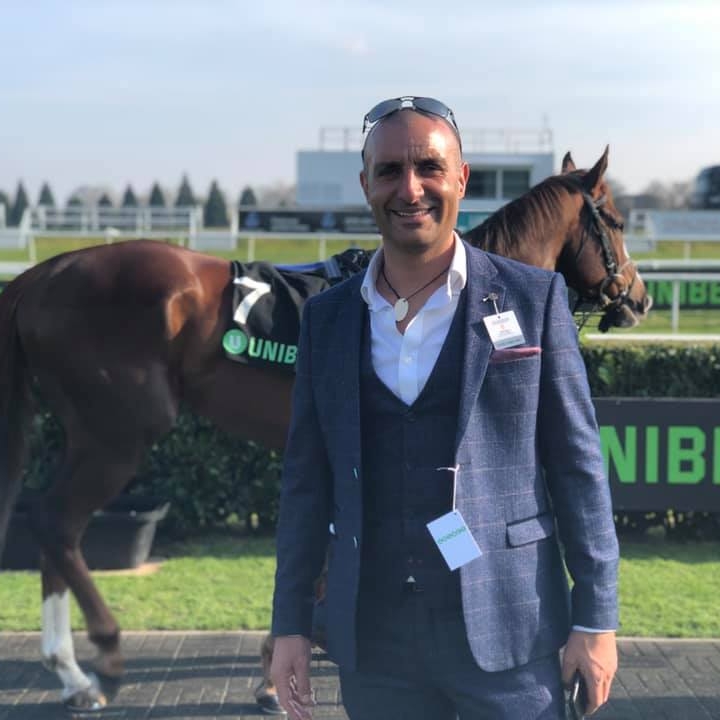 Digital Nomad
I'm a full-blown Search Engine Optimization specialist earning the majority of my income from SEO-focused endeavours, including affiliate marketing, lead generation, as well as SEO services. Love travelling the world networking while working on my laptop. Life is a perception of your own reality. You have no excuses and should be making memories every single day.
Recommended Story For You :