Here is our in-depth Cognitive SEO Review to show you why cognitive SEO tool is a must-have for all online marketing agencies.
If you haven't heard about cognitiveSEO, you must know that it is a Search Engine Optimization suite that offers a variety of tools for improving website performance. It promises to help achieve higher rankings.
Cognitive SEO Design
The CognitiveSEO features are designed for all sorts of needs and users.
It's helpful for medium and big businesses, consultants, pros and agencies but webmasters can benefit from it as well.
It's quite an in-depth tool with lots of data points that may seem intimidating when you first see them. Yet, as you dig deeper into the tool, you'll keep on discovering lots of useful charts and hidden gems and the whole experience will start feeling more intuitive.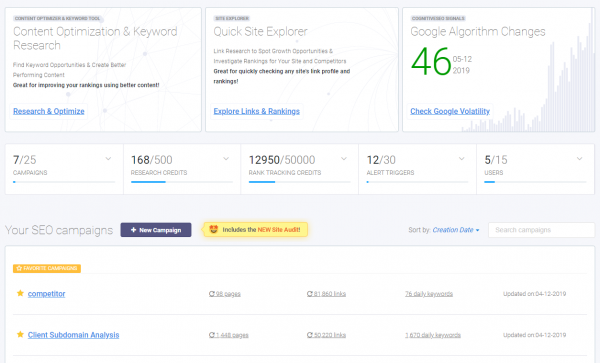 Features on CognitiveSEO
CognitiveSEO is actually a toolset, that is marketed as "the only SEO tool you'll ever need".
Here's what's included:
Site Audit
Link Analysis
Keyword Explorer
Content Optimisation
Rank Tracking
Site Explorer Tool
Google Updates Tracker
Content Optimizer Keyword Tool
Content Optimizer is one of my favourite tools.
The name of the tool is self-explanatory: you can use it to perform keyword research and the Content Assistant is an online editor that analyses your content and offers suggestions on what keywords you should use so you can rank higher.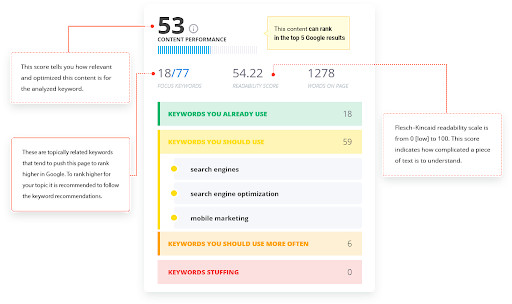 It's a simple and intuitive tool, yet, it has a lot of functionalities.
Once you have a keyword in mind you want to rank high for, you can start your analysis and here are some of the info you're going to get:
Search Intent
Content & Links difficulty (what type of content and how many links you'll need to rank high for that keyword)
The keywords & type of content your competitors used to rank in top positions
In-depth ranking analysis
Relevant keyword research info (search volume and the search trend of the keyword, cost per click, relevancy, topic, etc.)

Site Audit Tool
The Site Audit tools promise to resolve a lot of SEO issues. Add your website to the analysis and the tool will crawl it and show you what problems your website might have.
Here are some of the SEO issues cognitiveSEO will identify:
Broken links and link auditing problems
Duplicate content
Mixed content
Malware threats
Missing or incorrect hreflang tags
Website speed & loading time issues
Lack of or incorrectly AMP implementation
HTTP status code implementation issues
Missing description and broken images
Missing anchor text links and other related issues
Broken Javascript files
Canonical tag issues
XML Sitemap issues and many more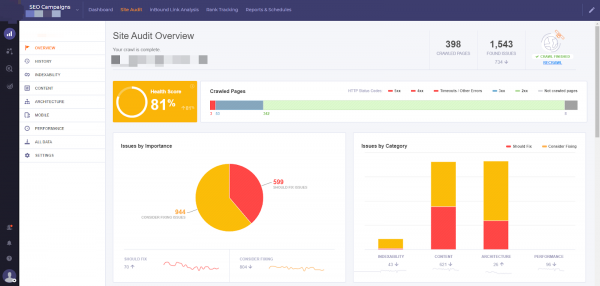 The Site audit doesn't just extract the issues but also categorise and prioritise them, allowing you to easily manage and resolve them.
I also like the fact that it allows you to crawl sites generated with JavaScript and the general health score is a sweet metric that looks nice in reports as well.
Backlink Analysis Tool
The backlink analysis might be one of the strongest tools from Cognitive SEO.
Almost all the data and charts that you can think of in terms of links can be found within the tool.
You can filter, compare, import, export, anything you want.

The unnatural links detection is a blast. It automatically creates a Google disavow file for you, ready to import and also allows you to import previous disavows.
For websites that were attacked by a negative SEO campaign or have a history with bad SEO link building in the past, it would be highly helpful to find out what type of links they have and remove the spam.
Here are some of the use cases for the inBound Links analysis:
Be notified when you receive new links or lose one
Get rid of spammy links
Perform link building
Find new link opportunities by doing competitive analysis research.
Get insights on the link building strategies of any site
Perform side-by-side link profiles analysis
For all of you that don't have the time to check the tool each and every day, create email notifications and have an email report (daily, weekly or as it happens) for more effective management.
Rank Tracker
The Rank tracking module can be used for monitoring the keywords that matter most to you.
You get what you need: mobile & local tracking on all countries and cities, on Google, Yahoo and Bing, on the frequency you choose (weekly and daily).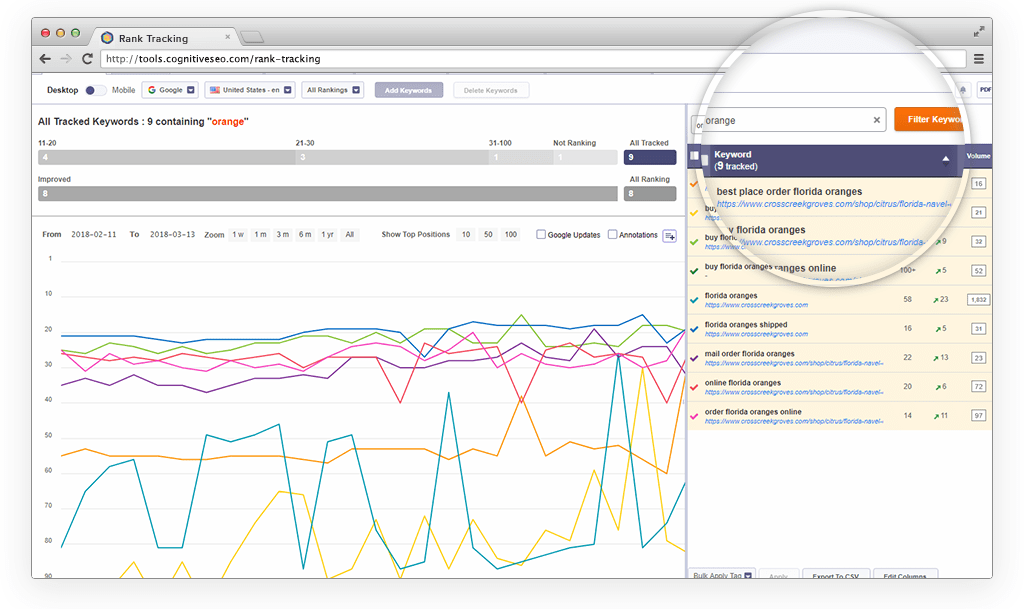 Summary
CognitiveSEO is a very complex tool any business owner or professional who wants to rank high on Google should try.
Here are its main benefits:
All-inclusive SEO tools suite
Content Optimization Tool is a blast
Site Crawl audit tool has good UI and if very efficient
Keeps your link profile clean using unnatural link risk algorithms
Negative SEO attack protection and Penalty Recovery
Private 1-on-1 live demos & trainings
Customizable pricing
Month to month payment / no long-term contract required
After a lot of testing on the tool, we feel it is not the best tool individually for all sections of SEO.
For content optimisation, we feel SurferSEO is better so check out our Surfer SEO Review to find out why.
On backlink analysis, we feel Ahrefs have the largest link database so check out our Ahrefs Review.
But as an all-round SEO Suite of tools then Cognitive SEO is certainly one of the best for online marketers and affiliates to use.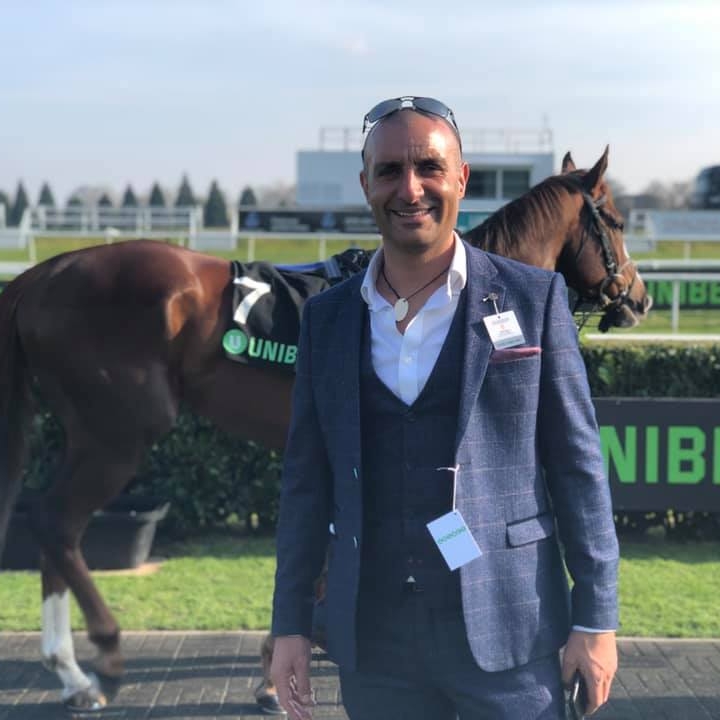 Digital Nomad
I'm a full-blown Search Engine Optimization specialist earning the majority of my income from SEO-focused endeavours, including affiliate marketing, lead generation, as well as SEO services. Love travelling the world networking while working on my laptop. Life is a perception of your own reality. You have no excuses and should be making memories every single day.
Recommended Story For You :