This article will give you a quick introduction to myself James Dooley.
I've been involved in digital marketing for the past 15 years. As an online entrepreneur running multiple companies based out of the UK. My objective has always been to enjoy the journey and live life to the full.
In this guide, I will run through everything from who am I, my vision, my background to what I do and my mindset from the challenges I have faced.
Who Am I?
The youngest of 3 sons I am proud to have two older brothers who are like my best friends.
Over the years I have failed more times than you can remember and my mentors drove me out of my comfort zone to do this.
Failing is good – embrace it and learn from your mistakes.
I play football several times a week for my local team Leigh Genesis FC and love socialising with my friends regularly.
I absolutely love SEO, participating in sport and partnering in several businesses with partners I treat as my family.
Check out a recent interview on my digital asset growth in being a digital landlord.
A great resource if you want to know more about James Z Dooley is to check out my life lessons article here.
My Vision
My working life goals are summed up here below in my vision statement where I want to be as successful as possible but most importantly doing it with a smile on my face knowing I have helped others also with their journeys:-
"To do things I love, with people I love, doing it in a way to be proud of. My job as an entrepreneur is to not accept no, ask why and turn it into a yes.

Live rich, die enriched by investing into things that will protect and develop my family, friends and make the world a better place. But the key is doing all this with trust, honesty and integrity"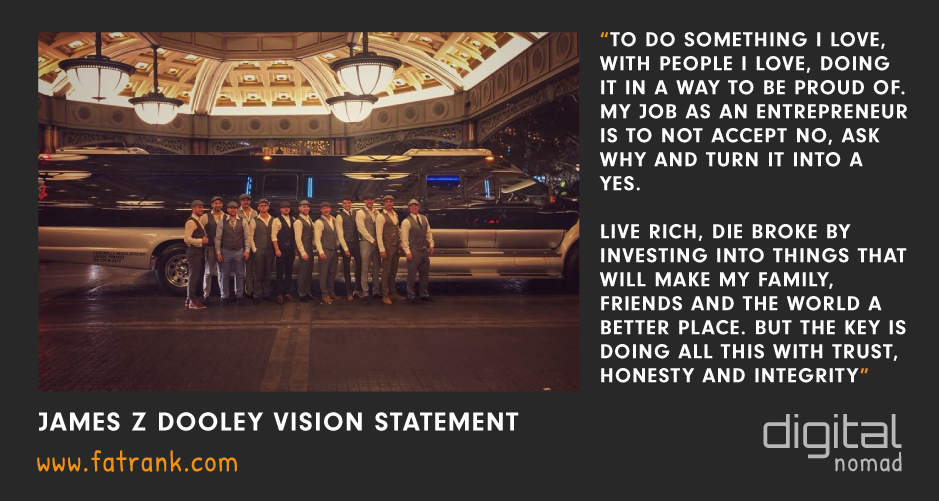 When I set up my online businesses I always try to follow this vision and my primary goal is to make sure my clients make a good return on investment and we have a good working relationship.
I am not worried about switching clients off if not, even if it makes a good profit for us!!
For a healthy fun balanced life I feel you need to do the following:
Spend plenty of time with your best friends
Spend plenty of time with your family
Spend plenty of time with your couples friends
Spend plenty of time with your partner (alone)
If you can juggle these 4 items above and graft at work you will win at life.
If one of the 4 items fail the balanced life starts to encounter problems.
Many make excuses like they are too busy or they don't have the work-life balance in place to be able to do this above.
But the truth is most fail because they are not willing to put the time in and take the action required.
What I DO
As an Online Entrepreneur here are the different ventures I do:
I am the Sports Director at Soft Surfaces Ltd working from our head office in Wilmslow
Founder of PromoSEO Ltd running digital marketing to assist my other organisations
Built out and own over 300 websites we do on a rank & rent model to contractors in the UK
Partner with Rick Hope from Statuo on a dozen big paid ads lead generation clients
Manage two call centres in the UK because understood the power of upsells and cross-sells in the lead generation sector
Founder of JMD Property Developments Ltd purchasing houses to rent out or renovate and sell for on
Owner of PromoMedia with my brother which operates traditional marketing in the UK
Founder of Dooley Investments Ltd investing in affiliate websites
Owner of this website FatRank which is a non-profit personal blog as opposed to business
CoFounder of PromoPixa which is a video production company
Chairman of Searcharoo which provides Search Engine Optimisation services
CoFounder of Boomtown Gaming Group which operates in the casino affiliate industry worldwide
Owner of Dooley Thoroughbreds horse racing syndicate with my two older brothers owning half a dozen high-class racehorses in Ireland
Currently in the process of setting up a zero profit-making charity to train students who might not have the chance to go University
Several other online ventures I cannot disclose because got NDA in place
Do you want to partner up? Or need investment in a big idea you have? I have the capital to invest if happy with the idea
My Background
My love for SEO goes back to 2008. I was asked to improve the Google rankings for my company and found the algorithms amazing.
It is so interesting how you can try to improve your rankings.
Check out our introduction to SEO to find out more about the basics of what can be done.
Over the years I have learned the hard way, outsourcing to many different agencies with minimal gains and recently have brought all the content writing, link building and social sharing platforms in-house which have worked a treat.
I have become a digital nomad as love to travel and network and the best thing is as long as I have a wifi connection I can work from anywhere in the world.
Read my article called living the laptop lifestyle which explains this a bit more.
BIG DISCLAIMER is forget the 4 hour work week and think it is all very easy. I graft my nuts off but that is just because I love what I do. For every success story there is 10 failed. But when you embrace failing that is when you will get exponential growth!!
Here is an article with the title the world is my office that shows some places in the world I have visited and worked on my laptop at.
This guide, shows the process of me travelling and developing my skills about how I became a digital nomad.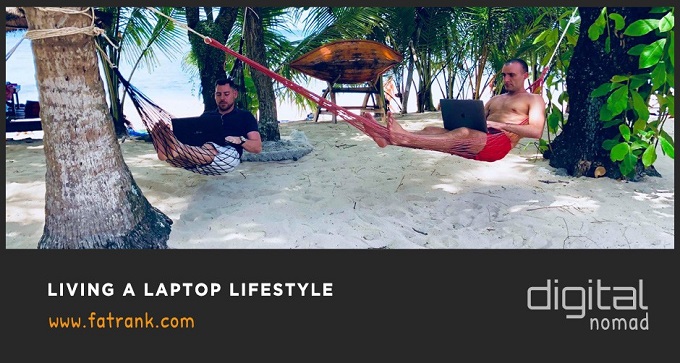 I now travel a lot of networking with the biggest growth hackers and affiliate specialists in the world.
These have taught me so many life lessons since being a digital nomad and I cannot stress enough how thankful I am for all my fellow growth hacking friends.
My Mindset
Anyone who knows me personally will understand my best attribute is my mindset.
I have a crazy work ethic and regularly get asked 'How the hell can you run so many things at once?'.
The easy answer is I love being stupidly busy and always since being a kid have never been able to sit down and chill.
If you are not improving you are falling behind
Every single day I want all my team to adapt, improve and progress further.
I strongly recommend every reader of this page to make sure you read these blogs:-
I think it is good to set yourself goals to work towards something but make sure you are living your life and enjoying the journey along the way.
The articles are to make sure you are not being lazy and that you are taking action every single day. I will leave you all with a recent status I read which hit home to me about mindset and making sure you treasure your time on Earth.
Remember, this morning if you are healthy, you are happier than the one million people that will not survive this week.

If there's food in your fridge, shoes on your feet, clothes on your body, a bed to sleep on and a roof over your head, you're richer than 75% of people in the world.

And if you have a bank account, money in your wallet, or a purse, or coins in a jar, you're in the top 8% of the world's wealthiest.

Don't settle for security, because a flat life line means we're dead. We cannot avoid the ups and downs, it's real life. But we can change the way we see them.

When we change the way we look at things, the things we look at change.

Stop existing, start living <3
Where Else Can You See Me Online
There are many places you can see me online with my ventures.
British Racecourses
I love horse racing and regularly provide content as an Author at British Racecourses.
As a racehorse owner then writing and sharing my knowledge on the best horse racing racecourses in the UK is something I enjoy doing.
Away Grounds
I play a lot of football and regularly provide content as an Author at Away Grounds.
With a love for football I also thoroughly enjoy writing about football stadium tours and the latest news on UK football information.
Boomtown Bingo
I enjoy visiting casinos and like to have a gamble from time to time and regularly provide content as an Author at Boomtown Bingo.
Another reason I love writing for BoomtownBingo is that the casino affiliate industry is seen as the toughest market for SEO.
Being able to compete in the toughest industries improve your SEO knowledge and as I have personal experiences on betting and playing in the casino I feel my knowledge to provide the most in-depth information and guides help us rank higher in Google SERPs.
Best Companies
I regularly create content as an Author at Best Companies.
As a lead generation company for over 300 companies in the UK, it was amazing to have the opportunity to contribute to best-companies.co.uk who provide real reviews and roundups of all the best UK companies.
Best Companies help save time to source the top-rated businesses in the UK for your service.
Soft Surfaces
I regularly create content as an Author at Soft Surfaces.
Having worked in the sports construction and playground industry for over a decade the knowledge I can relay online helps our customers make better choices.
The UK construction industry is booming and Soft Surfaces Ltd is a market leader in the Sports and Safety Surfaces industry.
Searcharoo
I regularly create content as an Author at Searcharoo.
As link building is a huge factor in ranking websites I thought it was a good investment to join Searcharoo.
The team carry out bespoke outreach white hat link building strategies to my money sites.
I love sharing the latest tricks and tips the Searcharoo team carry out in July 2022 in offering value to acquire votes back to my websites (i.e. backlinks).
Get in Touch
Please feel free to get in touch with me via my social accounts.
I hope you will enjoy the blogs and the experiences I have learned over the years and would appreciate you sharing any that resonate with you.
I'd love to hear your questions or suggestions about the different ways myself and my team can develop.
Recommended Story For You :