Throughout time, potential consumers have relied on family and friends' recommendations on which brand/service they should use.
With the advance of the digital landscape and the popularity of online shopping, word-of-mouth has transformed into online reviews.
Online reputation is key for any business wishing to succeed in today's day and age.
No longer do the business owners hold all of the power, as online reviews can make or break how a brand performs.
In today's post, we're going to take a dive into the world of online reputation management and understand how reviews play a vital part in it.
In addition, we'll also give you some tips on how to combat negative reviews and promote positive reviews.
What Is Online Reputation Management?
Online reputation management (ORM) is the practice of creating strategies that influence or shape the public's perception of an online brand.
Using ORM helps with promoting a positive drive to customer opinion about your products/services.
Creating an online reputation management strategy can be quite difficult, but there are certain strategies we've found that's helped improve a brand's online reputation.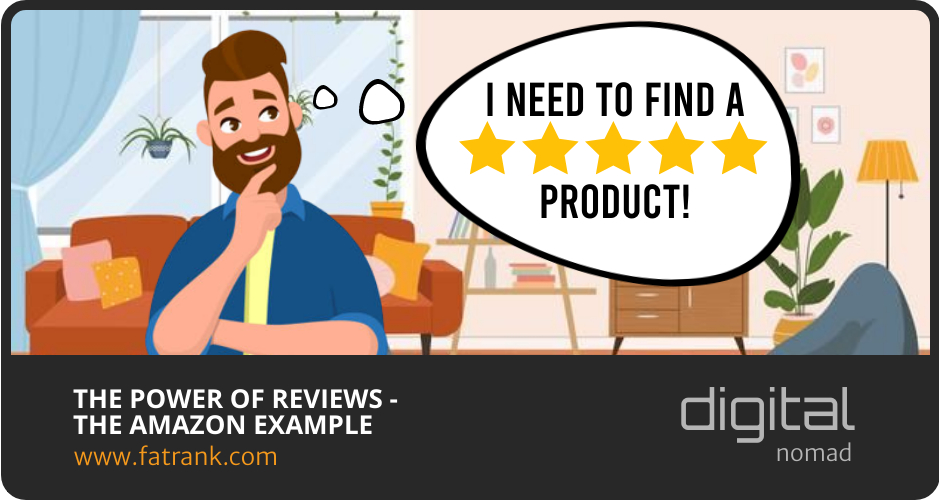 To show you the power of online reputation and how it can influence consumers, think about the last time you were shopping on Amazon.
You find an amazing product at a really cheap price and you're buzzing!
According to studies, at least 83% of you will look at the reviews before purchasing. If these reviews are mostly negative, I can assure you that you won't purchase the product.
The amazon example is a strong point about how important reviews are, as you can use pricing strategies and be in a popular niche.
If the public doesn't like your product; you'll never grow and expand.
How Do Online Reviews Affect My Brand?
Reviews help consumers decide whether or not they should use your company for their buying needs.
The more reviews a business has, the more customers have used this company (which helps establish trust between the customer and brand).
You may have noticed that when you last bought something online, you might have received an email asking for a review or maybe they offered you a discount if you created a review? These are ways businesses try to encourage customers to leave reviews.
Why not buy reviews for your business and skip the hassle of trying to convince the public to do it for you?
Not only does it help the consumers who are debating using your business, but it can be a great insight for a business owner into their own business.
Customer feedback is highly important for businesses who seek growth and expansion, as improving problems at an early stage stops them from developing into detrimental problems.
Review Sites
Reviews have become so sought after that even websites have been created to display online reviews left by customers.
These review sites get a lot of traffic and are a key factor in getting a great online reputation.
"I love reviews. Anybody who tells you they don't read reviews is a liar" – Elain Stritch, Actress
A lot of review requests I've received are often for sites like Trustpilot, Which etc. Having a good review displayed on a public review site is fantastic.
In addition, when people search for your company, some review sites will pop up in the search results.
Having a review posted on these sites means you can link out to your page on these sites but is linking out useful for SEO? Find out by reading the article.
When this happens, a lot of consumers will check out your reviews, so make sure that you monitor reviews and take into consideration any customer complaints.
How Do I Get More Reviews?
There are a wide variety of different online review strategies that a business can implement.
Each of them has advantages and disadvantages, but we'll go through the strategies we've tested and used, and will also tell you what's our go-to.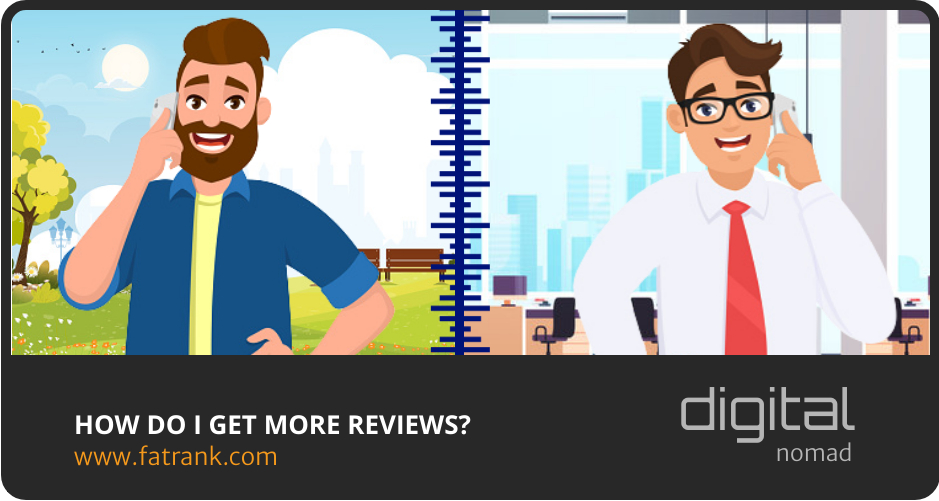 It's important to note that the strategies listed below are not the only ones that you can use.
Be creative and do some research and you're bound to find some others! But, some that we've used and tested include:
Encouraging customers to leave reviews
Using social media channels
Video Marketing Campaign
Buying Reviews
So, let's dive into each one and understand more about how these strategies can be used to maximise the number of reviews you receive and how they can impact your business (for better or worse)!
Encouraging Customers To Leave Reviews
As previously mentioned, when you encourage customers to leave reviews, you can do this strategy in a number of different ways.
Whether it's a simple request or bribing them with a reward, utilising this strategy can be hugely successful.
Usually, this strategy can provide a lot of positive reviews and can help establish a brand's online presence.
It's really effective for smaller companies you are just looking to start out and can help you improve customer experience.
In addition, if you bribe the customer with a discount on their next purchase when they write a review, not only will they shop with you again, but you can specify the length of the review and get a really in-depth review.
Try making the customer write their review on obvious review sites, like TrustATrader or Checkatrade.
Feel free to check out our TrustATrader Review and Checkatrade Review if you want to learn more about them.
If you get a negative review, you can display the exchange publicly and might even be able to redeem yourself.
A lot of customers trust online reviews displayed on these review sites, so make sure you handle negative reviews with professionalism.
However, this strategy isn't as perfect as it seems.
Firstly, not all your customers are going to leave you reviews. Some will just blatantly ignore your emails and be more focused on their day-to-day life.
In some rare cases, these types of emails can actually infuriate consumers and can lead to a negative impact.
"A great review is great. A bad review is the worst" – Don Winslow, American Author
Don't want to take this risk? Why not buy reviews? It's a lot more cost & time-effective for getting high-quality reviews!
Discover how Rate My Business can improve your brand reputation!
Secondly, you can still receive negative reviews and you could be providing unhappy customers with a quicker way to display their displeasure with the brand.
This strategy is fragile and can destroy your brand image if you haven't provided a good customer experience.
Finally, you won't be the only business using this strategy.
A lot of competitors online reputation strategies hinge on this one, which means bigger companies can easily squeeze you out of the market with their established customer base.
Even though this strategy is a good online reputation tactic, it can equally be devastating and/or not as effective as some of the others we've found.
If you decide to use this strategy, just be careful and make sure you have 100% confidence in your business/product.
Using Social Media Channels
A brand's social media platforms play a key role when they aim to improve online reputation and help massively with Brand SERP SEO.
You can reach millions of people with one simple post and can you can get some fantastic reviews.
On a brand's Facebook page, there's a review tab and you can try to direct your followers to leave you a review there.
Doing this will help any new customers who discover your business through social platforms to see great reviews.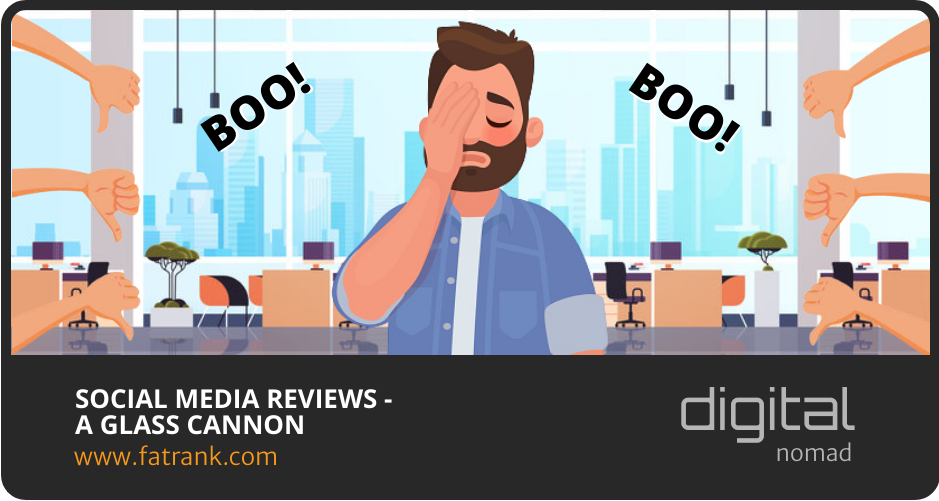 An important point to note is that social media channels do appear on search engines and can appear in search rankings for your brand's name.
Having a positive review on your socials can be super powerful and it can help social proof your brand. Some Search engines that display social media pages include:
Google
Bing
Yandex
DuckDuckGo
CC Search
On the other hand, social media can be the downfall of a lot of businesses due to handling criticism poorly.
Using this method does not mean you are immune from negative reviews and if you treat unhappy customers disrespectfully, your response can be shared and spread all over the platform, destroying your online reputation instantly.
As well as that, you can suffer from negative review attacks.
Some groups on Facebook, Twitter, Instagram, Tumblr and more dedicate themselves to finding businesses and just sending negative reviews to them for laughs.
We have created a fantastic page on how to maximise your Instagram profile, maximise your Tumblr and maximise your Pinterest accounts.
Be sure to check that out for some tips & tricks on how to spread awareness on that platform.
Just one attack from them is enough to destroy your online rep, as your social media channels will appear in the SERPs.
Even though some savvy customers might be able to see through these fake reviews, if they spot one bad review that looks legit, they'll leave instantly.
Finally, your social media channels can be hacked if you're not careful with passwords and other sensitive information.
Hackers can display hateful and offensive content on your page, which can cause negative reviews to pour in and destroy your business.
Overall, social media reviews can be a powerful asset, but can also be your biggest liability if your marketing team isn't trained properly on how to deal with negative aspects, like the ones mentioned above.
Be very careful with this strategy.
"A brand's social media is like a glass cannon. When everything works, it hits hard and effectively. But, when one thing goes wrong, it just falls apart and all your business is left with is shards of glass, leaving you at the mercy of the public." – Ben Proctor, CEO of Video Veggie.
Make sure you use social media management tools to keep on top of your social media activity and avoid making any silly mistakes.
These tools will help guide you into turning your social media channels into a powerhouse of traffic.
Video Marketing Campaign
Let me guess, you're wondering "how can video marketing help improve the number of online reviews I get"?
Well, you'd be surprised! Did you know that YouTube is the second biggest search engine, with Google being first?
With over 2.1 billion monthly users, customers are sure to find you through this platform.
When you promote a product on this platform, you can have users leave a review underneath and like the video.
YouTube SEO is really important to know to capitalise on this huge amount of traffic, so make sure you know how you can make your videos algorithm friendly.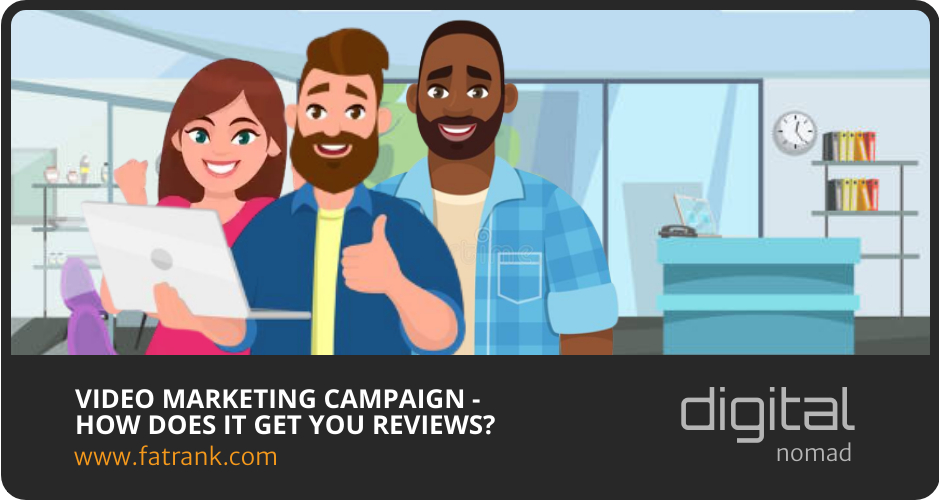 As well as that, users can share videos with friends and family through a wide variety of different digital platforms, giving your product and reviews more reach!
If you really wanted, you could even get marketing influencers to review your product/service on their channel and display the video on your website.
A lot of online tools agree that YouTube is a powerful tool for increasing your presence online and monitoring your own reputation.
In addition, you can remove negative reviews from videos and only display positive ones!
Compare this to monitoring online review sites and you'll see which strategy is the winner.
Like the other strategies though, there are some disadvantages to this strategy.
For example, even though it's great for improving a business's online reputation, it doesn't mean your channel will be easy to find.
With so many businesses using this platform, your videos can easily be overshadowed.
"Instead of focusing on the competition, focus on the customer" – Scott Cook, Director of eBay and Procter & Gamble
On top of this point, happy customers may leave detailed reviews about your brand, but if your video isn't getting shared or displayed on news sites based on your niche, no one will see them!
Finally, other online retailers know about the importance of video marketing strategies and some of the bigger companies would have carried out research on the topic.
Industry influencers who've become leaders within video marketing believe it's near impossible for small brands to become big on YouTube by themselves.
We've got some good news though, Video Veggie understands the importance of presence online helps.
Video Veggie are experts in ranking YouTube videos and directing real traffic to your videos.
For more information about this amazing service, be sure to check them out below!
Buying Reviews
Sounds fishy but buying reviews is actually a really effective method for combating negative reputation online and managing online reviews.
Our marketing strategies based on this factor have shown great results and they can help in a wide variety of different situations from GMB reviews to Facebook reviews.
These reviews include user generated content, meaning you can specify what is said about the business.
It's important to note that using this strategy can be risky if you're using an untrustworthy source.
Most suppliers will use bots and create unreadable and ineffective reviews for your business.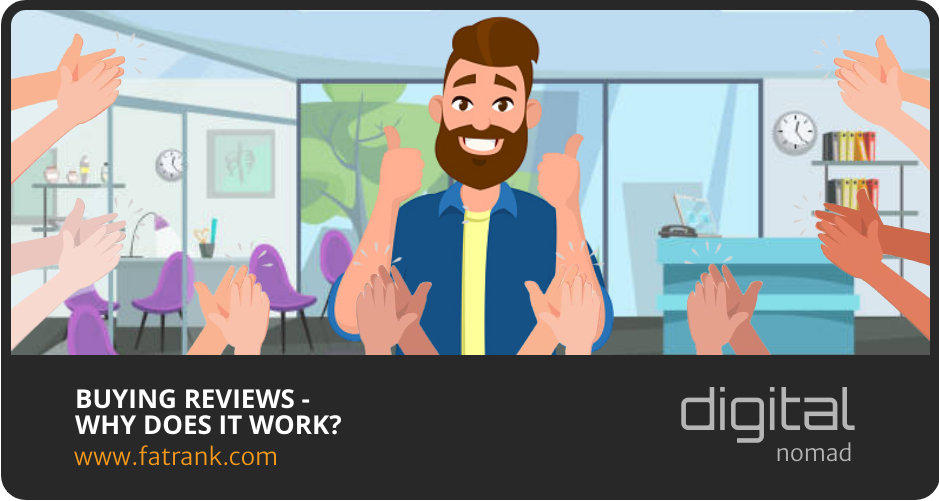 But, Rate My Business is one we've used multiple times and have had great results from.
This service has real people writing reviews for you that are optimised and always positive reviews.
Using Rate My Business can make competitors customers prefer obsolete, as your brand starts to skyrocket within the SERPs.
Check out our Rate My Business review here!
Why not check Rate My Business out now? You can learn about the full process they carry out to ensure that your business gets the most out of review reputation online!
Discover how Rate My Business provides amazing reviews!
Having good reviews is alright, but why not take control and write reviews yourself for your own business and have them improve your online reputation.
Along with that, these reviews won't be reported or removed as they are from genuine profiles.
"Great business to help with reputation management, would highly recommend these guys. One of the best services I have ever tried" – Andrew Halliday, CEO of Coreter Media
Marketing online is constantly evolving and this is becoming another step in the right direction.
Whether your beauty and fashion bloggers looking for more reviews to bolster your reputation or a tech company wanting to beat the competition, Rate My Business is here to help!
Final Thoughts
You can spend a billion dollars on your in-house marketing team but never get the results you want.
Online reputation takes years of research and testing, as well as a lot of money and time dedicated to it.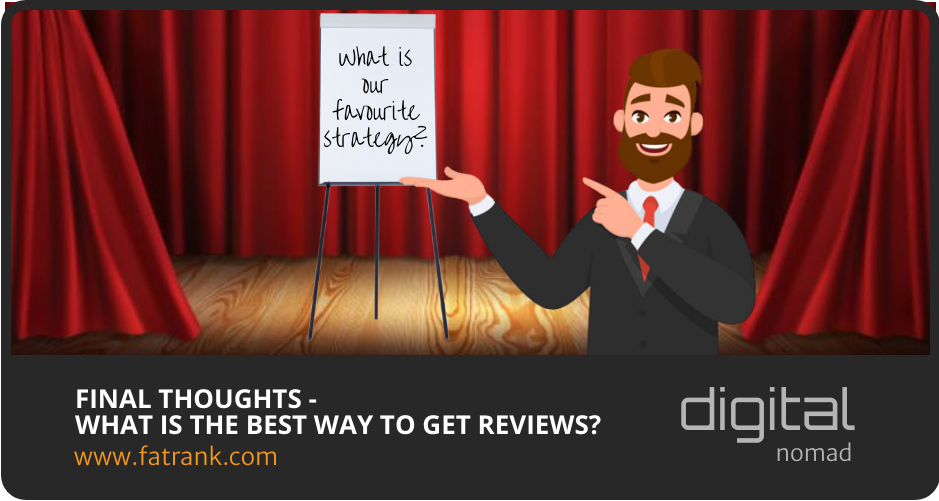 It's most effective to employ a full-service marketing agency when you're starting out or need to save costs.
We've given you some of the most popular online reputation strategies to help you improve your reputation online.
However, our favourite online review strategy has to be buying reviews and using Rate My Business.
Using this online reputation tactic is guaranteed to improve your online reputation and deliver the results you want.
Humans will always look for recommendations from other people and it's important that either your physical store or online store tries displaying recommendations that you've received.
Customer success is important to display to the public and with the world becoming more digital and content marketing predictions stating that online reviews are becoming a key factor in how a business performs, it's important that you improve your online reputation today.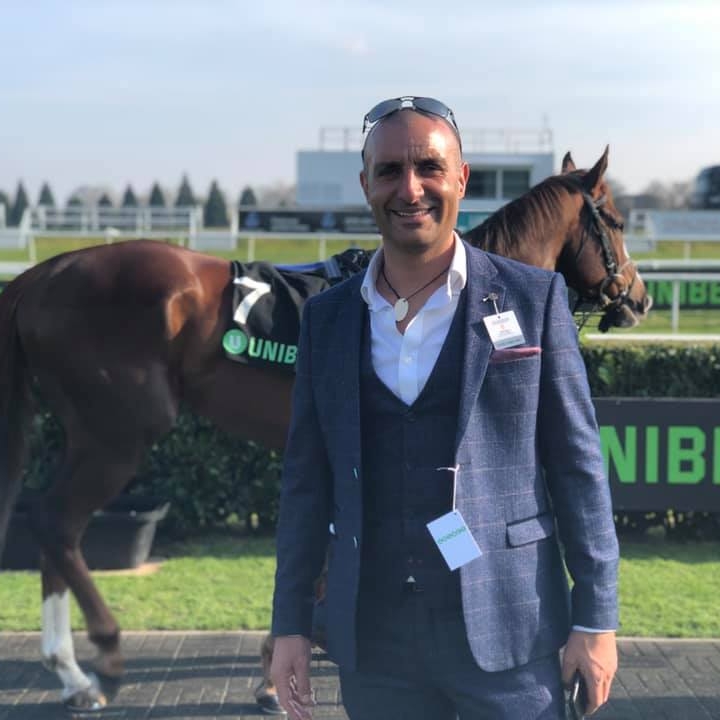 Digital Nomad
I'm a full-blown Search Engine Optimization specialist earning the majority of my income from SEO-focused endeavours, including affiliate marketing, lead generation, as well as SEO services. Love travelling the world networking while working on my laptop. Life is a perception of your own reality. You have no excuses and should be making memories every single day.
Recommended Story For You :