What is Pro Rank Tracker?
I believe the name already gave it away. However, we'll still do the definition as there is more to it.
Pro Rank Tracker is a web-based service that allows users to track their keyword rankings across numerous search engines.
The tool comes equipped with several other valuable features, including site audit and competitor analysis.
Currently, the tool is being used by over 60,000 organizations and SEO pros. This is a significant number, and before we even begin the review, it makes us aware of the level of trust placed in this SEO rank tracking tool.
This Pro Rank Tracker review will dive deeper into the Pool and reveal some of its most powerful features and rank tracking tools while also pointing out where they need to improve.
So I'm not going to bore you with the intro. Let's jump in and see what this SEO rank tracker has to offer.
Who is Pro Rank Tracker for?
Company size is a huge determinant here. While the rank trackers can be used by small and large companies alike, I'd advise going for more powerful tools if you're a huge company looking to do more than just tracking.
Startups and Small companies – These companies hardly have enough customers to help promote their products and, in addition to that, are faced with the problem of insufficient resources and revenue. Pro Rank Tracker can be essential in helping them carry out their online marketing and at very affordable rates.
Software As A Service companies (SAAS) – As they offer cloud-based services, such companies must possess a powerful rank tracking tool. Pro Rank Tracker does this and more.
Local companies – Here, we'll include restaurants, bars, legal, and even maintenance professionals. These businesses or service provision agencies need to do local search optimization constantly. Pro Rank Tracker allows one to track their keywords locally and use it to optimize their business site.
Bloggers – It goes without saying that a large percentage of traffic comes from organic searches. Sharing your content with friends can only get you so far. For that reason, instead of just writing, bloggers need to write search engine optimized content. Pro Rank Tracker can help writers achieve this and rank higher for the keywords they are targeting.
Competing brands – Pro Rank Tracker has a competitor analysis section that can help brands in a competitive niche.
Youtubers – Pro Rank Tracker allows YouTubers to monitor their videos' progress from ranking position to the number of searches. We'll look more into this later on, and you'll see just how incredible the tracker is.
Online marketing professionals – Pro Rank Tracker enables you to do extensive search engine coverage, tracking metrics and more. There is so much useful data on offer to SEO professionals with multiple price plans. Managing websites successfully requires in-depth keyword tracking and that's exactly what is provided here.
The Signup process for Pro Rank Tracker
Signing up for Pro Rank Tracker is a snap.
You start by picking your preferred plan then entering your names, current address, country, email address, and password.
After that, all that's left to do is make a payment, and you're in.
The process becomes even simpler if you choose to go for the free account as you won't be required to enter your credit card details.
To ensure that you're the owner of the email address provided, Pro Rank Tracker will send you a verification message that you'll need to confirm upon receipt.
Pro Rank Tracker Client area
When you log into Pro Rank Tracker for the first time, the client area is what you'll see first. You can switch to the dashboard by clicking the home icon or the dashboard button on your left vertical panel.
However, I'd like to walk you through some of the details here, particularly the colored icons displayed.
Ticket
If you experience any problem and would like to reach customer support, then you can get a ticket right here. There is a list of problems highlighted to ensure your question is answered to satisfaction by support. They include:
Technical and Bug reports
Questions on billing
Affiliate program assistance
Feature requests
If your issue is not among the ones provided, you can put it in the Other issues segment.
I'd advise going through the knowledge base before contacting support as there are several questions answered here. This can save you a lot of time.
The knowledge base is situated on the question mark on the top horizontal panel of Pro Rank Tracker.
If your issue is urgent or requires the first answer, then contacting support through live chat is the best option.
Those who love a live experience then schedule a live demo should get you one on one with a support representative.
Invoices
This segment lists all the invoices due, paid, cancelled, and refunded. Below the invoices is a section called mass payment. Here is where you can pay for the invoices that are due.
Pro Rank Tracker has two payment methods:
Services
This section displays your current subscription plan and whether it is active or not. You can upgrade to a higher plan or ask for cancellation here.
The segment also informs you of the recurring amount you need to pay, your billing cycle, payment method, and the date due.
If you happen to move out of the client area and reaccess it, you can click on the drop-down button next to your name.
Ease of use
Have you ever logged into any tool for the first time and couldn't even figure out where to begin?
Sometimes it happens out of excitement or a positive feeling, and that is understandable.
However, if it happens because of the dreadful arrangement of features and an unpleasant interface, there is an issue, and the site is likely to experience the ease of use problem.
If you were to look at most SEO tool review sites, especially where customers leave their own experience, you'd notice that there is always an ease of use metric. This shows just how important the factor is.
The creators of Pro Rank Tracker put a lot of effort into ensuring their ease of use is great for their clients.
Why do I say this?
First of all, Pro Rank Tracker has videos that give you an overview of their software and teach you how to do ranking within their tool.
This alone simplifies their tool for clients and improves their ease of use rating.
I also found the arrangement of features to be exceptional and is why Pro Rank Tracker stands out from the crowd.
They did not make a mess of their dashboard by throwing them all over the page.
The features were instead vertically arranged on the left panel, and this panel could be minimized to create more space and make the site look even simpler.
I did a couple of other regular tests to check their ease of use, such as rank tracking and reporting.
From the tests, I find out that the tasks could be performed smoothly and without any issues, even for beginners.
I would give Pro Rank Tracker a 4/5 ease of use rating.
Check out a screenshot from how precise their UI looks: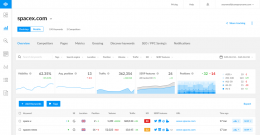 However, if you still have a hard time navigating through the site, then you can always reach out through their live support chat, and someone will help you out.
Pro Rank Tracker Setup process
To start the rank tracking process in Pro Rank Tracker, you'll need to head over to the URL & Terms segment in the left vertical panel. Here, you will find the Add Wizard button.
Step 1 
You first begin by selecting where you want to track your rankings. Pro Rank Tracker offers 6 options. These are:
Desktop results
YouTube results
Mobile results
Amazon results
Desktop and mobile results
Local finder results
After picking one of these, you'll need to enter the URL you're going to track. From there, you move to the next step.
Step 2
This step simply involves entering the search engine you'd like to track your keywords from.
Pro Rank Tracker has an extensive list of search engines. They include:
Google
Google Videos
Yahoo
Bing
AOL
Ask
DuckDuckGo
Excite
Lycos
Seznam.cz
Yandex
It's important to mention that Google is the only option amongst these search engines to check how you're ranking locally.
Step 3
This happens to be the most important section here as it involves adding your terms.
You'll notice that Pro Rank Tracker does not use the word keyword often. The word "term" is used in its place.
In this section, you'll add the number of terms you want to track and then finalize the process.
If you happen to be familiar with the rank tracking process, you can use the advanced add button to combine all these steps into one page. This will allow you to fill in the details faster.
Pro Rank Tracker features
Video Tracking
Pro Rank Tracker allows you to find out exactly where your YouTube video is ranking.
There is also Google Videos tracking on offer as well.
If your business has a YouTube channel, you're aware of the important role videos play in marketing your products and services.
Currently, YouTube is the second-largest search engine in the world. It garners over 3 billion searches every month, and this is the traffic you don't want to miss out on.
You can track your YouTube videos on Pro Rank Tracker by choosing the YouTube search engine while setting up your project.
You'll then be required to enter the URL of the video you'd like to track as well as the term it is ranking for.
From there, Pro Rank Tracker will start the rank tracking process.
When it's done, you'll be able to see your video's rank position, and every time you move either up or down, Pro Rank Tracker will show that move.
The rank tracker will also display the volume of searches you're getting for the video both locally and globally.
This information can help people who have a ton of content on YouTube because it's easy to lose track of some of your videos' rankings.
Local keyword tracking
You can't do local search engine optimization without first knowing where you rank within your local region.
If you're a lawyer, a local shop owner, a plumber, an accounting expert, or a private doctor, you need to be aware of your local position on various search engines.
This is because most of your customers will come from around your region.
Google takes into account various factors when ranking your business locally. They include:
Your Google my business page
Reviews
Backlinks
Images
When looking to optimize your business locally, then you might want to review the aforementioned factors within your site.
With Pro Rank Tracker, you can be able to know if the efforts you're putting into the optimization is actually bringing in results or not.
This can be done by simply looking at whether you've experienced a rise or fall in your search engine rankings locally after carrying out the optimization.
Daily updates
Even though you could be currently ranking amongst the top 10, it is never a guarantee that you'll stay there as Google constantly does updates.
These updates are normally detrimental to some and beneficial to others. You're never sure which end you'll land, so it's always important that your rank tracker does updates regularly to keep you informed.
Unlike other rank tracking tools that do updates after 3 or even 7 days, Pro Rank Tracker does it every 24 hours. This means you get information quicker and can act upon them faster than your competitors.
Few rank tracking companies provide as speedy updates as Pro Rank Tracker does, so their efficiency helps when managing search engine optimization and keyword tracking.
Site auditing
Pro Rank Tracker developers are constantly doing updates to their tool to make it as accomodating as possible. With those updates cames the site audit feature.
Most rank trackers normally don't have this feature as they base their tasks primarily under rank tracking. However, Pro Rank Tracker has a habit of giving more than what is paid for, and we love it for that.
It shows just how much they value their clients.
Pro Rank Tracker's site audit enables you to crawl your website pages, external URLs, and sub-domains.
When done, you'll get a score that shows just how healthy your site is. The higher the percentage score, the more robust your website is.
The score will be an average of:
You page quality
Tech and meta
Page structure
Link structure
Servers
External factors
In addition to providing all this information, Pro Rank Tracker will give you a list of SEO improvements that can be done to better your website.
As this report is essential for search engine optimization, you'll be allowed to download the full report to view later on.
SERPs checker
Pro Rank Tracker allows users to view the top 100 SERPs for their target terms.
You'll be able to spot where your site currently appears as well as those that are above and below you.
You can also limit the SERPs to feature only the top 10, top 20, top 30, or top 50.
What's even better is you can use the whois feature to check your competitor's site details such as domain name, location, and email.
Keyword suggestions
Every term you enter within Pro Rank Tracker will be further evaluated by the keyword suggestion feature to give you variations of the keywords you can add to your list.
Pro Rank Tracker allows you to include the suggested keywords among the terms you're tracking for desktop or mobile. If you're doing local rank tracking, then you can add the keywords to your local finder.
Mobile app
We might not always have access to a desktop, and for that reason, Pro Rank Tracker has a mobile app developed for both android and iPhone users.
The app gives you access to every detail you might want to know concerning your search engine rankings at the click of a button. This makes Pro Rank Tracker quite convenient and reliable.
People who run big businesses are often faced with issues that they have to solve quickly and effectively. Having all the data inside their pockets ensures that the decisions made are well-informed.
Several languages available
Although English is the most widely spoken language globally, there are still billions of people who don't use it. Therefore, adding other languages helps those people understand your tool better.
Moreover, this makes report presentation easier for organizations that use such languages.
Pro Rank Tracker has several other languages available for users. They include:
Danish
Turkish
Swedish
Spanish
Portuguese
Japanese
Italian
German
French
Dutch
Reports
Whether you're checking the SERPs, keyword rankings, or doing a site audit, Pro Rank Tracker always gives you the option of downloading the report.
Now, if you were to move to the reports section on the vertical panel to your left, you'll be able to view all the reports you can generate. They include:
Overview reports
Progress reports
Comparison reports
Benchmark reports
Client reports
Automated reports
Furthermore, Pro Rank Tracker allows you to customize the reports in a way that can reflect your brand. You can change colors, adjust the header, include a cover letter, and add a footer.
Plugins
WordPress plugin
If you're a WordPress user, then you'll be glad to know that this rank tracking tool has a WordPress plugin you can install once you sign in to your admin account.
Once installed, you can be able to monitor your traffic right from WordPress.
This helps a lot as it reduces the trouble of moving from WordPress to Pro Rank Tracker every single time.
Advantages of Pro Rank Tracker
Accurate rank tracking.
Great customer support. You can book a free demo to talk with support live. Also, their support offers a personal account manager to the enterprise members.
You get a free account to test the tracking tool first.
You can review your data anywhere through the mobile app.
Favourable price compared to other tracking tools.
The keywords you're tracking are updated daily.
API is available.
You can extensively review your website via site audit.
Pricing
Before we even get to the plans, I'd like to mention that this rank tracking tool has a free one-week trial. With it comes all the features offered in the premium plan, 20 terms, and 2 URLs limit.
Pro Rank Tracker has 5 plans you can pick from. The monthly prices and the number of terms for each of these plans are:
Basic – $25 (2000 terms)
Starter – $49 (500 terms)
Standard – $89 (1000 terms)
Advanced – $129 (2000 terms)
Business – $180 (3000 terms) – You can adjust the number of keywords here to your liking.
If you opt to pay annually, then you're guaranteed a 10% discount on the monthly prices.
Wrapping up
Rank tracking is a core part of search engine optimization.
Pro rank tracker is the most professional keyword tracking service as it provides all the necessary features you require to do accurate keyword rank tracking.
In addition to that, you get extra features like website audit and competitor analysis.
This review has looked at everything about Pro Rank Tracker, from pricing and even customer support.
To ensure the review is conclusive, I also did a bit of research on the pro rank tracker reviews left by other customers before writing this. In general, the reviews were positive.
With such knowledge, I believe you can make a well-informed decision on whether to get the rank tracker or not.
I think it's an amazing rank tracker and is certainly a valuable asset to possess if you asked me.
More Information
Did you like our post and want to read more reviews about other tools that you can use to track your keyword rankings?
Take a look at the rest of the trackers we have tested and reviewed:
Don't forget to also take a look at our MASSIVE guide on the best rank tracking tools for 2023.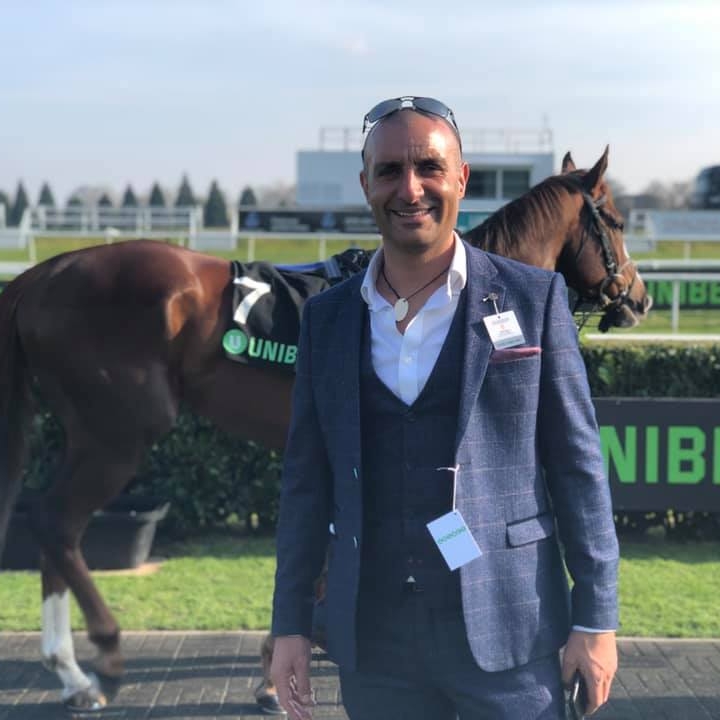 Digital Nomad
I'm a full-blown Search Engine Optimization specialist earning the majority of my income from SEO-focused endeavours, including affiliate marketing, lead generation, as well as SEO services. Love travelling the world networking while working on my laptop. Life is a perception of your own reality. You have no excuses and should be making memories every single day.
Recommended Story For You :