People Per Hour is an online freelancer marketplace offering its services on a pay-per-task model.
The People Per Hour online freelance platform was recently voted one of the top marketplaces for online freelancers in 2022.
In our People Per Hour Freelancer Marketplace Review, we explain everything you need to know about the services, costs and feedback for the People Per Hour services.
What is PeoplePerHour?
Founded in 2007 by Xenios Thrasyvoulou, PeoplePerHour has become the biggest freelance marketplace within the UK and one of the biggest freelance platforms in the world.
PeoplePerHour provides thousands of different services, making it one of the most versatile freelancer marketplaces.
Throughout the 15 years of its life, PeoplePerHour has altered the platform to become a shining example of how freelance marketplace websites should be.
By adding a wide variety of different factors, this freelance marketplace is definitely a different platform compared to the rest.
PeoplePerHour aims to provide companies with a platform where they can outsource time-consuming tasks to remote workers all around the work.
PeoplePerHour has over 2 million freelancers ready to help you get your jobs done in a quick and effective manner.
Being one of the oldest online freelancer marketplaces, it's no surprise why PeoplePerHour has gained such an awesome reputation.
If you're wondering how this platform has become the benchmark for most platforms to follow, then make sure you carry on reading this review.
Once you know why, you might even consider utilising this great platform and reaching new heights with your business.
PeoplePerHour Review
Understanding the basic concept of PeoplePerHour is vital to know before we begin to delve deeper into the platform.
I also want you to understand that these reviews are simply my opinion.
This isn't a sponsored post or a guest post, but an unbiased and balanced review.
This means all the information you read on this page hasn't been distorted through payment.
One final point I want to make is that this review is for buyers on the platform, not sellers.
My experience as a business owner puts me in a great position to give you advice on how this platform can transform your business.
I have no experience in freelancing, so I don't know many factors freelancers want to know.
Every review I write has one simple aim:
FatRank reviews should provide users with an in-depth review of a service/product but never force the reader to act on anything.
The aim listed above has become a vital fundamental for all FatRank reviews and we aim to uphold this in today's review.
We will always recommend great services/products to our readers but it's up to you whether or not to use them.
Now that we've got all of the disclaimers out of the way, I think it's time we take a deep delve into PeoplePerHour and understand how good this platform is.
Hire Freelancers On PeoplePerHour
If you've read our previous reviews, you're probably used to a freelance marketplace platform providing clients with a huge amount of different gigs to choose from, right?
Well, PeoplePerHour changes the game by providing a new and unique way to get freelancers.
Instead of choosing from a list of gigs, PeoplePerHour asks clients to create a job post.
Creating a job post allows you to describe specific tasks and gives you the power of setting a price (by declaring your budget).
Of course, you can still choose from a list of gigs, but I would personally advise using the "post project" option.
Being able to have your jobs posted is a neat feature as it allows the freelancer to tailor their services to meet your needs.
Maybe you might need jobs completed multiple times?
Well, you have the option to pay the freelancer at an hourly rate.
Having the option to pay per hour can make the job a lot cheaper in the long run and allow for repeat usage.
In addition, you can also add advanced filters like:
Location of freelancer
Project visibility (either public or to a small selection of freelancers)
Add interview questions
Estimated project duration
Utilising these options can allow you to get your perfect freelancer and gives you (the buyer) more control over the process.
No other freelance platforms offer such control over the sellers and it's nice to have such an option available.
The quality of work that is done on this site is incredible.
Most projects that I've done through PeoplePerHour have been completed to high standards, leading me to create some fantastic relationships with some sellers.
If the review was to end here, I'm sure you'd all jump to the site and start getting your work done there; but sadly, there are some downsides with this platform too.
For starters, a large number of spam accounts have been reported in recent times.
This means that some freelancers you work with could cause more damage than good to your website, so be extra careful when looking at any proposed freelancers.
As well as the occasional PPH account being spam, not a lot of gigs are actually available to purchase.
This might be due to the fact that a lot of people are focusing more on posting a job feature, but the gigs seem to be lacklustre.
Finally, freelancers are put into 6 different certifications:
Level 1
Level 2
Level 3
Level 4
Level 5
Top
The higher the certification, the more expensive the freelancer will be to hire.
In some terms, you could end up paying £500 for just one piece of content for a cert 5 freelancer.
The lower the certification though, the less experience a freelancer has on the subject.
This can be really frustrating for those wanting a high-quality gig for a cheap price.
Advantages & Disadvantages Of Hiring Freelancers On PeoplePerHour
Throughout this review, you'll find these handy sections. The aim of this section is to list both the advantages and disadvantages of each factor in a simple format.
Try your hardest to remember these points as they are vital to know if you're wanting to make a well-informed decision.
Advantages
The job posting function allows you to be specific about a certain job
You can filter freelancers with the advanced options
The average quality of work is great
Disadvantages
Spam accounts have become prevalent on the website
A limited number of gigs to purchase
For high-quality freelancers, you can end up paying extortionate fees
Freelancers On PeoplePerHour
Freelancers are the lifeblood of freelance platforms. Without good freelancers, online freelance marketplaces are bound to crash and burn out.
Luckily, PeoplePerHour has a strong base of freelancers and the majority of them are class!
Every freelancer on the platform has a profile, which lists a wide range of different factors, which include:
Location & Language
Bio & Skills
Portfolio & Gigs
Last Active & Response Time
Projects Worked On & Buyers Worked With
Certification Badge
Having all of this information available to you is great for helping to decide which Freelancer to use.
These profiles also include recent reviews on work they've carried out, so you can get a good idea of what other people think of them.
Another great point is the vetting process implemented by PeoplePerHour.
Freelancers are required to submit an application to PeoplePerHour and have it checked by an actual human.
I have to admit, this is probably the best vetting system out of all freelance platforms.
Any profile rejected by PPH has shown signs of malicious behaviour and/or spam.
Finally, most gigs listed by many freelancers are done relatively quick.
The reason behind this is that most of the freelancers on this platform are experts within their fields, so they know exactly what to do.
It's really refreshing to have a platform that hosts hundreds of thousands of experts.
Freelancers on People Per Hour are incredibly effective and a great service to implement into your business. However, not everything is perfect with freelancers.
The first pain point I have is the high platform fees set for freelancers.
Due to this, a lot of freelancers won't work too cheaply.
This can cause a simple job to cost more when compared to similar platforms like Fiverr or Legiit.
If you choose a cert 3 or higher, you can expect an extra cost.
Fees can get really expensive depending on how experienced a freelancer is in your area of work.
Secondly, just because you posted a job on the marketplace doesn't mean that you're guaranteed that people are going to apply for it.
For example, I posted one job a year ago and it never got one person applying for it.
The more specific the job, the less amount of freelancers who are going to apply for it.
Lastly, even though the vetting system is amazing, you can come across the occasional scammer.
PeoplePerHour has told its users to act vigilant towards any suspicious-looking profiles, but in some cases, you can't help avoiding them due to their convincing profiles and gigs.
Advantages & Disadvantages Of Freelancers On PeoplePerHour
As mentioned above, I think the vetting system implemented by PeoplePerHour is fantastic and does a good job of getting rid of malicious users and making PeoplePerHour legit.
Sadly, it's not 100% effective though.
Even though the majority of freelancers are fantastic, there are a few who will just try and get you to pay them.
Advantages
Freelancer's profiles are detailed and informative
Certification levels display the level of expertise a freelancer has
The vetting process is fantastic
Most gigs have a quick delivery time
Disadvantages
Platform fees are exceptionally high, causing freelancers to charge more
Posting a job doesn't guarantee that people will carry it out
Occasional scammers are present on the website
Customer Service On PeoplePerHour
I'm sure you understand the importance of customer service. Having a fantastic support service in place can help any users resolve issues and retain them, making them loyal customers.
PeoplePerHour obviously understood the importance and created the help centre. The help centre is a fantastic resource, offering users informative articles and community posts to get involved in.
I have to admit, I've used the help centre a few times and I've been really impressed with the number of topics that have been covered by People Per Hour.
In addition, the help centre provides some great resources for new members on how to navigate the site safely and effectively.
The help centre isn't the only useful support avenue, but you can also contact PeoplePerHour through Facebook, Instagram and Twitter.
Response times on this platform are a lot faster and you can keep up-to-date with the updates and other useful knowledge nuggets.
Finally, customer service has been reported to be quite biased towards the buyer and seems to prioritise them over sellers.
Of course, this is a huge disadvantage for sellers; but this is a massive advantage to the buyer, allowing problems to be solved the way you want.
If I left it here, you'd probably think that the customer service is perfect, right?
WRONG. PeoplePerHour has some glaring issues with their support and I honestly think it needs improving before it's too late.
Firstly, the customer support team. The members that make up this team seem really unmotivated and careless about your issues.
In some cases, they can be rude and make the situation worse by chastising you for your decisions. It honestly is poor customer support service.
Secondly, any issues regarding payment disputes or tech problems aren't resolved quickly enough.
Most likely, you'll be waiting weeks before you receive a generic reply telling you that "it will be solved", but it never is.
Finally, if you're wanting to contact customer support directly, then you only have one avenue you can go to.
Email. Honestly, I've waited months until I got a reply to a simple question from the support team, so I would avoid this avenue at all costs.
Advantages & Disadvantages Of Customer Service On PeoplePerHour
Overall, I would personally say that the main area that PeoplePerHour struggles with is customer support.
When their support system is compared to other platforms, it seems that PeoplePerHour is far behind.
If they can improve this factor, I can see a lot more users sticking with the platform.
Advantages
The help centre is great for simple questions or problems
Social media channels are constantly updated and great for contacting support
Customer support seems to favour the buyer over the seller, offering more buyer protection
Disadvantages
The customer support team are really blunt and sometimes rude
Any issues regarding money or tech are hardly solved
Emailing the support team can take months before you receive a reply.
PeoplePerHour's Design, Security & Reach
Any website that wants to thrive within the digital landscape needs all three of these things:
Strong website design
Fantastic security system
Amazing exposure to the world
As each 3 of these factors doesn't require much to say, I've decided to group them into one big section.
Make sure to check out these 3 factors as it's important that an online marketplace has these three things in order.
PeoplePerHour's Web design
Every website should have a strong design put in place to help it attract new users, as well as retain them.
Having a bad website can easily destroy a brand's reputation and bring your business to its knees.
PeoplePerHour's website design is really nice.
Utilising a minimalistic design with two main contrasting colours (white & orange), this website does an amazing job of attracting your attention to this site.
The UI has been developed well, letting users of the site navigate through it with ease.
I have to admit, I'm a huge fan of the design implemented by People Per Hour and it clearly shows how much the brand cares for its website.
Creating a homepage can be a difficult task, but PeoplePerHour has done a fantastic job conveying all the necessary information on one simple page.
Going through the homepage, you can find features such as:
Popular categories & gigs
Testimonials
Expert freelancers
Mentions from big companies
Statistics
Whilst writing this review, I was trying so hard to find a problem with this website design due to how great it is.
The only issue I could really think of is just making the support page a bit clearer as it's currently tucked away at the bottom of every page.
I have to admit, I think PeoplePerHour has one of the best website designs I've seen in a while.
Again, if they moved the support page link to a more noticeable position, I would say it's perfect!
PeoplePerHour's Security System
PeoplePerHour has to be one of the safest freelance marketplaces I've ever used. I've run tests and the following six safety analysing softwares agree with me. These six include:
W3Tools
Norton ConnectSafe
Google Safe Search
Google Safe Browsing
McAfee WebAdvisor
WOT (Web Of Trust)
Having so many trusted safety softwares vouching for PeoplePerHour is a great sign of trust and proves that this site is safe and secure.
In addition, PeoplePerHour owns an SSL certificate.
This certificate was provided by Amazon and represents how People Per Hour encrypts your personal and financial data from hackers.
To be honest, I can't actually find any problems people have had with the security and how ineffective it is.
Of course, some malicious users can still access the website; but getting rid of every spammer and phisher is near impossible.
But, PeoplePerHour does a great job at stopping the majority of malicious users from gaining access to the website; keeping it a safe environment.
In addition, I haven't ever experienced any security problems when using the website.
Overall, I personally believe that PeoplePerHour has one of the most secure websites within the freelancer marketplace industry.
Honestly, I can't really see any room for improvement on this front.
PeoplePerHour's Reach
PeoplePerHour was developed within the UK and was the go-to place for UK residents to outsource their work to freelancers.
As time has gone on, PeoplePerHour has become more popular within the US and Europe as a whole.
The traffic has a nice split between numerous different countries, showing how global this platform really is.
After all, this freelance marketplace has 2 million active users, making it one of the most popular platforms.
PeoplePerHour has also followed in Fiverr's footsteps by creating a mobile app.
This mobile app is a really nice addition to the website and allows users to check in on orders whilst they're on the move.
However, I do think there's some room for expanding their exposure and increasing their user numbers.
Firstly, I think People Per Hour should implement a strong marketing campaign. I constantly see Fiverr ads but have never once seen a PeoplePerHour ad.
Not only should the marketing be improved, but their exposure within marketing groups.
How about creating special offers for new members and including a stronger referral programme?
Doing this should attract more users and increase brand awareness.
PeoplePerHour definitely has strong brand exposure, but it could be even stronger.
It's vital that PeoplePerHour understand this importance as if they carry on waiting, they'll eventually be stuck (like Konker).
PeoplePerHour: Final Rating
As I'm writing this review, it really isn't any surprise why PeoplePerHour has become a favourite among the community.
Ranging from great freelancers to fantastic web design, this freelancer platform deserves the praise it gets.
From personal experience, PeoplePerHour has delivered amazing results and helped me build some fantastic relationships with sellers.
I've been a user of the platform for 3 years and will continue to utilise this platform for all my long-term needs.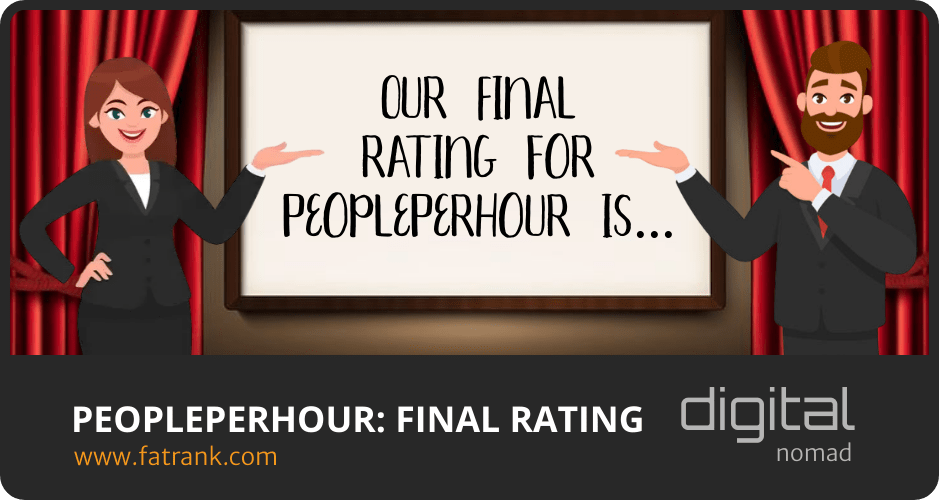 I can really see PeoplePerHour being a benchmark within the industry and claiming the #1 crown from Fiverr, it's just about how well they can carry themselves in the future.
Of course, there are some disadvantages though. My only major gripe with this brand is the support system.
If it can be rehauled and redeveloped, I would give this platform a 5/5 all day!
But, there are some other platforms that can offer a similar service with a stronger support system.
In conclusion, I've decided to give People Per Hour a 4/5.
I honestly love most aspects of this platform, but with the glaring support issue, I can't really give it any higher than this.
Hopefully, PeoplePerHour will sort this issue out and I can give it the 5/5 it deserves!
PeoplePerHour Alternatives
With every year that goes by, a new freelance marketplace website infiltrates the web.
It can be really overwhelming when it comes to choosing which platform is the best for you, and can provide the results you want to see.
I've decided to create this section to help you understand the comparisons between PeoplePerHour and other popular marketplaces.
When you hire freelancers from these platforms, you want to make sure that the marketplace is safe and effective. By reading ahead, you can get a better picture of how they operate.
If you want any more information on certain platforms, then be sure to click the links provided and get educated.
PeoplePerHour vs Konker
PeoplePerHour and Konker both offer freelance work based on digital marketing and provide clients with great quality.
It's important to note though that Konker specialises in digital marketing and their sellers are marketing experts.
In addition, Konker offers something that no other freelance marketplace offers; a test service.
If you're not sure about a gig, you can request a test service to be carried out, where the seller will discount the price (or make it free).
This allows you to try them out before you commit anything to them.
Even though Konker has some of the fundamentals down, there are still some glaring issues that need to be addressed.
Firstly, Konker's support system is probably one of the worst systems I've ever witnessed.
You can expect to wait a couple of months for a reply from their customer service team.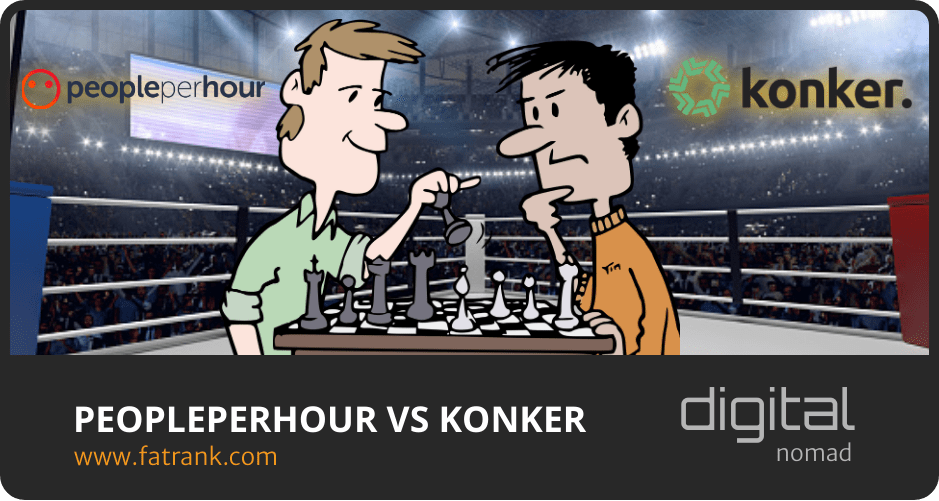 Konker is also expensive, meaning you can drain a lot of money very quickly if you don't know what you're doing.
Some people have even reported it being a total ripoff!
PeoplePerHour is a lot cheaper in the long term and I would highly recommend using PeoplePerHour if you need multiple jobs carried out by freelancers.
Finally, PeoplePerHour has a fantastic freelancer profile system in place, allowing clients to learn more about the freelancer they want to work with.
Konker on the other hand has a very simple profile function.
This can lead to you working with malicious users quite easily, and making your time on the website one to regret.
If I had to choose, I would lean more towards People Per Hour than Konker.
If you're wanting incredibly easy gigs completed for a cheap price, then use Fiverr.
But, PeoplePerHour has a more fleshed-out platform and creates a more enjoyable UX.
If Konker sounds interesting to you, then be sure to check out our Konker review here!
PeoplePerHour vs Fiverr
A matchup of the giants, Fiverr and PeoplePerHour has made a name for themselves being the go-to platform for hiring freelancers.
Even though they compete in the same market, both platforms have different methods for the buyer to pick a freelancer.
Whilst PeoplePerHour focuses on the buyer posting a job, Fiverr has a heavy focus on the sellers creating gigs.
Fiverr's gigs are incredibly cheap compared to PeoplePerHour and provide a decent quality of work.
PeoplePerHour focuses on building long-term relationships, as you can pay per hour for a freelancer's payment.
Fiverr on the other hand focuses more on short-term relationships, as the buyer just has to pay for the gig and not the hours.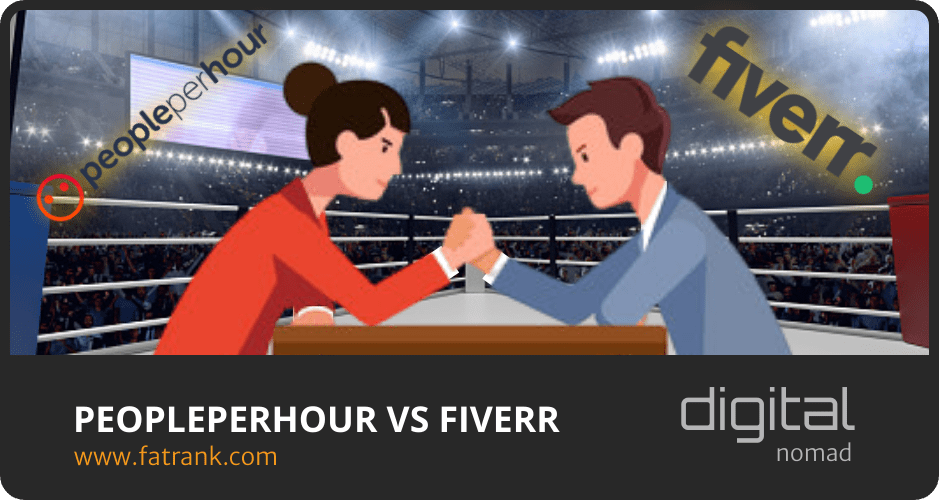 To be honest with you, both platforms offer the same service but in two different ways.
PeoplePerHour wants to focus on long-term investment, whilst Fiverr is more interested in the short-term.
Both website designs are fantastic and both have similar security systems and reach in place.
However, I think Fiverr has a stronger support system in place. Fiverr's support service can solve a problem in a matter of hours, which People Per Hour can't match.
I can't really choose between the two. I would say that if you're looking for short-term freelance work, then Fiverr is definitely the place to go with its cheap prices and awesome gigs.
However, if you're looking to expand your workforce with freelancers, then PeoplePerHour might be the better solution.
Does Fiverr sound like the platform you need? If so, read our in-depth Fiverr review today.
PeoplePerHour vs Legiit
Are you needing digital marketing services carried out on your website? Well, Legiit might be the perfect platform for you!
Even though PeoplePerHour provides some great digital marketing jobs, Legiit is built around the subject and all sellers are verified, marketing experts!
Legiit also boast an amazing support system, giving users help in a matter of hours!
They also have a thriving community and have gained fame within the digital marketing and SEO industry.
PeoplePerHour can't compare to this.
Even though Legiit is great, there are a few issues that hold it back from beating People Per Hour by a mile.
Firstly, the pricing on Legiit is really expensive compared to PeoplePerHour.
You can find similar gigs on both platforms and Legiit could be $25 more expensive.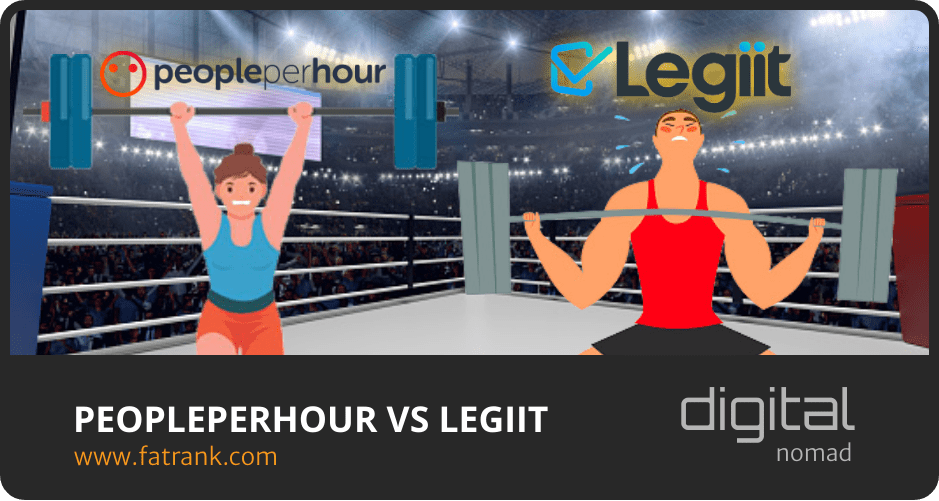 Secondly, PeoplePerHour has a much larger user base, meaning more freelancers are available to talk to and work with.
Legiit is still quite young, only boasting a small number of users. This can lead to the service you want completing not being listed and prices being fixed in place.
Finally, Legiit has no filters for freelancers.
This means you could be doing business with someone who has poor English skills, leading to jobs completed being riddled with mistakes; all because of poor communication.
PeoplePerHour allows clients to add advanced filters, allowing you to target countries, experience, ratings and more!
Both of these platforms are quite different, but if you're solely looking for digital marketing services to outsource, then I would always recommend Legiit as a legitimate option.
But, if you're looking for cheaper services and more long-term solutions, then PeoplePerHour is the best platform for you.
Want to see how Legiit helped our business? Make sure to check out our review of them here.
PeoplePerHour vs Freelancer
A fantastic matchup between two platforms that are very similar.
Both of these freelance marketplaces offer a pay-per-hour scheme, compared to the generic pay-per-gig.
Having this payment scheme in place promotes the idea of building long-term relationships with freelancers.
Freelancer offers a wider range of freelance services, covering nearly every topic someone might want to be outsourced.
Compared to PeoplePerHour, Freelancer can help with a lot of different situations.
In addition, Freelancer has been known as the largest freelance marketplace on the web, having an incredible 31 million users!
With such a huge number of freelancers and buyers using this platform, it's a strong sign of how good it really is.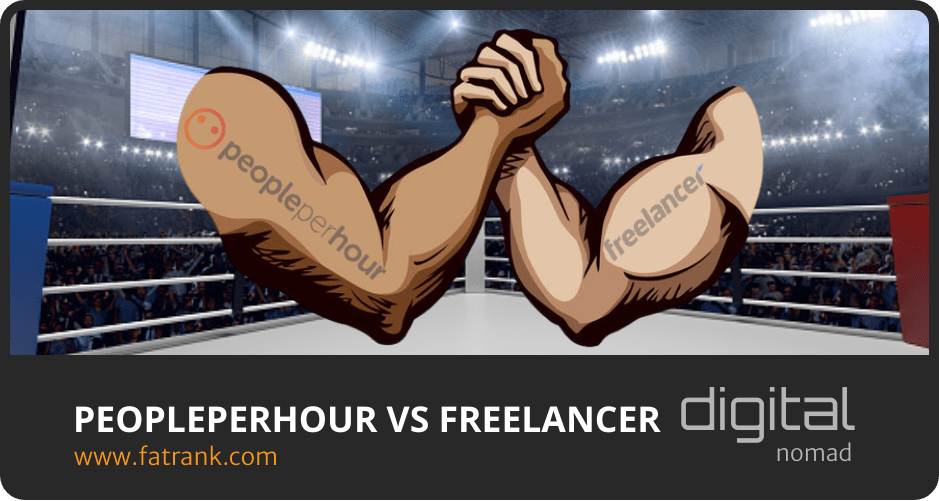 Finally, Freelancer has one of the strongest support systems in place. Having a live chat feature allows users to get instant responses to problems, which is why so many people love Freelancer.
You can also contact them through other channels, but live chat is the best.
Even though Freelancer sounds great, there are some glaring issues with the platform that numerous users have reported.
For starters, the fees on Freelancer are expensive. You can end up spending nearly double the amount on a freelancer when compared to PeoplePerHour and paying extra fees on top.
Secondly, freelancers are limited to 8 jobs a month when using Freelancer.
This means freelancers can be really picky with the type of jobs they accept, causing some jobs to go unnoticed.
Freelancer requires a monthly payment for freelancers to accept more, making freelancers even pickier when they pick jobs.
I would honestly recommend PeoplePerHour by a slight inch.
I've found more success using this platform compared to Freelancer (and saved some money along the way)!
However, I don't think Freelancer is bad by any means, it's definitely worth a look at.
Make sure to read our Freelancer review for more in-depth information about this unique platform.
PeoplePerHour vs SEOClerks
SEOClerks is a recent entry into the freelance marketplace industry.
As the name suggests, SEOClerks specialises in providing SEO freelance services for clients.
This platform follows a gig-based scheme which is perfect for businesses looking for a short-term solution.
SEOClerks has amazing prices compared to PeoplePerHour, with some of the gigs on SEOClerks being listed as low as $1!
In addition, the quality of these gigs is usually high-quality too, making it a cheap and effective solution for freelancing.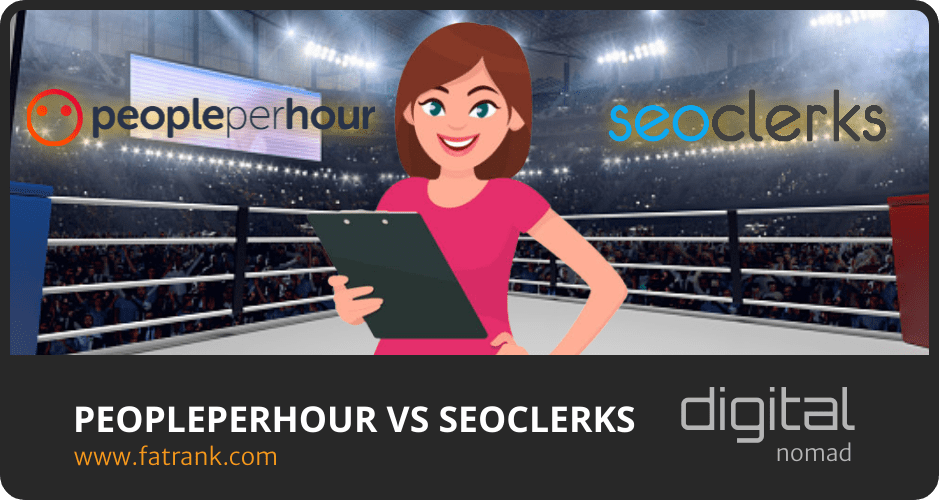 Sadly, this is where the positives end, as SEOClerks suffers from two huge problems.
Firstly, some of the gigs on this platform can actually cause more damage to your website and its rankings.
With People Per Hour having such a good vetting system, it's near impossible to find any gigs that do damage on this platform.
Secondly, SEOClerks has a really small amount of traffic compared to similar platforms.
Due to this, there really isn't much variety available. This limits your exploration and keeps you fixed on certain sellers.
Even though the pricing is great and quality is mostly high-quality, I still believe PeoplePerHour is a better platform.
If I wanted any SEO tasks being outsourced, I would probably use Legiit.
Get more information about SEOClerks by reading our review of them here.
PeoplePerHour vs Upwork
Being another well-known freelance marketplace, Upwork has made a name for itself by focusing on building relationships with freelancers.
Even though PeoplePerHour also specialises in this, Upwork has a few tricks up its sleeves.
Firstly, Upwork is structured very similarly to LinkedIn.
There's a huge focus on the freelancer's profile as clients search for what industry they want help with and Upwork's algorithm presents the best freelancers.
The vetting process is the same, if not better, than PeoplePerHour, meaning every freelancer you see on the platform has been checked and accepted by the platform.
Due to this, there are hardly any malicious users on this site, allowing you to browse in peace.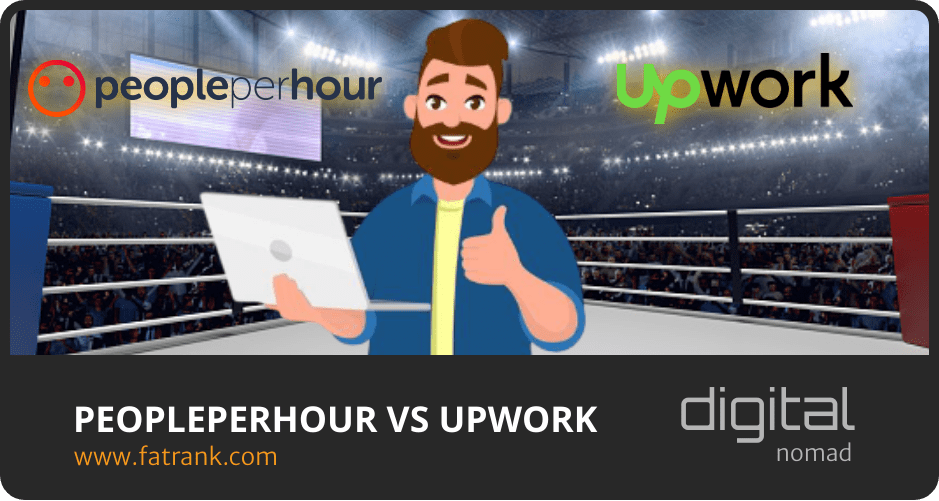 But, Upwork is nowhere near as cheap as PeoplePerHour.
Upwork introduces a flexible marketplace fee. On some projects, the freelancer could be charged 10%, but on other projects, they could be charged 20%.
PPH allows freelancers to select their own rates.
Another point is that Upwork mainly focuses on digital marketing, whilst PeoplePerHour covers most areas.
This can make Upwork redundant if you're wanting other types of services and due to this, a lot of users leave the platform and move to broader sites.
I'll admit, I've had some great experiences on Upwork and I really like the profile feature, but I think PeoplePerHour is the better option.
If you're wanting to focus on long-term digital marketing services, then I would use Upwork; but if you're looking for other services, then definitely use PeoplePerHour.
Upwork is a fantastic platform and we definitely recommend reading our Upwork review to understand more about this platform.
PeoplePerHour vs OnlineJobs.ph
Finally, let's take a quick look at OnlineJobs.ph! OnlineJobs.ph focuses on providing people with VAs that can help with a wide variety of different problems.
Each of these VAs have a profile which states what they specialise in and how they can help you.
OnlineJobs.ph is a perfect solution for businesses wanting to expand their workforce for a cheap price.
Most of the VAs come from the Philippines, meaning that their monthly pay is massively reduced compared to a UK/US Citizen.
However, I think PeoplePerHour has a much cleaner UI and a more positive UX, whilst OnlineJobs.ph can get overwhelming and a bit confusing.
This can lead to you leaving the platform and searching for new ones.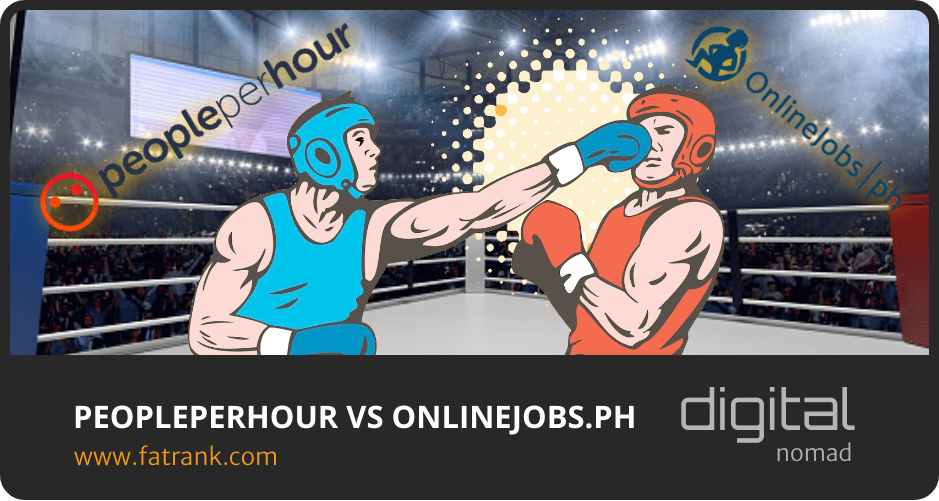 As well as that, the VAs on this platform are looking for steady employment, not just a month of work.
If you're business isn't prepared to pay a wage for a VA, then People Per Hour is definitely the better platform.
It's really hard to choose between the two, as they are both useful in their own way.
If you're looking to expand your workforce, then I would recommend OnlineJobs.ph.
However, if you're looking for a cheaper alternative (and a shorter time span), then I would highly recommend using PeoplePerHour.
OnlineJobs.ph has massively helped us out and it can help your business out too! Check out our OnlineJobs.ph review today,
Final Thoughts of PeoplePerHour
PeoplePerHour is the perfect freelance marketplace for companies looking for long-term work needing to be done.
The platform does an excellent job with most factors (like design, security, freelancers etc.) but still has some aspects to improve.
I believe that once the customer service has been improved, I can see this website becoming incredibly popular.
At its current point though, it seems to be stuck in a growth rut.
I've used PeoplePerHour for years and have always had a great time using it, so if you're still debating it, I would definitely recommend trying it out!
Thanks for reading this review on People Per Hour and learning more about the platform.
Hopefully, you should have all the information you need to make an informed decision on whether or not to use it.
Make sure to check out the other reviews below, as I'm aiming to cover every freelance marketplace possible.
So, why not give it a try today and see how PeoplePerHour can transform your business today? Make sure to keep us updated on your success on Facebook and Twitter!
All Online Marketplaces for Freelancers
Check out the in-depth list of online freelance marketplaces.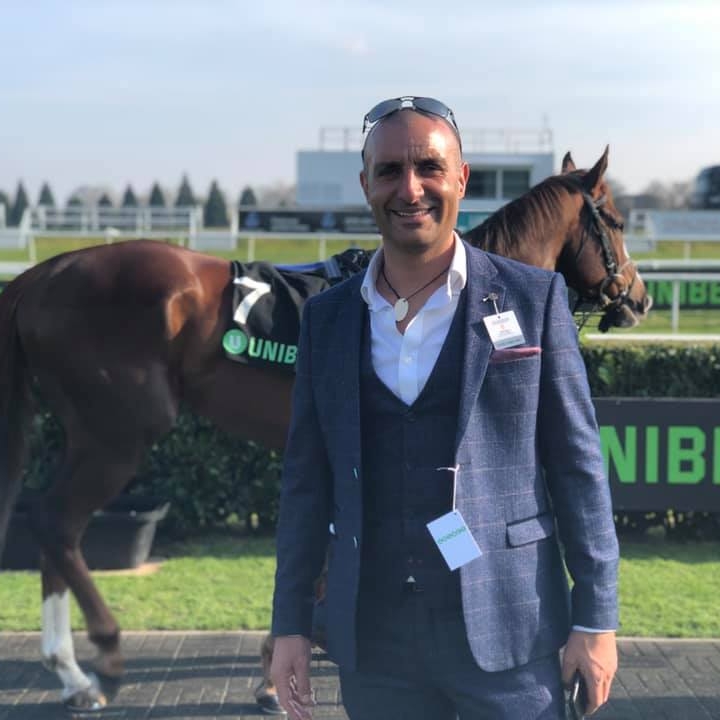 Digital Nomad
I'm a full-blown Search Engine Optimization specialist earning the majority of my income from SEO-focused endeavours, including affiliate marketing, lead generation, as well as SEO services. Love travelling the world networking while working on my laptop. Life is a perception of your own reality. You have no excuses and should be making memories every single day.
Recommended Story For You :