Cutting through the social media noise is hard enough, let alone reaching out to your target audience on a platform.
This is especially true on Twitter, where toxicity is real. It doesn't help that the platform doesn't lend itself to more levelled discussions among users.
However, more than half of its entire user base is more likely to be the first to buy new products.
If done right, Twitter is still a goldmine for sellers as they can make a living via sales from their Twitter accounts.
If you're a newbie affiliate marketer and looking for a platform to establish your business, this post runs down the step-by-step process of making money on Twitter as an affiliate.
Determine Your Niche
If you don't have a niche yet or which products to sell on the platform, that's fine.
The last thing you want to do is rush through the process and become an affiliate for a product nobody is interested in.
To get affiliate marketing on Twitter right, take time to research your niche.
For starters, check out Twitter's "Explore" page to find a particular topic that might interest you and your target audience.
You'll see multiple tweets about what's trending and currently happening, popular images, viral tweets, funny tweets, etc. All of which you can use as an advantage to successfully start affiliate marketing.
A tool you can use to brainstorm for niche ideas is Buzzsumo.
A free account gives you a handful of searches for the top trending topics based on your criteria.
Just type in your topic of interest to see the best news articles based on their Trending Score and Engagement.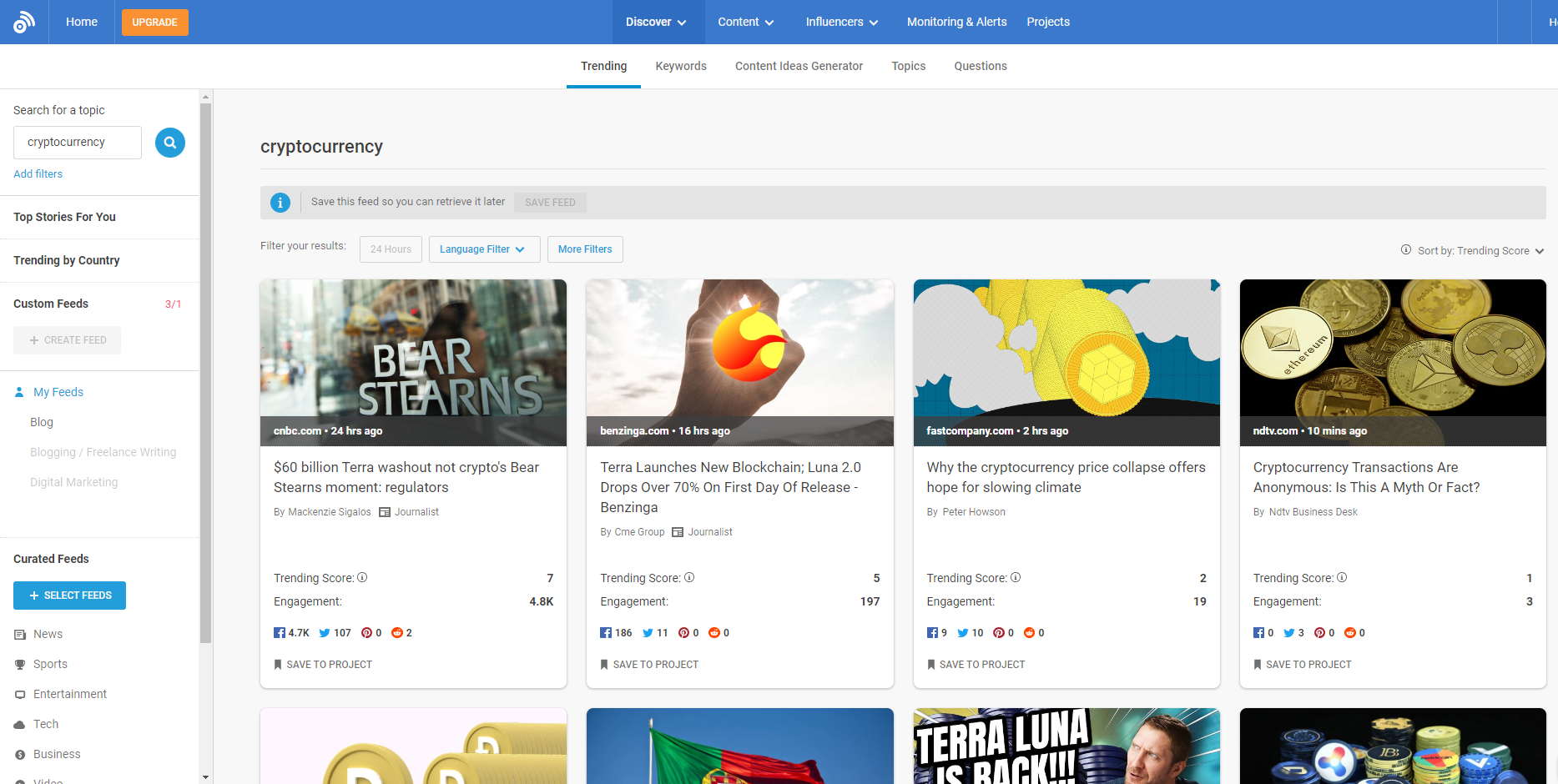 Next, determine which topics you brainstormed have the most Twitter shares and highest Trending Score and Engagement.
The fact that people are talking about them on social media means there's an opportunity there to make money.
When choosing a niche in your Twitter affiliate marketing strategy, consider passion and profit.
In other words:
Do you want to choose a topic that you're interested in but doesn't make money (passion) or a niche that will rake in the profits but you have zero interest in (profit)?
You are more likely to be genuine and authentic, appealing to potential customers when it comes to your passion.
People who share their interests and hobbies with others are more likely to follow you, engage with your tweets, and, most importantly, click on your affiliate link.
Working on a familiar topic gives you an advantage over rivals by simply doing it for the money. It unlocks prior experience and knowledge that most people don't have.
This is especially crucial for creating valuable content on your Twitter account since you have a better handle on the topic compared to a profitable topic that you aren't interested in.
Find the Right Products to Promote
Once you've chosen a niche, it's time to join affiliate marketplaces and search for profitable and lucrative products to sell from there.
Affiliate marketplaces give you access to a wide range of products across different niches that you can share and make money from via Twitter.
Here are a few affiliate programs where you can find products related to your niche: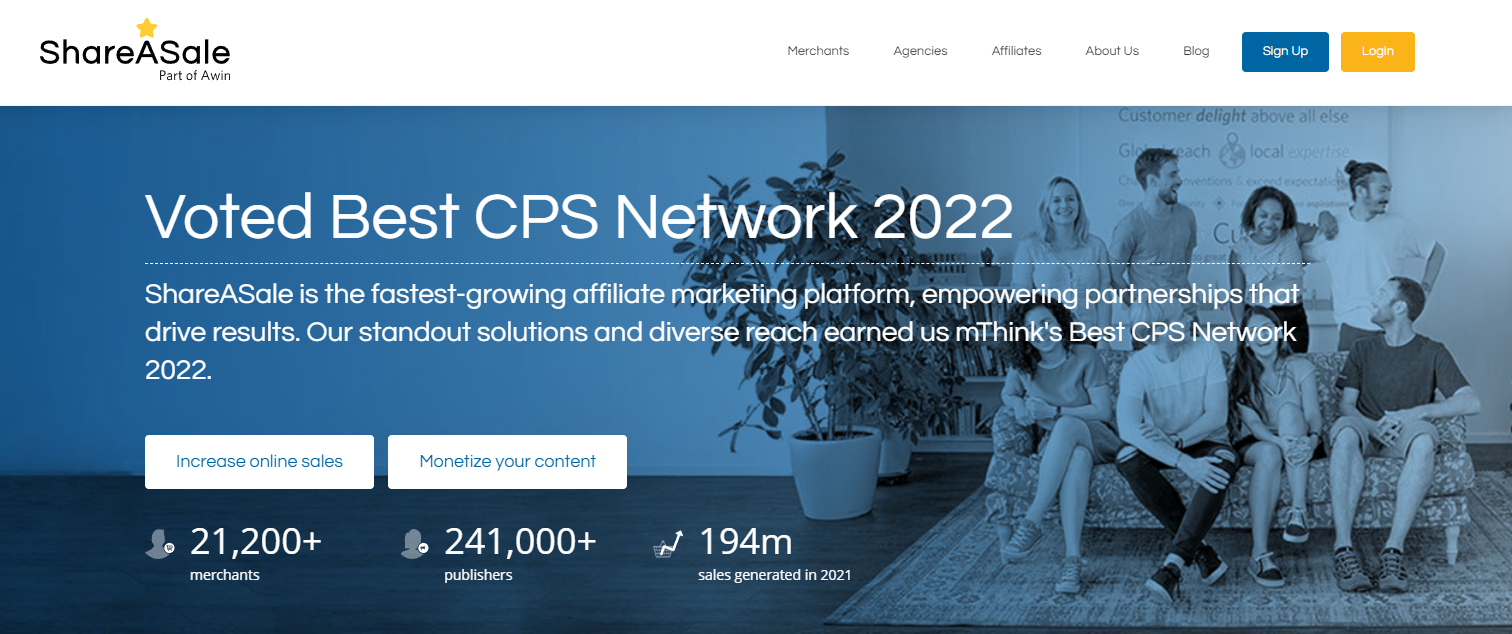 ShareASale is one of the largest affiliate networks in the United States. With over 3,900 merchant programs and 1.2 million registered publishers on its affiliate platform, it currently has an excellent reputation as a trustworthy company.
Features:
If you're target audience and niche are mainly about home and gardening, business, and fashion, then ShareASale will be able to help you recommend helpful psychical products.
The commission rate varies depending on the merchant, but typically it ranges from 5% to 20%.
With a minimum payout amount of $50, you can choose from either via check or direct deposit.
#2 – ClickBank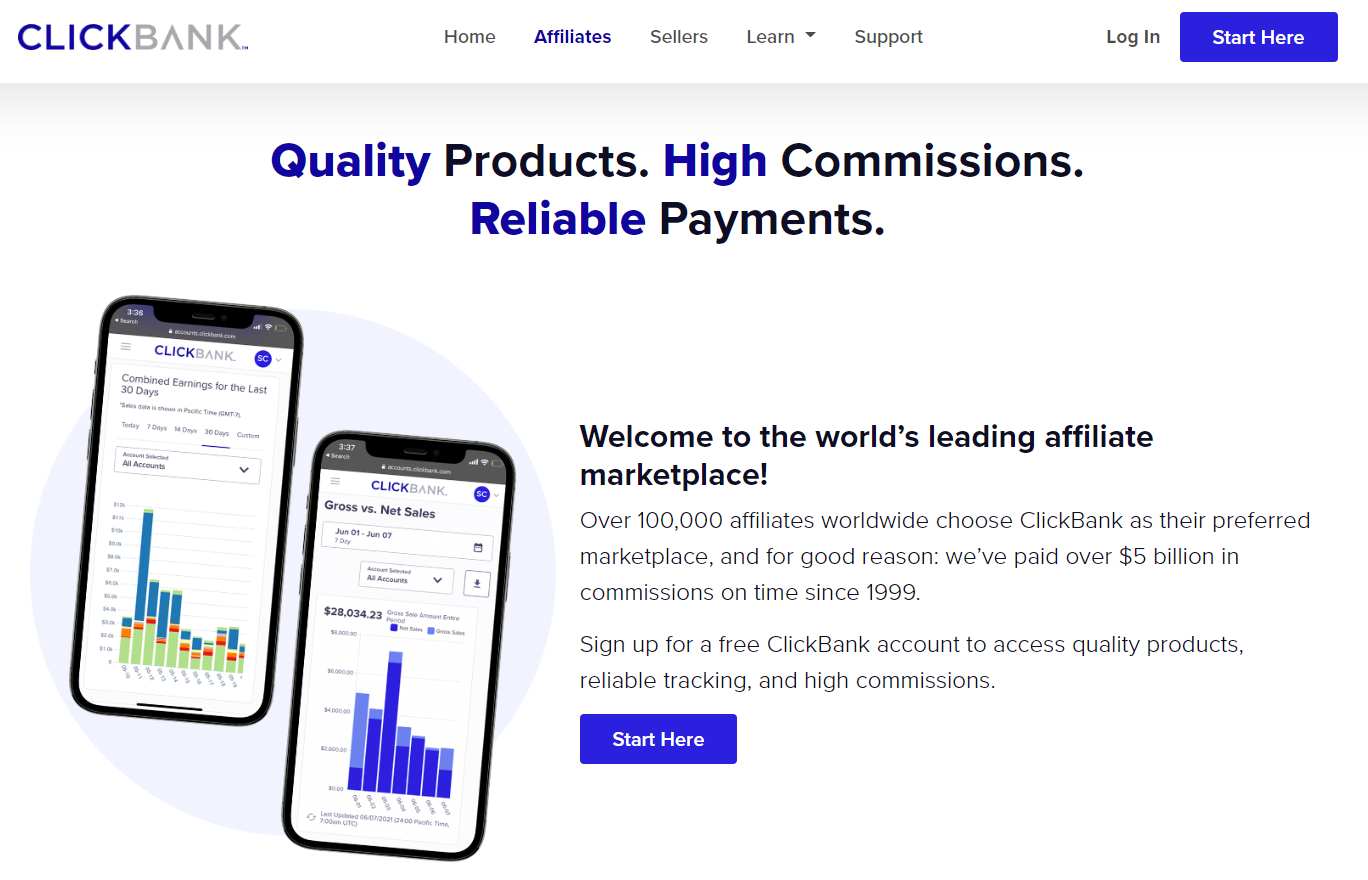 ClickBank has been a respected worldwide partner for product vendors and affiliate marketers wanting to develop, market, and scale their enterprises online for almost 25 years. With over 4,000 quality products listed by sellers, you won't have any problem finding products to promote.
Features:
ClickBank affiliate offers a large selection of digital products, dating offers, and self-improvement programs.
You can get up to 75% commission rates for digital products.
Your options for cashing out are direct deposit, wire transfer, or check with just a minimum payout of $10.
#3 – MaxBounty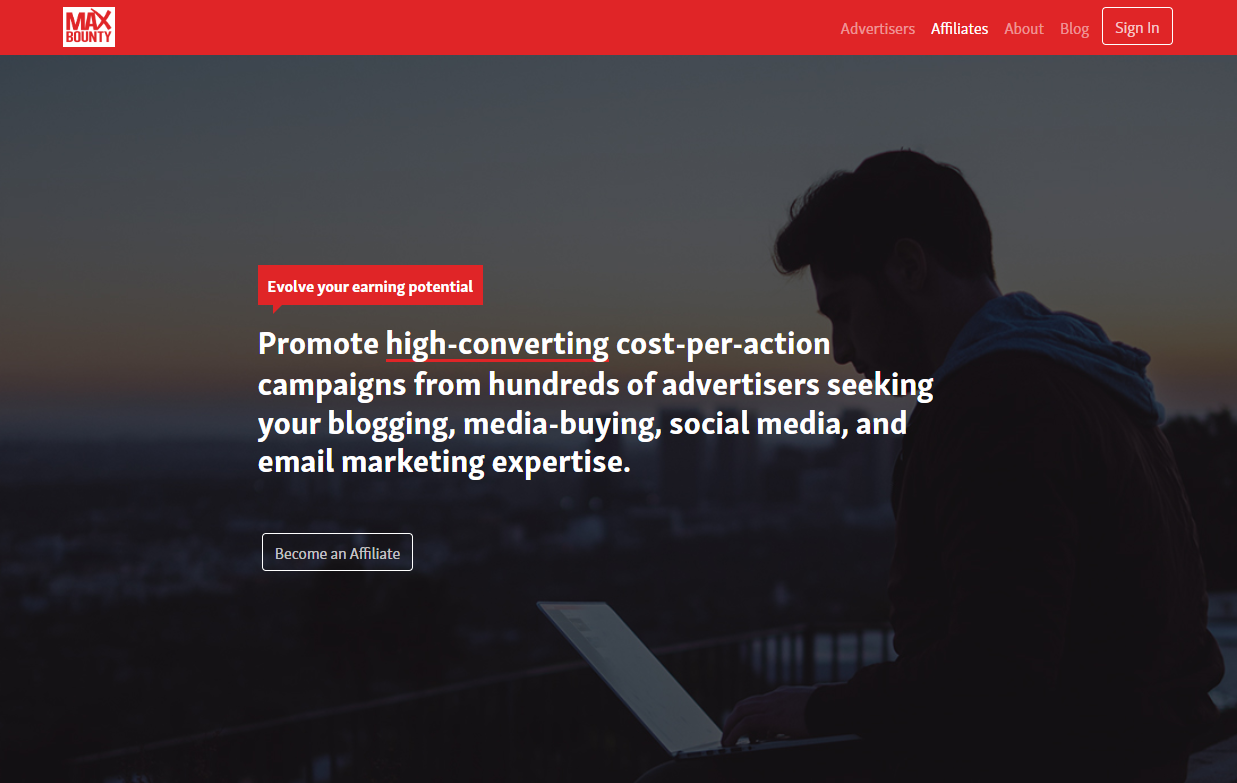 Maxbounty is the premiere affiliate marketing network. With years of experience, they have become experts in finding and matching advertisers with publishers to drive the best results for both parties.
Features:
If your target audience and interest are primarily about real estate, dieting, and dating products and services, then MaxBounty is the perfect affiliate program.
Their commission rate goes up to 50%, but most of their campaigns mainly offer a fixed rate per lead that varies depending on the advertiser.
Your payment options are wire transfer, PayPal, Payoneer, check, direct deposit, and even Bitcoin for a minimum amount of $100.
#4 – Pepperjam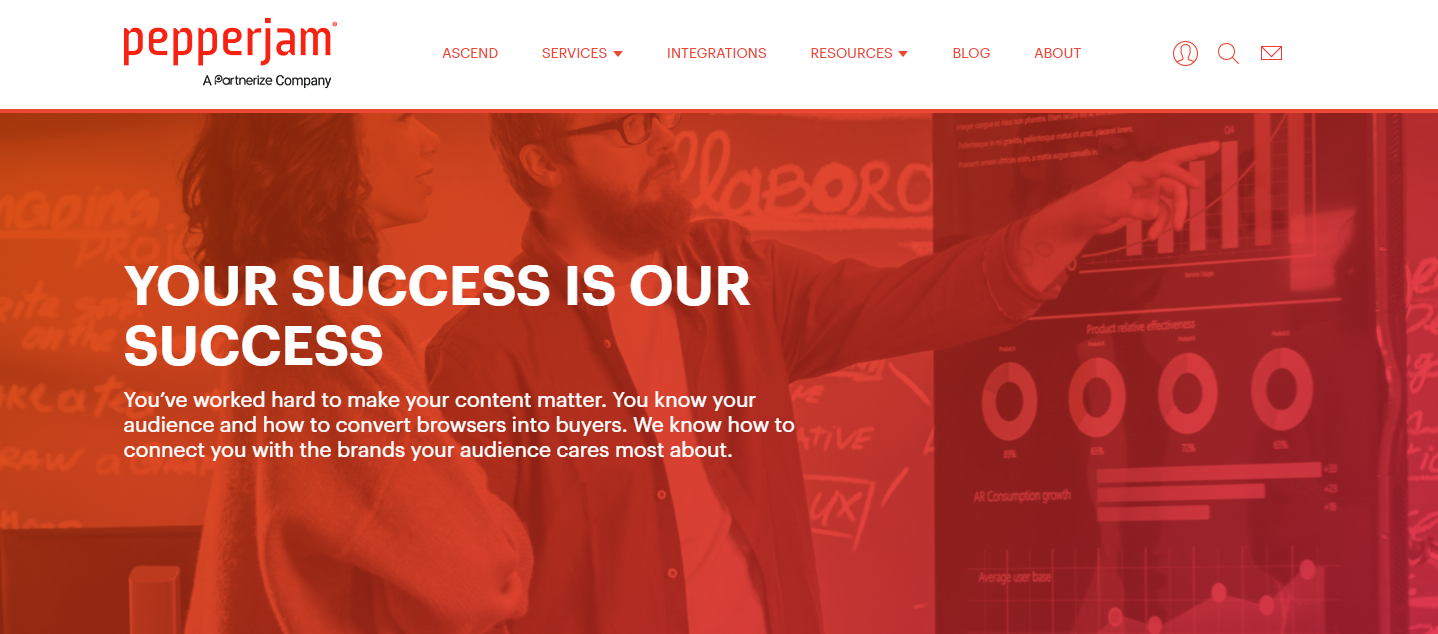 Affiliate networks like Pepperjam claim to offer a new way of doing things by eliminating the distance between publishers and advertisers. This means that reputable brands, such as Ebates, RetailMeNot, and Honey, can communicate directly with publishers, who will then disclose the methods they use to promote products.
Features:
If your audience loves to save money, this is your site! They offer a variety of coupons and deals on a wide range of digital services, making it easy for you to save money on the things you use every day.
Affiliate commissions are typically between 5-8% of a sale. However, commission rates may vary depending on the affiliate program and the merchant.
With just a minimum payment of $25, you can choose from Paypal, check, or direct deposit to receive your payments.
#5 – MoreNiche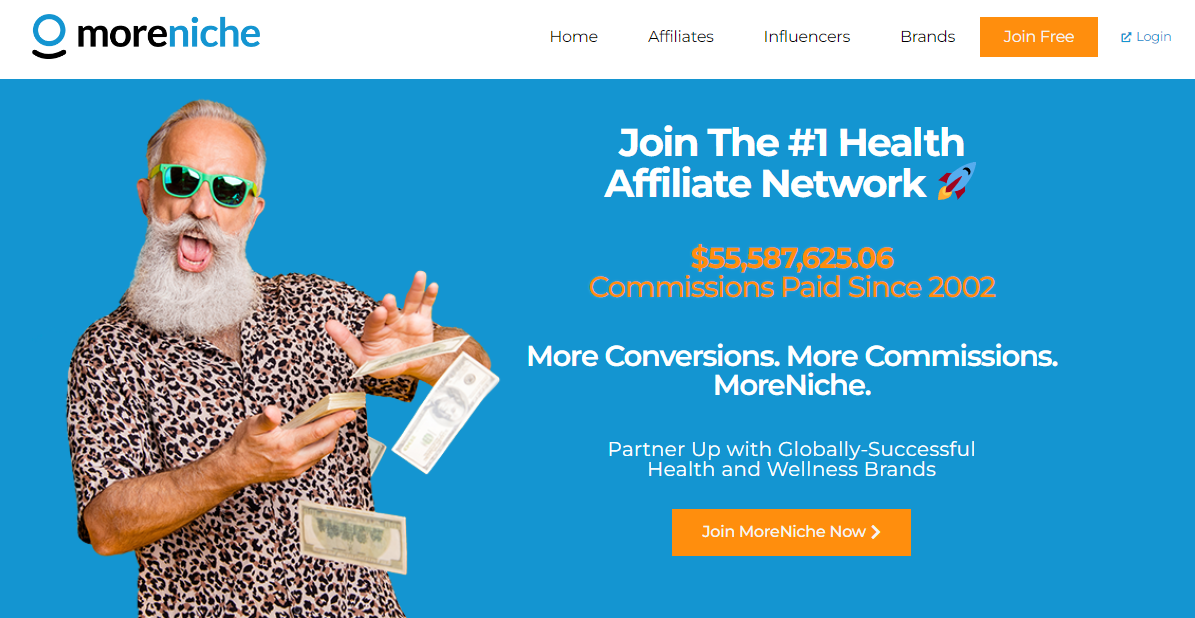 MoreNiche offers a limited number of affiliate programs compared to other marketplaces. But the products are high quality and come with high commissions. Its affiliate managers also provide proactive support, giving up-to-date SEO advice, website or blog audits, and CRO suggestions.
Features:
Helps you find products to promote relating to bodybuilding, weight loss, and health at MoreNiche.
The commission rate ranges from 30%-40%.
Offers payment through Bitcoin, direct deposit, Payoneer, and Skrill. The minimum cash-out amount is $100.
Conduct Twitter Competitor Analysis
Next, identify who the top competitors in your niche are.
Knowing who you're up against lets you see what they do that works, why they're successful, and identify weaknesses they have that you can capitalise on.
For starters, search for your chosen niche on Twitter and click on the People tab. This shows you the top results of the most relevant users for your topic.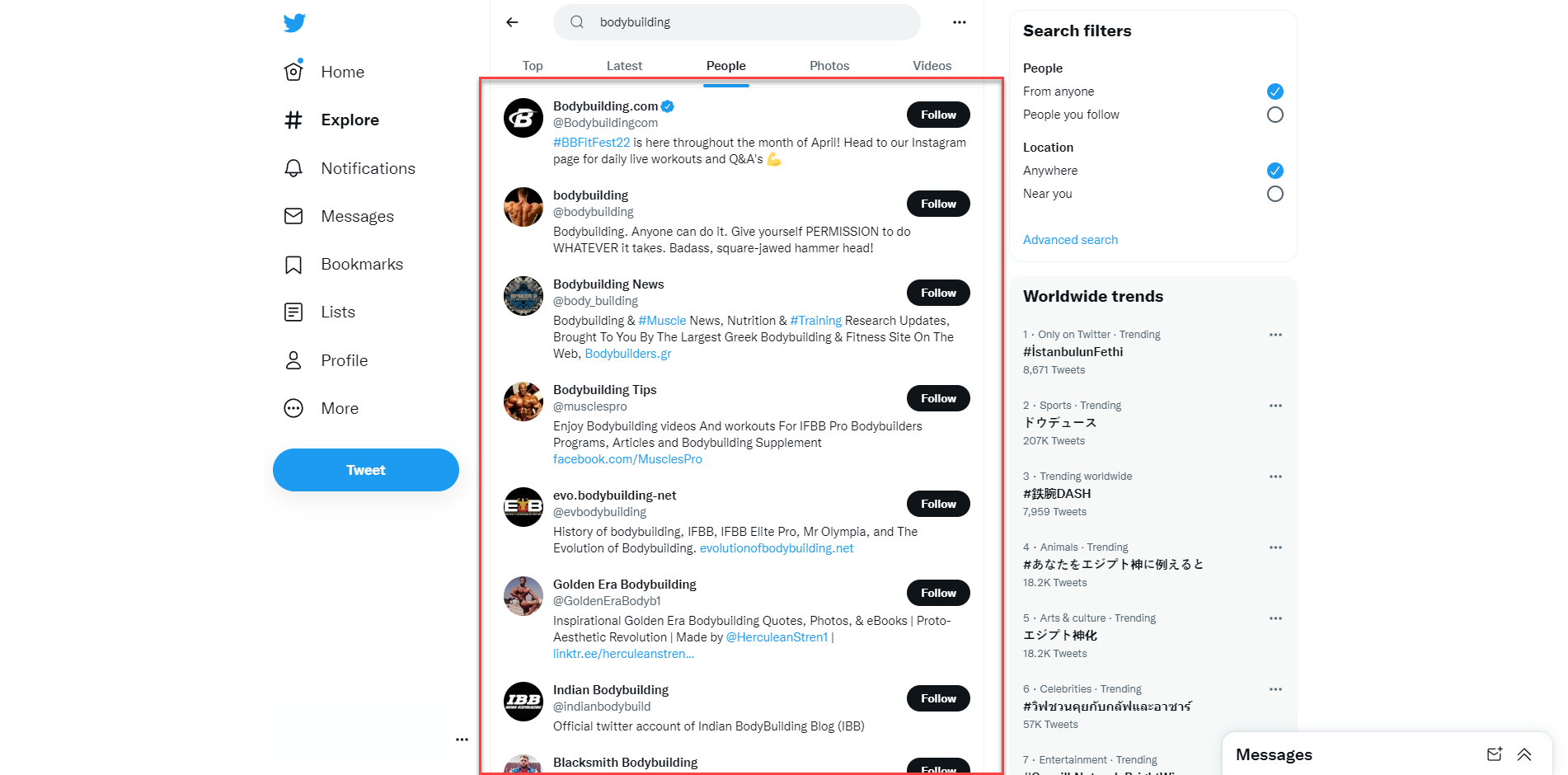 Click on the users to see how many followers each of them have. Those with the most followers are your top competitors.
Next, you want to analyse their tweets.
What kind of content are they posting? When do they post? How often do they post? Who do they interact with?
Answering these questions should help you fully understand the kind of Twitter account they have. From here, you can uncover their tactics and strategies to emulate those that worked on your account.
You can also identify their strengths and weaknesses from here.
Maybe they're great at promoting their product but terrible at customer service. Or perhaps they're good at engaging with other users but not so good at creating original content.
Either way, the goal is to reverse-engineer the data so you can get all the information you need to boost your affiliate marketing strategy on Twitter.
To help you analyse your competitors more effectively, use a tool like Followerwonk to analyse your Twitter competitors.
Create an account using your Twitter account to compare your top three competitors.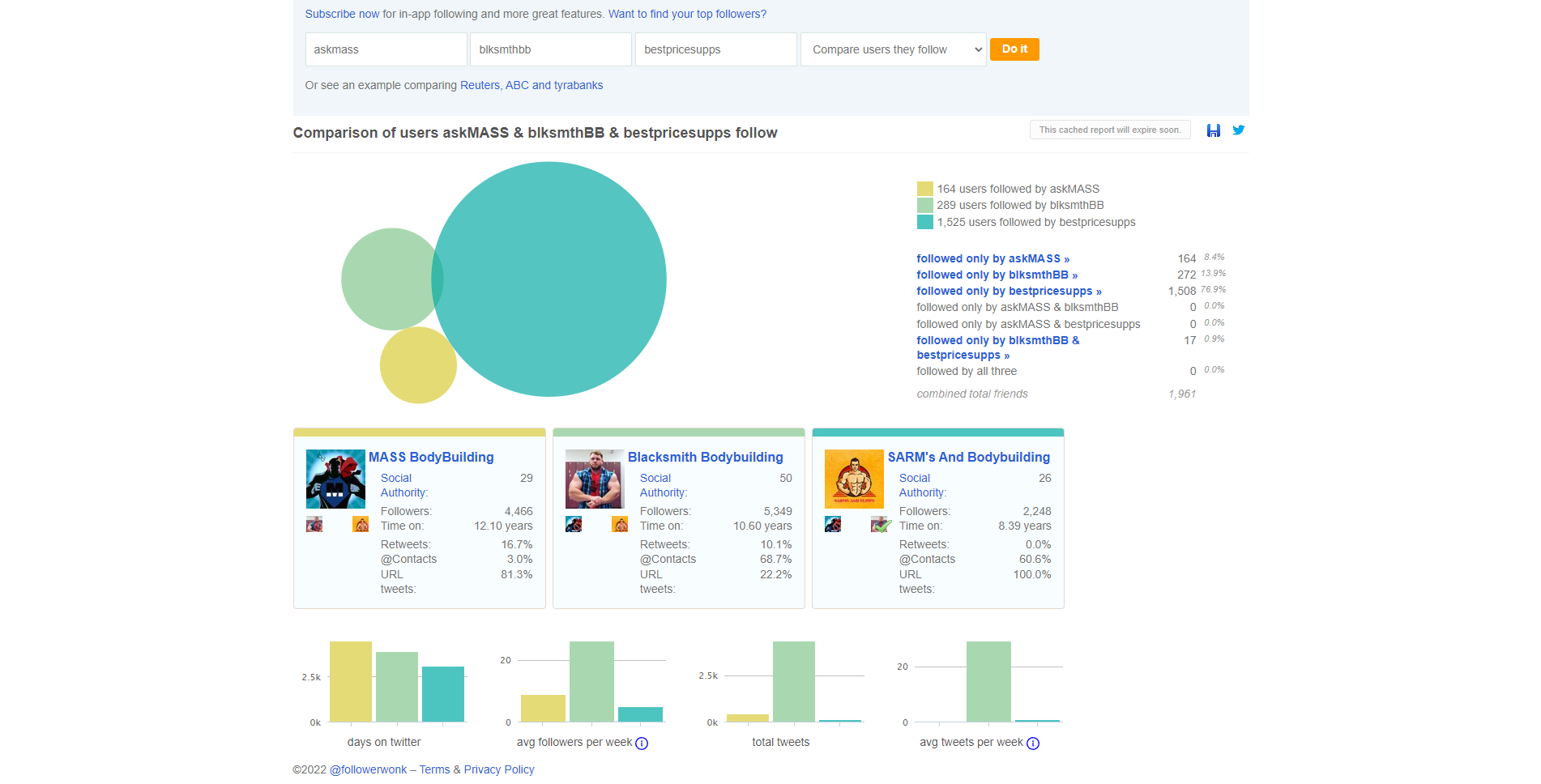 Note: If you don't have a Twitter account yet, create it now so you can access Followerwonk's features.
You will see here their respective Social Authority based on their number of followers, retweets, @Contacts, and other features.
The data also helps you see who their familiar followers are. Using this info, you can follow and engage with them to maximise your engagement with them
As an affiliate marketer, you want to look at the URLs shared by these users.
If they promote affiliate links often, you want to look at the products they're promoting. Then, either join the same programs they're in or find better alternatives to the marketplaces you're currently part of.
These are just some examples to help you develop ideas on how to analyse Twitter users in your niche with the help of Followerwonk.
To unlock all the tool's analysis and optimisation features, you must subscribe to one of its paid plans.
Optimise Your Twitter Profile
At this point, you should have a Twitter account up and running, and it doesn't matter if it's optimised yet. Because that's what we're going to discuss in this part.
Correctly setting up your profile is one of the best ways to improve your presence on Twitter.
This means creating a bio that accurately reflects who you are and what you do and using keywords to help people find you when searching for topics related to what you're into.
Refer to your competitors you found in the previous step to see how they built their Twitter profiles. They should give you ideas on how you should create and optimise yours.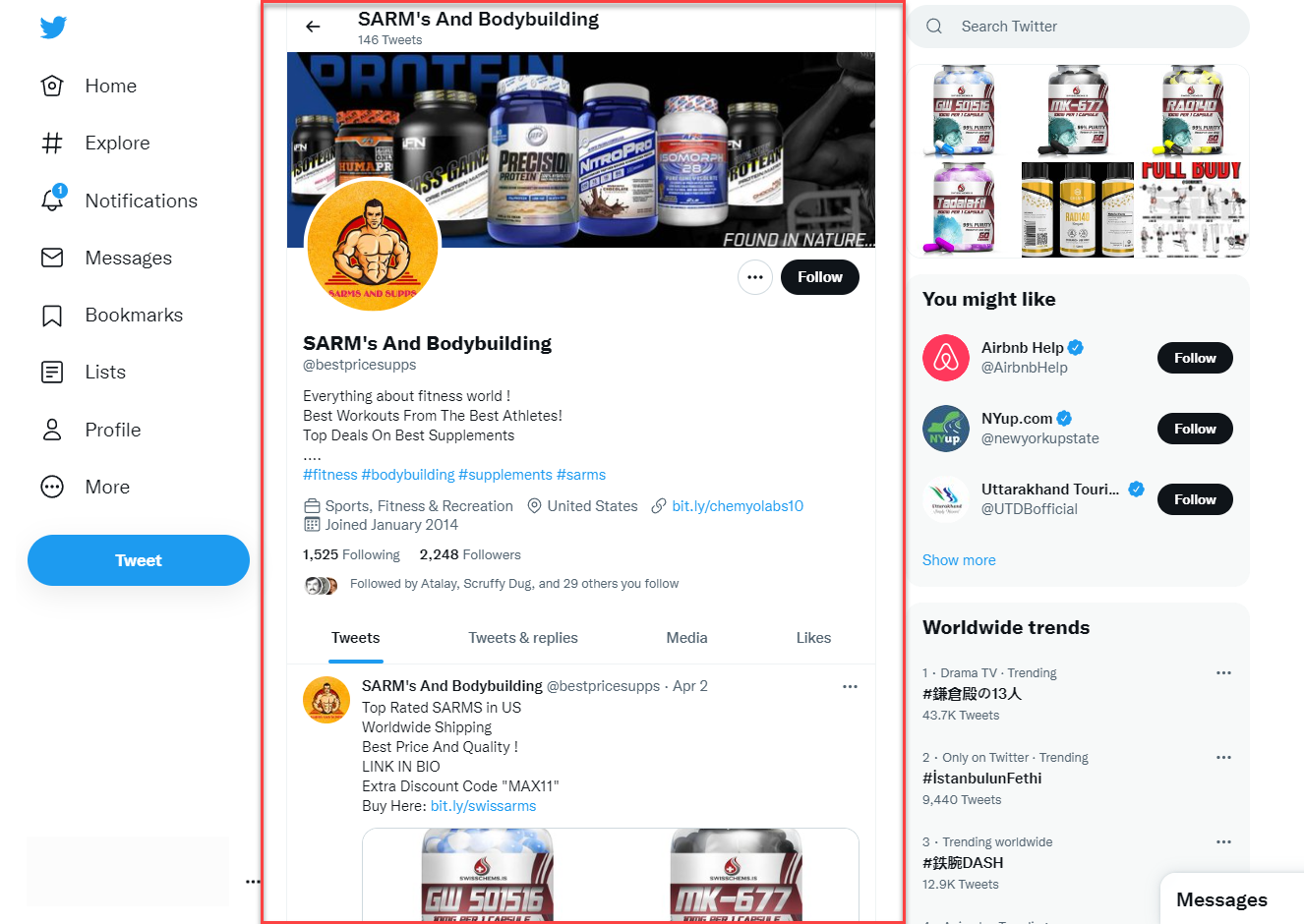 Here are other key points to consider when building your Twitter profile:
If possible, build credibility and relevance in your niche by using social proof. Mention if you've been featured in popular publications or received testimonials from influencers and others.
Use unique Twitter profile photos that best capture your brand as an affiliate marketer.
Write a short and compelling description. At the same time, include a link to one of your most recommended products if possible.
Create a link-in-bio account containing all the affiliate links to your most recommended products. Then link it to the URL section of your Twitter profile.
Pin tweets linking to the best and most relevant products in your niche. Update the pinned tweet with a brand new one if it's not generating enough clicks and conversions. Then mix it up by pinning tweets with informational and non-affiliate content to help build your authority.
Engage to Build an Audience
As a Twitter affiliate marketer, it's crucial to engage with your audience to build trust.
This way, when you make recommendations, your Twitter followers will be more likely to take your advice and convert to customers.
The easiest way to do this is by replying to users and commenting on their tweets,
Follow popular Twitter users in your niche and engage with their tweets if you have no followers yet. Also, retweet their tweets for good measure.
The more you engage, the more people will start to notice you. And once they notice you, they'll be more likely to check out your profile and see what you're all about.
If they like what they see, they'll follow you back and engage with your tweets like you did!
You can also join Twitter chats relevant to your niche.
Twitter chats are recurring conversations usually hosted and scheduled by the same Twitter account. It can be weekly or monthly, but they always happen simultaneously.
A hashtag is used to designate each chat. Each chat has its specific hashtag, and it's frequently focused on a single topic. Then, a particular sub-topic is chosen on the day of the chat.
Viral Content Bee usually holds a weekly Twitter chat about all things marketing.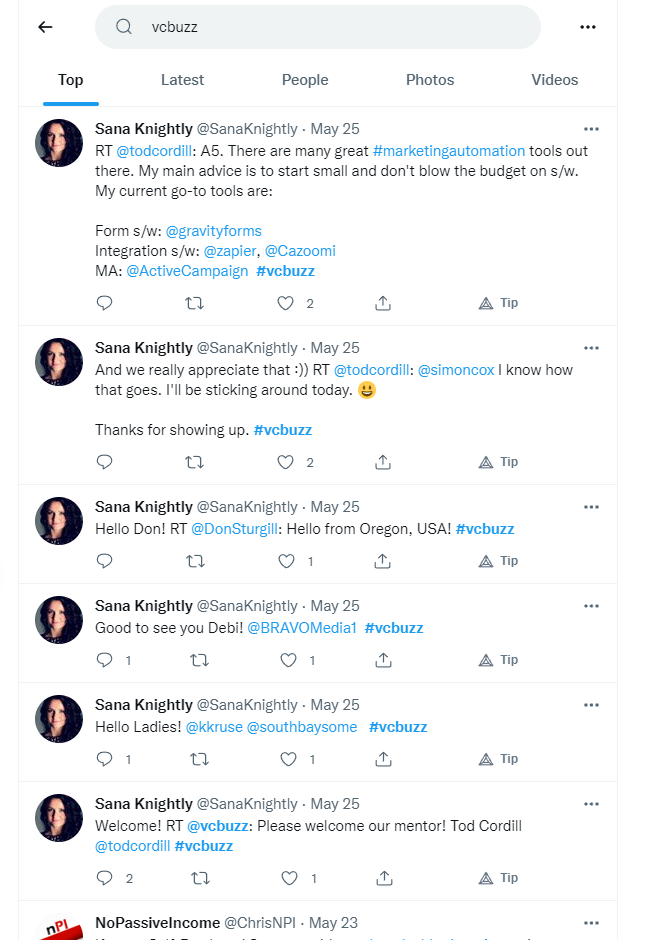 Look at their past chats to set your expectations when participating in a Twitter chat.
Make sure to participate regularly and be active in the conversation. This will help you build relationships and trust with potential customers.
Next, develop a publishing schedule for your tweets to help you engage with your target audience and turn them into followers.
Initially, you want to refer to the best times to tweet on Twitter. Then create a content calendar months in advance to schedule your posts.
Important: focus on sharing valuable tweets that your audience likes first, then tweet out your affiliate links next.
The goal is to balance information and promotional tweets on your Twitter. Use a social media scheduler like Hootsuite to schedule your tweets in advance.
Over time, you can analyse which tweets got the most engagement and got you the most commission sales and which ones didn't.
From here, double down on the tactics that worked and consider eliminating those that didn't.
Examples of Successful Twitter Affiliate Marketers
John Crestani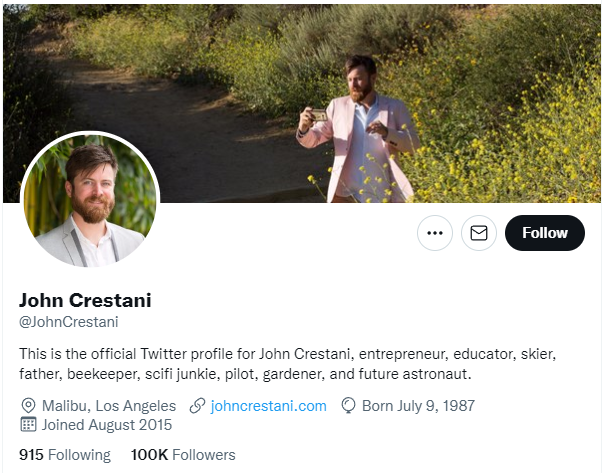 He started his own online marketing business to live a low-stress life and now makes millions per year, travels the world anytime he wants and does other fun stuff.
His online business has consistently earned seven figures per year since 2014, and he has done this even without any employees.
He started with the idea of promoting products that have already been developed by other companies instead of spending time and money to create and promote his products.
Using Twitter and other social media platforms got him a tremendous conversion rate. It led to him starting his own business to share his knowledge about affiliate marketing.
Zac Johnson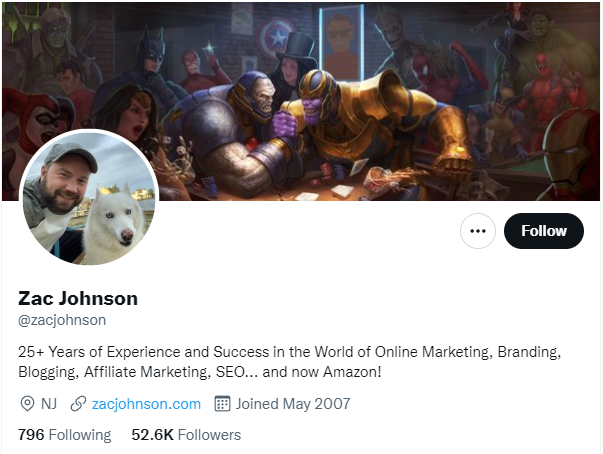 Zac Johnson is another well-known internet marketer who has also had great success with twitter affiliate marketing.
He uses Twitter to promote affiliate products and has already made money online for more than 20 years.
He shared that what helped him with his affiliate marketing was networking and connecting with his followers through his website and social media network.
Pat Flynn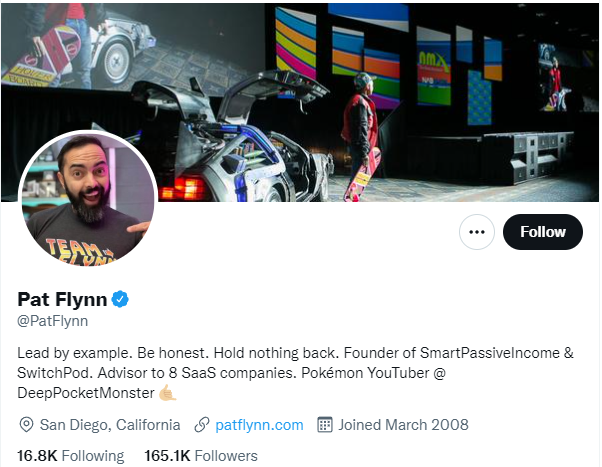 Pat Flynn is a well-known affiliate marketer who runs the popular website SmartPassiveIncome.com. He's had great success making money with Twitter affiliate marketing and has used it to drive more traffic and sales to his website.
Pat started to earn money through commissions by promoting affiliate links to e-books. It wasn't much before, but it showed him the potential of affiliate marketing. He shared that his success mainly comes from being able to provide value to relevant followers.
It's important that out of all the information out there, yours can genuinely help out others to make decisions about their purchase.
Conclusion
Twitter is a powerful social media tool that can drive affiliate revenue when used correctly.
As volatile a channel as Twitter, you must be wary of its pitfalls.
But suppose you follow the steps above and establish a Twitter account optimised for affiliate marketing. In that case, you can connect with your target audience more effectively and turn them into rabid followers.
It will then be much easier for you to convert them into referral sales!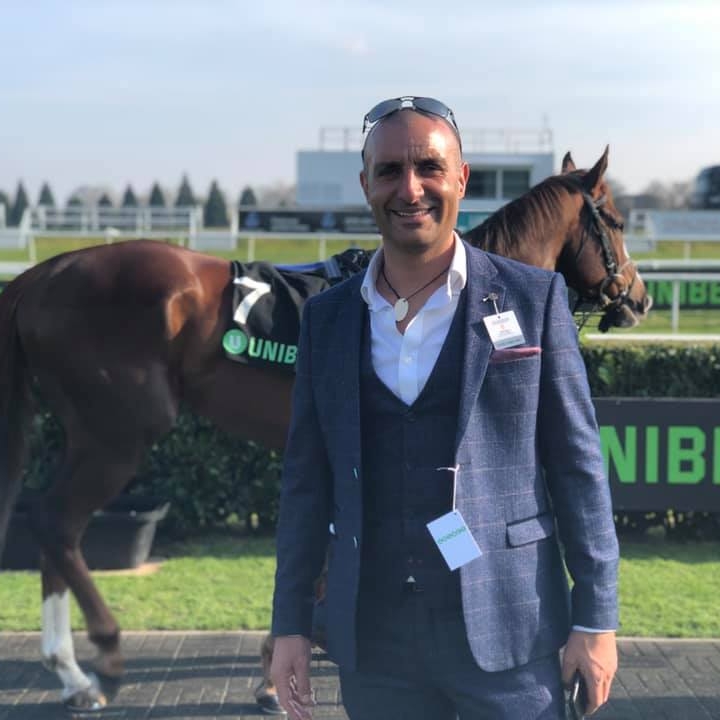 Digital Nomad
I'm a full-blown Search Engine Optimization specialist earning the majority of my income from SEO-focused endeavours, including affiliate marketing, lead generation, as well as SEO services. Love travelling the world networking while working on my laptop. Life is a perception of your own reality. You have no excuses and should be making memories every single day.
Recommended Story For You :